As we already know "big tobacco" has been facing a decline in cigarette consumption for the last decade. Now big tobacco is facing a new threat as electronic cigarettes become more mainstream. With electronic cigarettes beginning to take market share away from big tobacco the lines have been drawn and big tobacco knows exactly what it must do. Face the threat head on and take advantage of this new product by entering the electronic cigarette market. Doing this will give big tobacco another growth opportunity. Companies like: Lorillard, Inc. (LO), Philip Morris International, Inc. (PM), Reynolds American Inc. (RAI),Vector Group Ltd. (VGR), British American Tobacco plc (BTI) and Altria Group Inc. (MO). Should look to take advantage of this new market as an alternative to tobacco sales. Like I mentioned in my latest article on Altria, I am bullish about big tobacco's future. However, big tobacco must adapt to the changing times and take advantage of all developing markets. Lets take a look at electronic cigarettes and how big tobacco can use this new market for growth.
What are Electronic Cigarettes?
Electronic cigarettes are battery powered electronic inhalers that heat up tubes which turn a liquid solution into a vapor. This vapor is not "smoke" but is an aerosol mist that mimics the feel of smoking. This vapor usually contains the same amount of nicotine as a conventional cigarette. However, many devices allow the user to adjust the nicotine dose. While electronic cigarettes are not marketed as a way to quit smoking, many users believe that it can in fact help. Electronic cigarettes have also been touted as being healthier than conventional cigarettes which is a strong selling point that many users tend to agree with. This is because electronic cigarettes release a water vapor containing nicotine, propylene glycol, and a scent that simulates the flavor of tobacco. The key being it does not include the cancer causing agents such as tar, glue, hydrocarbons and additives found in traditional cigarettes. Another benefit users enjoy is being able to "smoke" any where. Since electronic cigarettes do not contain tobacco, they are not prohibited in places traditional cigarettes are. Additionally, electronic cigarettes do not emit second hand smoke or produce ash.

Electronic cigarettes are not regulated by the FDA or any other government authority. This allows electronic cigarettes to be sold at lower rates than a conventional pack of cigarettes. Prices vary from about $10 for disposable ones to $25 to $40 for rechargeable versions. With nicotine cartridges selling for about $10 to $15.
Potential Growth
Electronic cigarettes are still a fairly new product having arrived from China only five years ago. While the electronic cigarette market only accounted for approximately $500 million in annual sales of big tobacco's $100 billion U.S. market for 2012. The projected growth rate over the next few years is fairly impressive. Many agree that the electronic cigarette market will grow over 50% and the market size should reach $1 billion by the end of 2013. Below is a chart showing the sales of electronic cigarettes since their arrival in the U.S.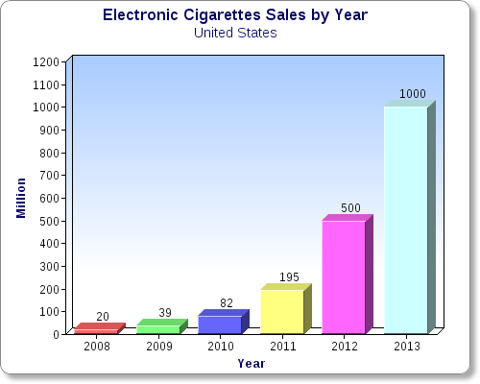 With over 45 million smokers in the U.S. the potential market for electronic cigarettes is quite large. A survey in 2010 found that 2.7% of adults had tried an electronic cigarette. This was a 0.6% increase from 2009. There are approximately 2.5 million current electronic cigarette smokers in the U.S.. With electronic cigarettes becoming more mainstream it is likely that the number of electronic cigarette smokers will continue to increase.
Market Share
With the success of electronic cigarettes over the past five years and its expected growth it is not surprising to see a variety of companies looking to cash-in by making their own brand of electronic cigarettes. Amongst these hundreds of brands a few have started to gain market share. Below is a chart of the current electronic cigarette market share in the U.S..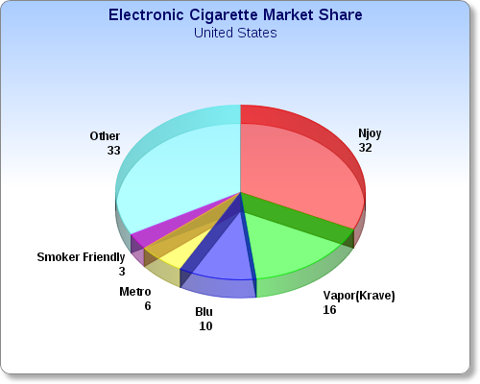 Big Tobacco
Big tobacco has already noticed the potential growth and profit it can make from electronic cigarettes. As NJOY president Craig Weiss said, "Cigarettes haven't evolved in 70 years... the last 'product innovation' was the filter in 1952 and the flip-top box in 1954." While this may not be entirely true the point is well made. Fortunately, for big tobacco the answer to that conundrum has already been provided, big tobacco will just start to sell electronic cigarettes. In fact some of the major tobacco companies have already dove into the market while others are expected to make their own splash soon. Let's take a quick look at some of the major tobacco companies and how they are approaching the electronic cigarette market.
United States
Lorillard, Inc.
Lorillard was one of the first U.S. tobacco companies to enter the electronic cigarette market. It did back in early 2012, when it bought privately held Blu Cigs for $135 million. Blu eCigs are sold in over 13,000 retail stores and had over $30 million in revenue last year. Lorillard validated the electronic cigarette market by being the first big tobacco company to dive in giving it an immediate footing in this emerging market.
Reynolds American Inc.
Reynolds American, like Lorillard, dove into the electronic cigarette market. However, unlike Lorillard who purchased an established brand Reynolds American through its subsidiary R.J. Reynolds Vapr Co. has taken a different route. They have developed their own brand of electronic cigarettes that was launched in August 2012, under the brand name Vuse. Vuse electronic cigarettes like other electronic cigarettes run on a liquid solution, while most other brands use liquid solutions that are manufactured in China Vuse claims their electronic cigarettes are made entirely in the U.S.. Reynolds American has also made it clear that they will continue to develop new products to compete in the electronic cigarette market.
Altria Group Inc.
Altria is the largest tobacco company in the U.S. and is one of the few big tobacco companies that has not yet entered the electronic cigarette market. Altria Chairman and CEO Mike Szymanczyk mentioned during an earnings call that the company was "paying attention" to the market but he did not reveal any plans to enter the market. Altria has seen how its competitors have approached the market and it is only a matter of time before Altria decides how it will enter the segment. One option would be to acquire a well known brand like Lorillard did. According to Wells Fargo analyst Bonnie Herzog, Altria may be looking to acquire electronic cigarette maker NJOY. The second possible option would be to develop its own electronic cigarette product, like Reynolds American did. It was reported earlier in the year that Altria entered a partnership with Okono, an affiliate of Fertin Pharma to develop "innovative, non-combustible nicotine-containing products". Regardless of what method Altria decides to take, I expect them to enter the electronic cigarette market soon.
International
British American Tobacco Plc.
British American Tobacco also entered the electronic cigarette market when it acquired CN Creative Limited on December 19, 2012. CN Creative Limited is a U.K. based start-up company that specializes in electronic cigarette technology development. It was at this time Kingsley Wheaton, Director of Corporate and Regulatory Affairs at British American Tobacco, said: "Our core business is, and will remain in, tobacco but we've always made it clear that our goal is to provide those adult smokers who are seeking safer alternatives to cigarettes with a range of reduced-risk products that will meet their varying needs... And we believe the innovative e-cigarette technologies that CN Creative has been developing over the past few years will help us move closer to achieving this goal." Clearly British American Tobacco has seen the growth potential of this new market, and has made sure they are in position to take advantage of it.
Philip Morris International, Inc.
Philip Morris International is the leading international tobacco company with seven of the top fifteen international brands. Like Altria, Phillip Morris is not yet part of the electronic cigarette market. It seems Phillip Morris has plans of its own. The company announced it is developing three products that would be a new type of cigarette that poses lower health risks than traditional cigarettes. These products will be available by 2017 and will be sold under existing brands such as Marlboro. The first lower-risk product would heat tobacco generating an aerosol that consumers inhale this heated tobacco device is already in clinical testing. The second product under development would light like a traditional cigarette. While the third uses a chemical reaction to make an aerosol that contains nicotine. There has not been much information released on these three new products but with 2017 on the horizon it is only a matter of time till we learn more.
Conclusion
As you can see the electronic cigarette market has the potential to be lucrative. With big tobacco companies continuing to face a decline in cigarette consumption having alternative methods of growth is important. The electronic cigarette market will certainly be one segment that big tobacco will look to for new growth.
Disclosure: I am long MO. I wrote this article myself, and it expresses my own opinions. I am not receiving compensation for it (other than from Seeking Alpha). I have no business relationship with any company whose stock is mentioned in this article.