The sideways market paradox continues. While earnings, cash balances and other corporate metrics have improved dramatically over the last decade, the market itself has been range bound and volatile due to the excessive valuations that resulted from the tech boom. To be sure, we are 12 years into working off those excessive valuations, and the ride has been, to say the least, difficult at times.
We pay a lot of attention to earnings, and you can find our most recent analysis here. While earnings are near all-time highs, we wanted to detail the fact that many other metrics confirm and support the growth we have seen in earnings. Chart 1 shows sales, book value and dividends per share for the S&P 500 since 2000. While the numbers matter, the trend is key. All of the metrics are rising. Sales (i.e., money coming into corporations), book value (i.e., the accounting value of corporate stock) and dividends (i.e., cash payments to shareholders) have all grown. Like we have seen with earnings, some of these metrics have doubled.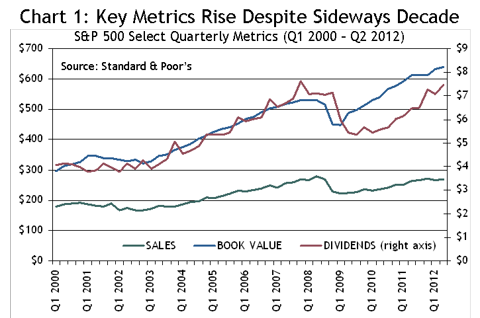 Table 1 looks ahead. It plots analyst expectations for earnings growth over the next five years as well as select valuation metrics.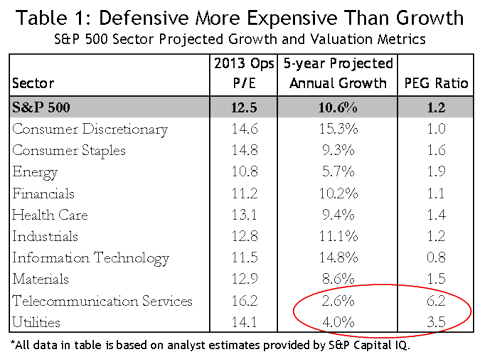 The key takeaways from the table are:
P/E ratio is below its historical average.
PEG ratio (price-to-earnings growth) is well within its reasonable range if we view below 1 as value territory and above 2 as expensive.
Defensive sectors (e.g., utilities and telecom) that offer little growth have become expensive while cyclical and growth sectors look cheap, especially given growth forecasts.
Our message continues to be that corporate health continues to improve, and if we have no economic disaster - one that would probably be caused by politicians or sovereign debt - valuations remain reasonable.
Disclosure: I have no positions in any stocks mentioned, and no plans to initiate any positions within the next 72 hours. I wrote this article myself, and it expresses my own opinions. I am not receiving compensation for it. I have no business relationship with any company whose stock is mentioned in this article.
Disclaimer: The opinions expressed are my own and are for informational and educational purposes only. These opinions are not a recommendation or solicitation to buy, sell or hold any security. The information in this article has been researched and is believed to be accurate, but readers should not make investment decisions solely on this information. Talk to an advisor before pursuing any investment strategy. Past performance is no guarantee of future results. Investment returns and principal fluctuate through time so shares may be worth more or less than their original cost when redeemed. Current performance may be lower or higher. Indexes are unmanaged baskets of securities that are not available for direct investment; they do not reflect the deduction of advisory fees or other investment expenses such as taxes and transaction costs.