Enterprise Products Partners L.P. (NYSE:EPD) owns and operates natural gas liquids, NGL, related businesses of Enterprise Products Company, EPCO. EPD is a Houston-based master limited partnership that transports and processes energy commodities, primarily natural gas liquids and refined products. Since our last article of "Enterprise: A Bull Case For Strong Income And Solid Growth", published on November 28, 2012, EPD had increased 9.65% to $56.49 on January 28, 2013. New developments will be updated for Enterprise Products Partners and the current options strategy will be reviewed.
Recent Developments
On January 29, 2013, EPD went ex-dividend with a cash dividend payment of $0.66 per share, scheduled to be paid on February 7, 2013. This distribution rate, which represents a 6.5% increase over the $0.62 per unit distribution rate declared with respect to the fourth quarter of 2011, is the 43rd distribution rate increase since Enterprise's IPO in 1998 and the 34th consecutive quarterly increase. EPD had a steady distribution increase since 2009, as seen from the chart below.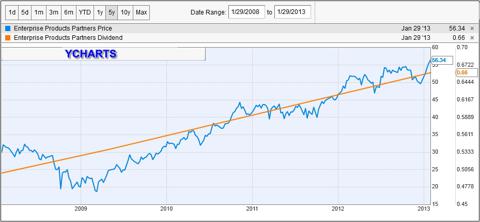 Source: ycharts.com
On January 15, 2013, EPD announced that its wholly owned affiliate, Enterprise Marine Services LLC, has entered into a multi-year contract with SeaRiver, Inc. to provide the Exxon Mobil subsidiary with transportation services. Effective on January 1, 2013, Enterprise is committing five tugs and 10 barges for the transportation of refined products and other hydrocarbon products along the nation's inland waterway system. Enterprise Marine Services owns and operates approximately 200 vessels that transport petroleum and petrochemical products throughout the nation's network of inland waterways, as well as the Gulf of Mexico.
In the summer of 2012, EPD and Houston's Enbridge Inc. (NYSE:ENB) completed a reversal of Seaway pipeline to pump oil from the bottlenecked Cushing, Okla.-area to Houston refineries. Seaway Crude Pipeline Company LLC is a 50/50 joint venture owned by affiliates of EPD and ENB. In addition to the pipeline that transports crude oil from Cushing to the Gulf Coast, the Seaway system is comprised of a terminal and distribution network originating in Texas City, Texas, which serves refineries locally and in the Houston area, as well as dock facilities at Freeport and Texas city. On January 2, 2013, Seaway Crude Oil Pipeline Company LLC announced that final work is being performed in preparation for the increase in capacity from approximately 150,000 barrels per day, BPD, to approximately 400,000 BPD.
Earnings
Enterprise will announce its fourth quarter of 2012 earnings on Thursday, January 31, 2013, before the New York Stock Exchange opens for trading. Analysts, on average, are expecting an EPS of $0.65 with revenue of $11.93B for the quarter ending in December, 2012. Analysts are estimating an EPS of $2.62 with revenue of $43.84B for the fiscal 2012. In the last 4 quarters, EPD had 4 positive, upside surprises.
Key Stats, Valuation and Competitors Update
EPD has an enterprise value of $66.49 with a market cap of $50.25B. EPD has a total cash of $30.50M and a total debt of $16.15B. EPD has an operating cash flow of $2.72B with a levered free cash of -1.34B. By using Morningstar's data, EPD's key stats will be compared to its competitors in the oil & gas midstream industry, including ENB, Kinder Morgan, Inc. (NYSE:KMI), and Kinder Morgan Energy Partners LP (NYSE:KMP). EPD has higher revenue growth (3 year average) of 7.7, comparing to the average of 7.1. EPD has lower operating margin of 7.4%, ttm, as compared to the industry average of 11.2 EPD, however, has a higher net margin of 5.9%, comparing to the average of 5.2. EPD has higher ROE of 20.7 (vs. the industry average of 11.9). EPD has P/E of 19.8, which is lower than the industry average of 31.3 and EPD's 5 year average of 20.5. EPD's forward P/E of 19.6 is higher than S&P 500's average of 13.3.
EPD's competitor, Kinder Morgan Energy Partners, had also been on a bullish run with increasing volume and profit, growing distributable cash flow, and expanding pipelines. KMP had increased the cash distribution 46 times since February, 1997. ENB also increased over 15% since mid-November in 2012 and had increased its dividend by 12% on December 6, 2012.
Technical Analysis
EPD closed at $56.35 with 0.93% gain on January 29, 2013. EPD had been trading in the range of $45.67-$56.83 in the past 52 weeks. EPD has a low beta of 0.61. The MACD (12, 26, 9) indicator had been showing a bullish trend. The momentum indicator, RSI (14), indicated a strong buying momentum at 73.04, where above 70 is considered as over-bought. EPD is currently trading above its 50-day MA of $51.79 and 200-day MA of $51.29, as seen from the chart below.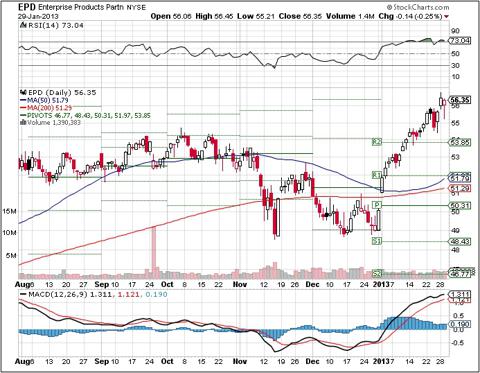 Source: StockCharts.com
Reviewing Options
The last reviewed credit put spread of March 16, 2013 $45/$50 put is currently yielding 29.89% return on margin, achieving 92.6% of maximum return. Investors could consider taking the profit after the recent run-up of EPD price. For bullish long-term investors, a credit put spread of June 22, 2013 $45/$50 put can be reviewed if EPD pulls back around $52/$53 price range.
Note: All prices are quoted from the closing of January 29, 2013 and all calculations are before fees and expenses. Investors and traders are recommended to do their own due diligence and research before making any trading/investing decisions.
Disclosure: I have no positions in any stocks mentioned, and no plans to initiate any positions within the next 72 hours. I wrote this article myself, and it expresses my own opinions. I am not receiving compensation for it (other than from Seeking Alpha). I have no business relationship with any company whose stock is mentioned in this article.