We are obsessed with gold and gold miners. As a whole, gold miners are in a strange place: they are adversely affected by gold price, but due to poor management performance across the industry metals prices have outperformed miners prices over the past few years.
Miners are slowly shutting down or selling higher-cost or non-performing mines, which would seem to be an improvement. Some miners, like Aurizon (AZK), have even seen buyout offers. But every once in a while a management firm does something so inexplicably idiotic that the firm becomes an obvious short.
Enter AuRico Gold (NYSE:AUQ), which recently completed a significant buyback at $8.30/share and fell quite a bit (plot from Google Finance):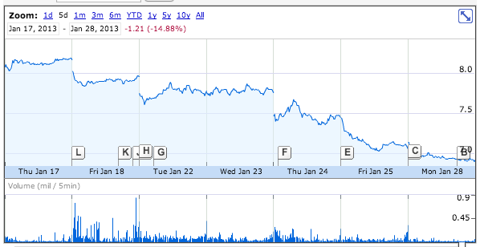 Clearly traders were not happy with the results of the buyback (it was greatly oversubscribed), but the primary reason for such a heavy selloff is if traders think the fair price lies far below the price.
Part of why it was greatly overvalued is due to the fact that it outperformed other miners and gold solely due to liquidating their flagship mine and buying back shares. Here is a 6-month comparison plot of AUQ and the miner ETF (NYSEARCA:GDX) -- 0% in AUQ corresponds to $6.58: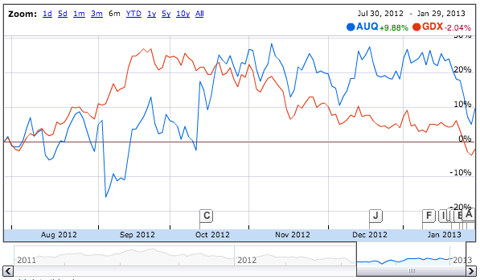 The drop at the beginning of September was due to stepping down production guidance at each of their mines, followed by a spike seen in all of the miners (this was during the September 2012 Bernanke speech). The October 2012 spike corresponded to the announcement that they were selling their flagship Ocampo mine and various interests to Carlos Slim, one of the world's wealthiest people who must have seen something of value.
Now, from the $5.25 nadir, AuRico also sold interests in Endeavour Silver (NYSE:EXK) at a loss from their book value: As part of the deal in which they acquired the shares, the shares were valued at an implied price of $9.06/sh, for a total of $100M; they announced liquidation a few months later for much less.
Based on the third quarter results, they were running with significantly negative cash flow, and based on the relative timing of the announcement of the liquidations one gathers that AuRico had a significant liquidity crunch and accepted a quick sale of assets to dig their way out of the hole.
So from a fundamentals perspective, especially given their most recent and very disappointing production announcement, the firm has not improved.
Let's do some quick math to understand how the firm's value has changed. Suppose for the moment that the production guidance since the September guidance change has no effect (it would only serve to reduce the target price). At that point, the market cap was 1.5B. Liquidating the mines and projects returned 750M cash, 128M was used to de-leverage the firm (paying off a debt facility) and 300M was used to buyback shares at 8.30. Assume that Carlos Slim isn't an idiot (fair assumption given that he's one of the world's most wealthy people), he must have seen a value far beyond the 750M that he paid. So in net, in absence of a significant expansion in price to mine value, the buyback must have happened at a price far above the value justified by the mines. Solving for the fair price:
($5.25/share *(282.28M shares outstanding)-($8.30/share - Fair Price)*36.1 shares buyback)/(282.28M shares outstanding-36.1M shares buyback) = Fair Price yields a fair price of 5.63, 30% lower than the current market price. This does not adjust for the change in the price of gold or the increased weakness in the balance sheet.
I fully attribute this weakness to management. There were other buybacks announced recently, but they gave the firm the flexibility to wait and did not lay out a floor for the price.
Based on the fact that the buyback was oversubscribed (they announced that 123M shares, half the shares outstanding, were tendered but only 36.1M shares were bought -- that's less than 30% per investor) were filled, investors should expect a wave of selling when investors receive their untouched shares (which is expected to happen in a few days). Long-term investors holding almost half of the shares of the company felt that the stock was overvalued at 8.30!
Given the downward pressure, I expect a position that is long in physical gold and short in AUQ to give solid returns over the next few days as investors receive their shares and the flippers (who bought with the hopes of flipping into the buyback for a quick profit) try to find others to hold their inventory.
Disclosure: I am short AUQ. I wrote this article myself, and it expresses my own opinions. I am not receiving compensation for it (other than from Seeking Alpha). I have no business relationship with any company whose stock is mentioned in this article.
Additional disclosure: I am long gold and short AUQ.