By Julian Murdoch
A bleak headline from Bloomberg greeted farmers and commodity investors alike last Thursday morning:
"Corn Prices May Enter Decade-Long Slump, Agency Says"
It's not often the government declares your business in the toilet. The forecast comes from data prepared by the Congressional Budget Office (CBO) for its annual budget report - this year's pithily titled "The Budget and Economic Outlook: Fiscal Years 2009 to 2019." You won't find a single mention of corn, agriculture or even the farm bill in the report, but that doesn't mean the numbers aren't underneath all the malarkey.
If you look through the supplementary documents, you'll see where Bloomberg got its depressing headline. Because corn subsidies are a not-inconsiderable expense for the U.S. taxpayer, the CBO essentially has to make a prediction. And the agency is forecasting corn's average price to hang out between $3.65 and $3.94 a bushel between 2010 and 2019. 2009 is forecast to average only $4.02. In other words, the government thinks corn is staying flat or trending down over the next decade. If you're a farmer (or investor) counting on $5+ corn, that's a big ouch.
Granted, budget numbers can vary between stringently realistic to worst-case-scenario-type planning, but considering the ride corn has been on in the past year, the forecasted prices seem pretty low.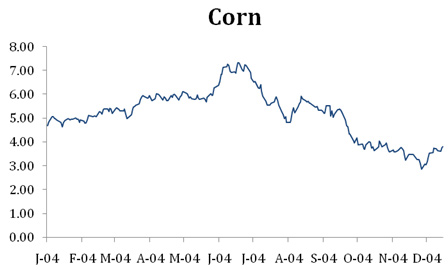 Corn averaged around $5.16 a bushel in the past year, closing at a high of $7.27 on June 27. If the government's forecast is accurate, the effects will be considerable.
$4 Corn
While still not exactly cheap, corn under $4 does have its positives.
First off, ethanol plants will see their costs come down, assuming there are any ethanol companies around to take advantage of the prices - the largest, VeraSun (OTC:VSUNQ), is currently in Chapter 11. With gasoline prices back near 2005 levels, demand for ethanol has (unsurprisingly) fallen off. Even though corn prices have dropped to almost half of their record high, ethanol manufacturers are closing plants and cutting production, as the price for their product is dropping faster. The combination of low demand and the high corn contract prices they had to accept in the summer killed their margins. If corn stays cheap enough long enough, however, it could turn the ethanol market around.
Also on the plus side: Lower corn prices translates to lower feed prices, which eases the cost pressure on livestock feed lots. Of course, in slim economic times, demand for expensive meat goes down, but the ease in feed costs may give meat producers a little more flexibility in riding out the slim times without having to decimate their herds to save money, which is where things were headed with corn at $7.
On the negative side, with prices forecasted this low, it may be too expensive to actually plant and harvest a crop. From Reuters on Friday:
"We can't afford to raise the crop," said Indiana [Farm Bureau] president Don Villwock. "Prices are below the cost of production for corn and soybeans."
Input costs are up all over the board - from land costs to seed to fertilizer, farmers are having to make a lot of decisions right now on where to spend their money on their next crop - and just what that crop will be. Again, from Reuters:
Farmers are waiting far longer than usual to decide which crops to plant, said South Carolina president David Winkles. "There is so much uncertainty of what you can pencil in for a profit," Winkles said.
Some of that uncertainty is due to uncertainty in input costs. Seed costs are high -- Monsanto (NYSE:MO) is raking it in -- as are fertilizer costs. In fact, fertilizer costs may be heading higher just as crop prices are coming down, due to, of all things, the conflict occurring between Russia and Ukraine about natural gas. The gas that flows through Ukraine flows to 18 countries. With cold weather affecting the area, activities that require high energy input, like fertilizer production, are being shut down.
Nitrogen production in particular, in countries like Poland and others, has been reduced, and in some cases shut down completely. There is some concern about a coming nitrogen shortage and corresponding price increases. While recent news suggests the disagreement will settle down, the local uncertainty is far from settled.
Not exactly a fun time to be a farmer.
Where Are We Now?
On Monday, the USDA will be releasing its final production numbers for 2008 for agricultural products like corn and soybeans - and the numbers are likely to be low. 2008 was plagued with a slow start due to planting delays and flooding. Crops seemed to recover during the summer only to be hit with harvesting delays that may have meant a lot of corn left in the field unharvested.
The lower harvest numbers could mean good news for prices going forward, something that farmers are going to need as they deal with the reality of planting for this year, and the forecasted tough times ahead. But until we get a better sense of the planting numbers (still months away), we won't know what 2009 will hold.
And until we have a feeling for 2009, looking out to 2019 will be quite a stretch indeed.