With Alcoa (NYSE:AA) kicking off fourth quarter earnings season after the close today, below we highlight the stocks in the S&P 500 that have seen the most volatility on their report days since the bear market began back in October 2007. This volatility is based on the stock's average absolute one-day change on the first trading day following its earnings reports. For companies reporting before the open, we use the current day's price change. For companies reporting after the close, we use the next day's price change.
As shown, Apollo Group (NASDAQ:APOL) has been the most volatile S&P 500 stock (>$5/share) on its earnings report days since 10/07, with an average absolute one-day change of 16%. Ciena (NASDAQ:CIEN) ranks second at 15%, followed by HIG (14.8%), ISRG (14.5%), and MA (14.3%).
While the direction can be up or down, these stocks have seen wild swings on their report days, and traders simply looking for volatility can start with this list.
click to enlarge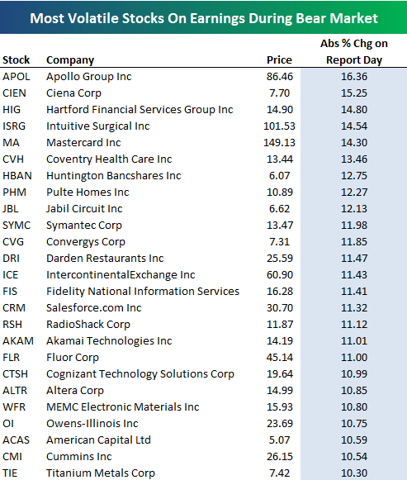 Click to enlarge