I know a 40% drop on the S&P 500 (NYSEARCA:SPY) sounds like a bold claim. However, price action following the "resolution" of the fiscal cliff has lead to three key signs that point to at least a major market correction, if not an outright bear market. These three factors are: overly bullish sentiment that resembles a market top, overvaluation, and a weakening economy where real data is diverging from stock prices.
Extreme Sentiment:
The first factor I will address is sentiment. Qualitative sentiment measures and technical analysis are both pointing to extreme levels of complacency. The fourteen day relative strength indicator is severely overbought (over 70), and the S&P is currently trading above its twenty day Bollinger band. The VIX also shows complacency, trading at just 13.3 even after a 20% rally.
Traditional sentiment indicators are also extreme. Retail is rapidly buying, which is associated with tops, and hedge funds' margin debt levels are the highest since 2004. Short interest is also back to March 2012 lows, and according to the National Active Investors Association's survey, the fund managers are the most net long since April 2011. Newsletter sentiment and the AAII market surveys have also reached extremely bullish levels. Even traditional perma-bears such as Marc Faber and David Rosenberg have become outright bullish or hesitant to short equity markets. It seems like the only bears left in the market are John Hussman and myself.
Weak Global Economy:
The second part of my bear case is that the U.S. economy is much weaker than the consensus realizes. Easy money may lower borrowing costs, but it does not stimulate job or wage growth. The real problem with the U.S. economy is continuously declining real wages. The purchasing power of real wages is down over 20% since 2000, and advents in automation, inflation risks and a global labor force will continue to drive incomes down. In many U.S. cities, the average living costs greatly exceed national mean wages of $26,250 per year. Due to accelerating living costs and declining employment prospects, half of the U.S. population relies on either government assistance or borrowed money to make ends meet. This is why consumption remains weak and a recession is likely. As a result, unless price deflation is allowed to happen or real incomes rise, the U.S. economy will continue to struggle.
Economic data confirms this weakness. Recent economic data has trended the opposite way of markets since November. Small business optimism is near all-time lows. Consumer confidence has fallen well short of expectations, plunging from 73.1 to 58.6 since October. Entrepreneurs are also feeling the pain as well. 82% of small business owners are pessimistic about the economy in 2013, and over half will not add any new hires. Tax hikes and the addition of Obamacare regulations will anchor down the economy and employment as a whole.
Consumer sentiment is not alone in the downtrend. Fed manufacturing surveys outside of Dallas have fallen into contraction, and trending downward. What is most confirming evidence is 2012 fourth quarter GDP, which printed a negative number for the first time since 2009. Europe is already in an accelerating recession, and Asia is facing a slowdown due to weaker Western demand and high inflation rates.
Tech earnings and NASDAQ (NASDAQ:QQQ) performance are also reflecting weakness. Major tech firms such as Apple (NASDAQ:AAPL), Amazon (NASDAQ:AMZN), and Seagate Technologies (NASDAQ:STX), Intel (NASDAQ:INTC), and VMWare (NYSE:VMW) have all missed conservative earnings estimates and lowered guidance. In spite of rally of the Dow and S&P 500, the NASDAQ composite has failed to reach September highs and continues to lag. If the future was really as bright as consensus claims it to be, technology would be leading the path to growth, not lagging. On the technical side, it looks the NASDAQ is forming a bearish head and shoulders pattern dating back to May 2012, which is a headwind for the S&P 500.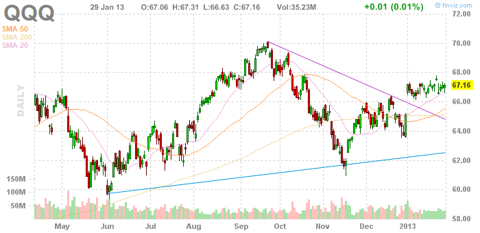 Source finviz.com
Bulls argue all of this does not matter because of the power of Ben Bernanke and the Fed to print away economic problems and rig the market. The Fed is not omnipotent; printing money always ends badly. The most likely results are the combination of a crash of the real value of asset prices and/or inflation in consumer prices. Previous rounds of excessively loose monetary policy in American history resulted in the recent housing bust, the dotcom bust, and a decade of high inflation in the 1970s. The only difference now is that the degree of monetary easing is higher. If the economy can prosper forever on the crutches of money printing, than why aren't countries such as Argentina, Hungary, and Zimbabwe amongst the most prosperous in the world? Currency debasement will end no differently this time, and the end result is a lower standard of living and weaker economy. These consequences will be too dire for equity markets to simply ignore.
Valuation:
With the combination of a underlying weak economy and euphoric sentiment, stock prices are currently overvalued. With trailing twelve month earnings of 87.10, the S&P 500's P/E is high at 17.3. Even if I use consensus optimistic projection for forward earnings of 100, the forward P/E of the S&P is at 15 (not high, but not cheap, either). On the other hand, I expect earnings to stay constant or decline slightly (~5%) in 2013. With earnings at 85 and P/E falling to the lower end of the historical average P/E range of 11, my price target for the S&P 500 is 935.
If stocks are not cheap on a P/E basis, aren't they still cheap due to high bond prices? The idea that stock and bond prices always trade inversely is patently false. The stock market bottomed in 1921, 1932, and in 1982 simultaneously with the bond market (Source: Anatomy of a Bear by Russell Napier). With the primary driver of this current bull market being cheap money, it is likely that stocks will join bonds down with the popping of the bond bubble. In addition, many fund managers will need to sell stocks to pay for losses caused by a falling bond market or redemptions that will likely come to bond funds.
Overall, both the stock and bond markets are grossly overvalued and due for at least a severe correction. Governments cannot support financial markets in the long term without disastrous societal consequences, and shifts in sentiment have caused investors to ignore a weakening economy, thus driving up stock prices. I recommend investors take profits and consider going short the S&P 500 and the NASDAQ at these levels.
Disclosure: I am short SPY, QQQ. I wrote this article myself, and it expresses my own opinions. I am not receiving compensation for it (other than from Seeking Alpha). I have no business relationship with any company whose stock is mentioned in this article.