By: Brendan Gilmartin
Ford (NYSE:F) and General Motors (NYSE:GM) are scheduled to report monthly sales on Thursday, January 31.
Summary: Overall, the major manufacturers are seen posting solid year over year comparisons, with Edmunds.com suggesting that January sales remained upbeat even as advertising tapered off since the holidays and the replacement cycle after Superstorm Sandy faded in the Northeast. A report on TrueCar.com also reinforced 2013 is off to a strong start with momentum expected to build through the year. Despite the passage of the December holiday selling period, Kelley Blue Book also points out there remain incentives from dealers that should help boost January sales.
Ford MotorExpected Release Time: 9:30 a.m. EST
Overview: Ford shares have been breaking out in recent months, benefiting from a solid fourth quarter, whereby the company posted its highest pre-tax profit in more than a decade, thanks in part to record performance in the North American region.
Estimates
TrueCar.com:18.5% (Source: Truecar.com)
Edmunds.com: 20.6% (Source: Edmunds.com)
Kelley Blue Book:15.9%(Source: KBB.com)
Technical Review: Ford shares recently touched the highest level since June 2011, benefiting from an improving macroeconomic backdrop. But shares slipped on 1/29, despite a positive earnings release, implying that buyers are somewhat fatigued. Should sales for January prove disappointing (<10%), there is downside risk to support at $11.50. Resistance is at the recent peak near $14.00. (Chart courtesy of StockCharts.com)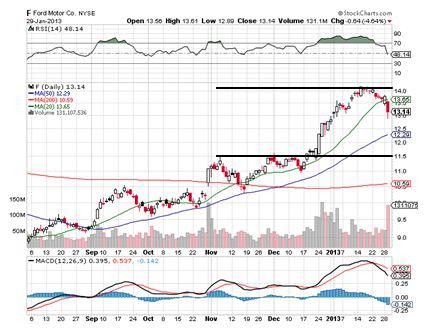 General Motors Expected Release Time: 10:00 a.m. EST
Overview: General Motors shares recently broke out to a 52-week high of $30.68 on January 15. Contributing to the advance includes the Treasury's exit from its ownership stake in GM, improving free cash flow, and a recovery in Europe. A pickup in activity in North America thanks to an improved spending backdrop also has the Street looking for a solid January comp.
Estimates
TrueCar.com:13.5% (Source: Truecar.com)
Edmunds.com: 16.3% (Source: Edmunds.com)
Kelley Blue Book:7.2% (Source: KBB.com)
Technical Review: GM shares are coming off a 52-week high of $30.68 ahead of January sales. Should the momentum fade, there is downside risk to the 50-day SMA near $27.00, followed by $26.00. (Chart courtesy of StockCharts.com)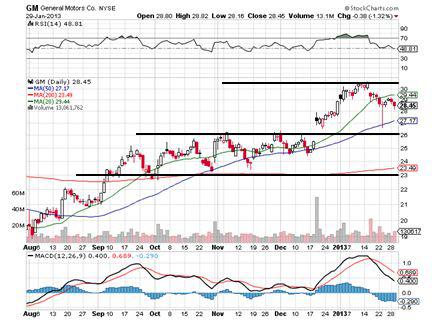 DISCLAIMER: By using this report, you acknowledge that Selerity, Inc. is in no way liable for losses or gains arising out of commentary, analysis, and or data in this report. Your investment decisions and recommendations are made entirely at your discretion. Selerity does not own securities in companies that they write about, is not an investment adviser, and the content contained herein is not an endorsement to buy or sell any securities. No content published as part of this report constitutes a recommendation that any particular investment, security, portfolio of securities, transaction or investment strategy is suitable for any specific person.
Disclosure: I have no positions in any stocks mentioned, and no plans to initiate any positions within the next 72 hours. I wrote this article myself, and it expresses my own opinions. I am not receiving compensation for it (other than from Seeking Alpha). I have no business relationship with any company whose stock is mentioned in this article.