By Damion Rallis, Senior Research Associate
While one's typical reaction to clothing retailer Abercrombie & Fitch Co. (NYSE:ANF) is to either gawk adoringly at its half-clothed models with rock-hard six-pack abs or sneer at its darkened nightclub atmosphere, here at GMI Ratings we notice a different kind of figure: the overall pay disparities among its named executive officers (NEOs). CEO and Chairman Michael S. Jeffries' pay is so out of balance with the next four listed NEOs that it's easy to imagine him being fed peeled grapes by young models in their underwear. But when a company chooses not only to allow its CEO to serve as Chairman, but also rewards the leader with excessive compensation, the "emperor" metaphors begin to form on their own.
Currently, not only does Abercrombie & Fitch's "D" rating for ESG reflect high risk over the long term, but GMI Ratings' Litigation Risk model has been showing warning signs about the clothier for several years. The company's current score is 5 (on a scale from 1 to 100), meaning "High Risk" with a 5.5% probability of Class Action Litigation occurring within the next 12 months. This places A&F in the 5th percentile of all companies in North America, indicating higher shareholder class action litigation risk than 95% of all rated companies in this region.

With most of our coverage universe, research derives largely from regulatory filings and primary source materials, but Abercrombie & Fitch has become so notorious of late that half of the research seems to come directly from the tabloids. While the notion that "any press is good press" may certainly be viable for a retailer that is often one of hundreds of choices stuffed into a shopping mall, shareholders may eventually tire of a company that is so often ridiculed. The following represents a taste of some of Abercrombie & Fitch's greatest misses:
While the sensational details make for ideal guilty-pleasure reading, the real dirt can be seen right in the Summary Compensation Table in the company's annual proxy statement, where the total summary compensation for CEO and Chairman Michael S. Jeffries is laughably greater than the next highest paid executive. If Mr. Jeffries is worth over $48 million while the average NEO is worth under $3.6 million how exactly are we meant to value the other executive officers at Abercrombie & Fitch?
Clearly, Mr. Jeffries is the king. He received $4 million in 2010 just so the company could have permission to eliminate his unlimited personal use of the company aircraft. Despite this payment - an amount that more than triples the total compensation for General Counsel Ronald Robins and approaches the total for the three other listed NEOs - the CEO received another $200,000 perquisite in 2011 for his personal use of company aircraft. The number that really sticks out here, however, is his $43 million option award, not only for its sheer magnitude, but for the fact that the equity award is not performance-based so that it will vest simply over time no matter how the company performs. Simply put, this is pay-for-pulse rather than pay-for-performance. The pure folly of Mr. Jeffries' compensation package is not exactly a secret.
At the company's 2011 annual meeting, over 44% of shareholders rejected the company's 2011 Advisory Vote on Executive Compensation (Say on Pay). Only 65 Russell 3000 companies recorded lower approval rates for fiscal 2011. As a result of this poor Say on Pay vote, the company made some of the following changes: 1) added performance shares and performance-vesting features to long-term incentives; 2) revised the company's compensation peer group; 3) reconstituted the Compensation Committee; and 4) hired a new independent compensation consultant. Despite these improvements, shareholders were simply not impressed. In 2012, fewer than 24% of shareholders approved Abercrombie's compensation policies; only six companies in our coverage universe recorded lower Say on Pay votes in 2012.
So clearly shareholders are upset. But who could blame them really? Despite the fact that Abercrombie's share price is back above $50, it's still lower than its peak in May 2012 and in October 2011, it was nearly $77. While operations improved slightly at the end of 2012, it's important to note that the company simply has failed to keep up with its competitors.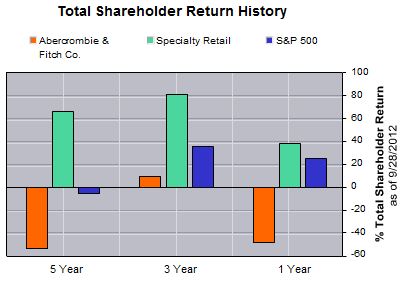 So while Abercrombie stock is clearly capable of short-term surges, we question the long-term viability of a company that puts all its eggs in the basket of its all-powerful leader. At 67, it is difficult to say how long Mr. Jeffries will remain with the company. And with such startling pay discrepancies, it appears that no other management voice is valued nearly as much as Mr. Jeffries, calling into concern the company's succession planning. Moreover, even if shareholders tried to enact actual change (as they have countless times with negative Say on Pay votes and high director withhold votes), Abercrombie & Fitch is simply too fortified for shareholders to make a difference. The company maintains an "effective classified board" meaning that its board is classified, which would make more difficult and lengthy any attempt to gain control of a majority of the board. In addition, the A&F has charter and bylaw provisions that would make it difficult or impossible for shareholders to achieve control by enlarging the board or removing directors and filling the resulting vacancies. There is also a poison pill in place that is not due to expire until 2018. The combined effect of these mechanisms is to reduce board accountability to shareholders.
So while there may be some reason for optimism, we're not convinced. There are simply too many red flags in our Pay and Ownership & Control assessment areas to trust Abercrombie & Fitch long term. As we've seen time and time again, while share prices may seem attractive in short-term situations (what better way for executives to cash out their options, especially at Abercrombie where the CEO relies almost entirely on the fluctuations of the stock market), a company where the CEO is almost emperor-like that is impervious to shareholder dissent is simply not safe for long-term investment. Over the past five years, in fact, A&F share prices are down nearly 30%. The cruel irony is that, even if shareholders were able to move on with new leadership in an attempt to create more shareholder-friendly pay practices and to eliminate the constant source of the company's bad press, Mr. Jeffries is entitled to about $105.6 million (or over 70 times his base salary) in the event of termination following a change in control.

Disclosure: I have no positions in any stocks mentioned, and no plans to initiate any positions within the next 72 hours. I wrote this article myself, and it expresses my own opinions. I am not receiving compensation for it. I have no business relationship with any company whose stock is mentioned in this article.
Disclaimer: GMI Ratings is an independent provider of research and ratings on environmental, social, governance (NASDAQ:ESG) and accounting-related risks affecting the performance of public companies. GMI Ratings is a registered investment adviser and is therefore subject to certain reporting requirements. Specifically, per our ethics policy, our analysts are precluded from engaging in any transactions involving any companies we follow. Our ratings and supporting research are intended to provide investors with an effective summary of ESG and forensic accounting factors that can and do impact issuer risk. They are not, however, intended for stand-alone use and should not be considered as simple Buy, Sell or Hold recommendations. We encourage investment professionals to regard these ratings as a specialized, proprietary input to be used in combination with existing fundamental analysis or other approaches and to help comply with the UN-PRI (United Nations Principles of Responsible Investing) and similar standards.