VIX - Market Sentiment:
Wednesday S&P futures traded in a crazy tight 7 handle pattern between 1498.80 and 1505.90 heading into the open. The market was trading in a 3 handle pattern until the release of the Advance GDP number, which missed expectations by a mile, coming in at -0.1% versus an expected 1.1% increase. The bond market will more than likely have another wild day, as today is the FOMC statement on the economy, which always keeps things interesting. Earnings continue to roll out, and today one of my favorite stocks, Boeing (NYSE:BA), beat estimates but guidance was light at best. Regardless, BA still ticked higher in the pre-market some 1% heading into the open. Another stock, Amazon (NASDAQ:AMZN), reported Tuesday night, which sent the stock on a wild 40 point ride. AMZN missed on both the top and bottom line, sending the stock 20 points down before rallying and then heading north 20 points, all in less than 30 minutes of trade. Overall, I keep hearing commentators on CNBC talk about the "Overbought" condition as the market continues to go higher. The NYMO completely disagrees, however, as it now sits with a reading of just +18.35, a slight increase over Monday's close. Remember, this indicator shows overbought or oversold markets at +/- 80 readings, so we are nowhere near overbought, in my opinion.
The spot CBOE Volatility Index (VIX) and futures moved higher up and through 14.00 before again leveling off towards the market close. Volatility ETF (NYSEARCA:VXX), 2x ETF (NASDAQ:TVIX), and alternative 2x ETF (NYSEARCA:UVXY) regained some losses from yesterday, but continue to underperform direct hedges at this point. The VIX pits were very quiet until a large buyer of the June 21 strike calls stepped in. The trader today bought 22K of the June 21 calls for 1.64 just after 2:00. Interesting, as this also appeared to be tied to a trade where the June 17 puts appeared to have been sold and the 17 strike calls were bought 8.8K times each. Overall today, puts were mostly flat, and calls were bought as the FOMC meeting continues to fuel market moves.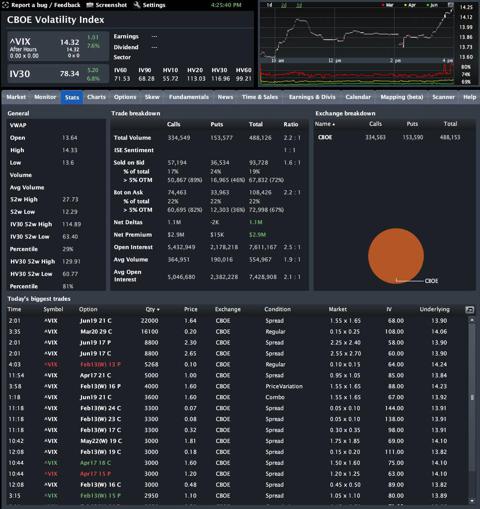 Statistics and Screenshot Provided By LiveVol
VIX futures are below.
Yesterday
· February VIX futures 14.05
· March VIX futures 14.95
· April VIX futures 15.90
Today
· February VIX futures 14.90
· March VIX futures 15.60
· April VIX futures 16.45
Options Paper:
The market continued to drive higher throughout the day before weakening into the close after the FOMC meeting. S&P ETF (NYSEARCA:SPY) again saw heavy call and put buying, which the puts have not been bought in quite some time. Facebook (NASDAQ:FB) reports after hours tonight, and the retail crowd is crazy bullish in this name, buying elevated calls all day long. The institutional crowd, however, is not so convinced, as the large block orders were puts being bought in large blocks of 5.3 and 7.5K times. This leads me to believe FB will trade lower after earnings, but after AMZN missed so badly and lowered guidance, I figure anything can go up. Other names seeing heavy option volume was QUALCOMM (NASDAQ:QCOM), Netflix (NASDAQ:NFLX), Conoco Phillips (NYSE:COP), Bond ETF (NYSEARCA:TLT), and Dell (NASDAQ:DELL). QCOM was also interesting today, as the bulls continued to stick with this name, which I have been long for the last week.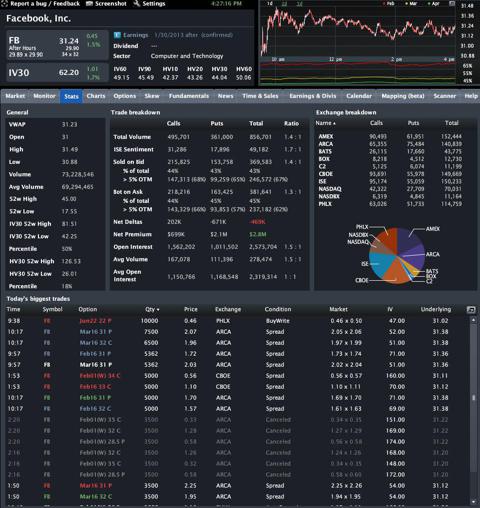 Statistics and Screenshot Provided By LiveVol
Weatherford (NYSE:WFT) has been on the sonar in the past few weeks for OTM call buying, and today was no exception. Just after 10, a buyer stepped in, buying the April 14 strike calls and driving implied volatility higher on the session, capping off the buy with a 10,796 block order, which went for .59. The stock reacted positively, continuing higher throughout the noon hour and heading towards 1:30. Then sellers of the April 16 strike calls came in hot and heavy, attempting to sell the April 16 strike calls for .24 some 15K times. This is almost the exact moment WFT lost mojo and started to trade back down towards the 13.50 level. For those who follow me and my trades on Twitter, know I just can't get behind this one, as technicals seem stretched to me here and I don't want to ride that wave. Options activity was more than 2.5x average daily volume, with calls outnumbering puts more than 10 to 1.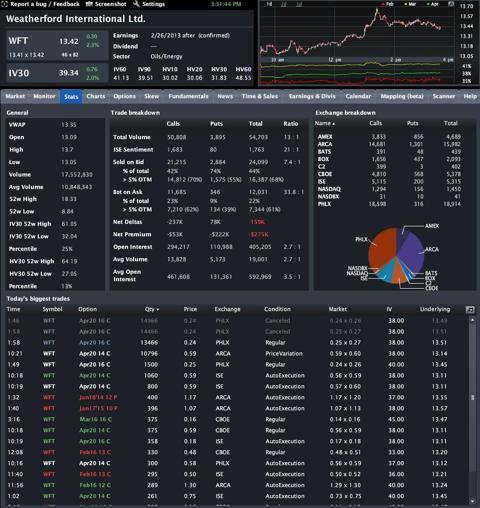 Statistics and Screenshot Provided By LiveVol
Popular ETFs and equity names with bullish/bearish paper:
Bullish Option Flows - ISE & % OTM calls bought on offer
TransDigm (NYSE:TDG) 100% of the May 147.15 calls bought on the ask today could be closing short
Boston Properties (NYSE:BXP) 98% of 14.7K OTM calls bought
Kinder Morgan (NYSE:KMI) 79% - 5.3K bought
Sprint Nextel (NYSE:S) 76%
Duke Energy (NYSE:DUK) 74% - Energy names have been hot
HomeAway (NASDAQ:AWAY) 72% - March 25 calls bought almost 150K worth
Bearish Option Flows - ISE & % OTM puts bought on offer
Vertex (NASDAQ:VRTX) 90% - Huge put premium bought almost 1M worth
Radian Group (NYSE:RDN) 90%
Network Appliances (NASDAQ:NTAP) 81% - Huge bearish risk reversal June 42 calls sold and 32 puts bought
DirecTV (DTV) 72%
H&R Block (NYSE:HRB) 72% - Bullish calls also bought today, so could be a wash
Disclosure: I am long AGNC, BA, CBB, CONE, INTC, KERX, KOS, MTGE, NRG, PG, QCOM, TUMI, VHC, VOD, and I am short DDD, EDU, SPY.
Trades today: Trimmed KERX long, added to EDU short.
I wrote this article myself, and it expresses my own opinions. I am not receiving compensation for it (other than from Seeking Alpha). I have no business relationship with any company whose stock is mentioned in this article.
Disclaimer: The opinions in this document are for informational and educational purposes only and should not be construed as a recommendation to buy or sell the stocks mentioned or to solicit transactions or clients. Past performance of the companies discussed may not continue and the companies may not achieve the earnings growth as predicted. The information in this document is believed to be accurate, but under no circumstances should a person act upon the information contained within. I do not recommend that anyone act upon any investment information without first consulting an investment professional as to the suitability of such investments for his or her specific situation.