By Todd M.
Overview
Wynn Resorts (NASDAQ:WYNN) is slated to report 4Q 2012 earnings results on Thursday, January 31 after the close of trading. A conference call will follow at 4:30 p.m. EST. Wynn Resorts builds and operates destination casino resorts in the United States and China. The results are also on the heels of weaker than expected earnings from Las Vegas Sands (NYSE:LVS) on January 30, which could give some clues that Wynn may also post a weak bottom-line.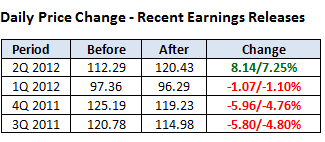 Outliers & Strategy
Adjusted Earnings Per Share: Adjusted EPS is typically the comparable value to consensus estimates. Analysts are expecting a value of $1.25, near the mid-point of a fairly wide range of $0.95-$1.52
(Source: Yahoo Finance). Wynn has exceeded expectations on Adjusted EPS five of the past eight quarters.
Revenues: Analysts are looking for revenues to decrease 5.50%, to $1.27 bln, with a range of $1.19 bln-$1.33 bln. Wynn has reported revenues below expectations five of the last eight quarters.
Sympathy Plays: Secondary movement could be seen in other names such as Las Vegas Sands (LVS) Market Vector's Gaming ETF (NYSEARCA:BJK), MGM Grand Resorts International (NYSE:MGM), Ceasars Entertainment Corp. (NASDAQ:CZR), and Melco Crown Ent. (NASDAQ:MPEL).
Implied Volitility: Using the Feb 01 weekly options with a $125 strike price, traders are expecting an absolute move of $5.85 or 4.74%. Over the past eight quarters, WYNN has had an average move of 4.84% one day after earnings results.
Recent News
01/22: According to a post on InnovateGaming.com, analysts at HSBC, Citi and Goldman Sachs have all raised their Macau Casino Revenues to +13.5%, +10% and +16%, respectively.
01/18: According to a post on StreetInsider.com, Wells Fargo has upgraded Wynn from Market Perform to Outperform. The firm cites a bullish view on Macau, low sentiment for casino stocks, and strong dividend growth.
01/10: Deutsche Bank maintained its Buy rating on Wynn, raising its price target from $135 to $144, according to a post on StreetInsider.com. Analyst Carlo Santarelli cites a higher multiple due to a higher than expected growth rate in Macau.
12/13: Wynn announced that the company will reduce the number of inside directors on its board, with the total moving from 12 to 9. This is part of a move to expand the company into new jurisdictions. Further, Wynn Resorts is calling a Special Meeting of Stockholders to vote whether or not to remove board member Kazuo Okada, who has been accused of improper conduct with Philippine officials.

Techincal Review
Wynn's shares have climbed 16.73% since the 3Q 2012 earnings release, consolidating just above $122. If earnings surprise to the upside, look for resistance around $130, which can be seen more clearly on a longer-term chart. If results disappoint, initial support can be found at the aforementioned $122 level, followed by the top of the two-month range at $115, which corresponds with the 200-day SMA and a 6-month trend line. (Chart courtesy of StockCharts.com)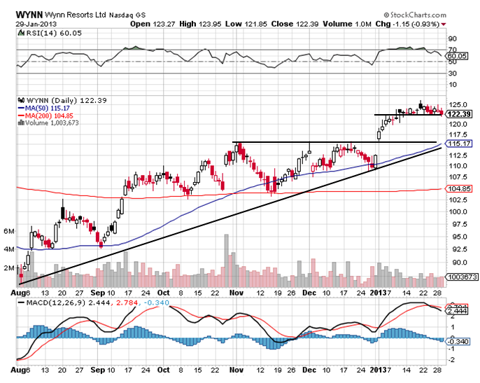 Summary
Wynn Resorts has seen its stock rally over recent months, thanks to an improving sentiment on the global economy, increasing forecasts for revenues out of Macau, aggressive expansion plans, and consistent dividend growth. Las Vegas Sands reported weaker than expected EPS and in-line revenues, yet was trading up after earnings, which is a great indicator that casino stocks have more room to run. Look for Wynn to do the same, should results come in at or above estimates.
Disclaimer: By using this report, you acknowledge that Selerity, Inc. is in no way liable for losses or gains arising out of commentary, analysis, and or data in this report. Your investment decisions and recommendations are made entirely at your discretion. Selerity does not own securities in companies that they write about, is not an investment adviser, and the content contained herein is not an endorsement to buy or sell any securities. No content published as part of this report constitutes a recommendation that any particular investment, security, portfolio of securities, transaction or investment strategy is suitable for any specific person.
Disclosure: I have no positions in any stocks mentioned, and no plans to initiate any positions within the next 72 hours. I wrote this article myself, and it expresses my own opinions. I am not receiving compensation for it (other than from Seeking Alpha). I have no business relationship with any company whose stock is mentioned in this article.