This past month has been full of news for Wells Fargo (NYSE:WFC). On Jan. 11, the largest bank by market capitalization announced Q4 2012 earnings and 2012 full-year results. Just 11 days later on Jan. 22, WFC announced its fourth consecutive increase in its quarterly dividend since May 2009. The increase to $0.25/share from $0.22/share represents a 14% increase. Today I want to review the strength of Wells Fargo's fundamental metrics and determine what market price offers sufficient margin of safety to enter a long position.
The Fundamentals Are the Strongest They've Been in 10 years
In 2008, Wells Fargo, like all major U.S. banks, saw its fundamentals deteriorate significantly. As you can see from the charts below, operating margin, net margin, earnings per share, and cash flow per share all fell to 10-year lows as the bank increased credit loss provisions to cover bad mortgages.
Click to enlarge images.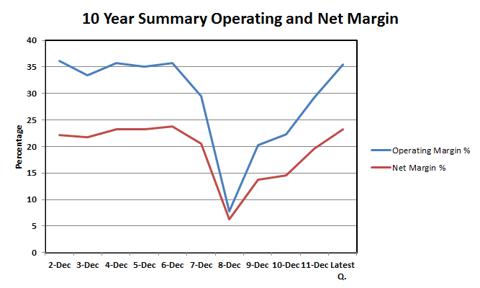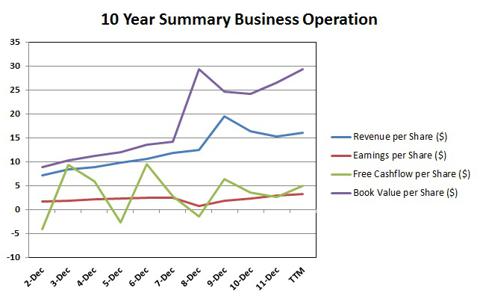 While book value per share never dipped, it looks as if the other metrics are getting back to pre-recession levels. In the Q4 earnings release, Wells Fargo announced record income for 2012, delivering diluted earnings per share of $3.36, up 19% from 2011 and 33% since the pre-recession high of $2.52 in 2006. Other metrics showing improvement are:
Operating margin: At 35.4% in the most recent quarter, it is just 30bps off the 10-year high in 2006.
Net margin: At 23.3% in the most recent quarter, it was just 50bps off the 10-year high in 2006.
Revenue: Total revenue of $86.1 billion in 2012 represents a 6% increase over 2011 and is just $2 billion short of the 10-year high in 2009.
Free cash flow: Free cash flow for the last 12 months trailing was $26 billion, up 90% since 2011.
Credit loss provision: The credit loss provision declined another 6% in 2012 to $7.4 billion, representing approximately a third of the $21.6 billion high in 2009.
Return on equity: Increased 8% in 2012 to 12.95%, or approximately two-thirds the 10-year high in 2005.
Return on assets: Increased 33% in 2012 to 1.6%, just 20bps below the 10-year high in 2006.
The only concern from the Q4 earnings release is the consistent decline in net interest margin. In 2011, the net interest margin was 3.94%, for the 2012 it was 3.76%, and in the fourth quarter of 2012 it was down to 3.56%. This depression in net interest margin is due to central banks suppressing interest rates. This is a short-term headwind. Once unemployment falls below 6.5%, the Federal Reserve will allow interest rates to rise, which will allow WFC charge higher interest on lent capital and thereby improve the net interest margin.
Market Price Evaluation
The fundamental metrics for WFC suggest the business is healthy and that there is little risk that the company will not return capital to investors in the long term -- that is, as long as investors don't over pay when they start positions in the stock. One way to determine if the current market price is a good entry point is to project the current price into the future based on historical growth. The last 10 years of earnings and P/E data are a fair estimation of growth because it includes both a recession and a boom.
Year

Earnings

($ per share)

Dividends

($ per share)

P/E Ratio:High

P/E Ratio:Low

2012

3.36

1

11

8

2011

2.82

0.48

12

8

2010

2.21

0.2

16

10

2009

1.75

0.49

18

4

2008

0.75

1.3

63

27

2007

2.38

1.18

16

12

2006

2.49

1.08

15

12

2005

2.25

1

14

13

2004

2.05

0.93

16

13

2003

1.83

0.75

16

12

2002

1.66

0.55

16

13

10-Year CAGR

7.31%

6.16%
As you can see from the table, earnings and the dividend have 10-year CAGRs of 7.31% and 6.16%, respectively. If we take the current earnings of $3.36 per share and project current earnings 10 years in the future using the same CAGR as the past decade, we get earnings of $6.80 per share. Using an extremely conservative P/E ratio of 8, which represents the second lowest P/E ratio in the last decade, Wells Fargo would trade for $54.4 per share in 2023. With WFC currently trading at about $35 per share, an investor would earn a 10-year average annual return of 4.5%.
A slightly less conservative estimation might use a P/E ratio of 12, which is the median P/E ratio for the last decade of 52-week low P/Es. At this level, shares would be worth $81.61 per share in a decade with an average annual return of 8.83%. While some may disagree, I think that a P/E ratio of 12 provides sufficient margin of safety because as evidenced in the table above, the yearly low P/E ratios prior to the recession were consistently higher than 12.
As an additional layer of safety, I never invest in an equity that is offering less than a 10% 10-year average annual return. Therefore, assuming a future P/E of 12, I'd look to enter WFC around $31.5 a share unless earnings growth increases.
Conclusion
Wells Fargo has undergone an incredible recovery. Just four years after the financial crisis, Wells Fargo has achieved record net income, increased the dividend 500%, and restored fundamentals to pre-recession levels.
At the current price, Wells Fargo could conservatively provide a 10-year rate of return between 4.51% and 8.83%. Those looking for a rate of return in excess of 10% should look for earnings growth or the current share price to decline to $31.5 per share. Analyst focus on net interest margin could help to drive WFC down to the $31.5 level in the short term, but in the long term it would not be a concern.
Disclosure: I am long WFC. I wrote this article myself, and it expresses my own opinions. I am not receiving compensation for it (other than from Seeking Alpha). I have no business relationship with any company whose stock is mentioned in this article.