One of the most popular hobbies in the hedge fund business has apparently become targeting undervalued energy producers and kicking out the incumbent board of directors. Along with that, these companies seem to also be run by a founding CEO who has recently fallen out of favor with investors.
Case No. 1 -- Aubrey McClendon and Chesapeake Energy (NYSE:CHK)
Case No. 2 -- Tom Ward and Sandridge Energy (NYSE:SD)
To that we can now add John Hess and his company Hess Corp. (NYSE:HES), which is being targeted by activist investor Elliot Associates.
Elliot Target Price $126 Per Share -- 100% Upside
What got my attention about this particular activist campaign is what the activist Elliot thinks Hess shares are actually worth, and what they are trading for today. It looks like there might be a lot of upside for investors buying today.
According to Elliot, Hess shares -- which are trading in the sixties -- are worth at least $126 per share. That sort of valuation disconnect seems almost impossible for a company of this size (over $20 billion).
Click to enlarge images.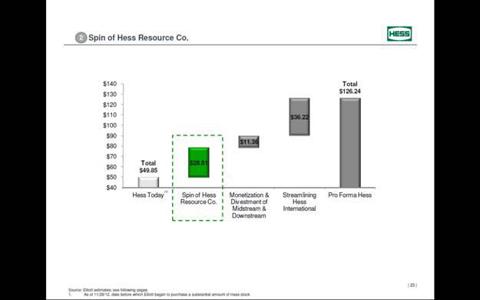 What does Elliot attribute the cause of this massive discount in valuation to? Put simply, a lack of focus. The asset portfolio of Hess is so confusing that Mr. Market doesn't know what to make of it, or how to value it.
The following excerpt from the most recent Hess 10K is evidence enough of the scattered assets of the company:
Hess Corporation is a global integrated energy company that operates in two segments, Exploration and Production (E&P) and Marketing and Refining (M&R). The E&P segment explores for, develops, produces, purchases, transports and sells crude oil and natural gas. These exploration and production activities take place principally in Algeria, Australia, Azerbaijan, Brazil, Brunei, China, Denmark, Egypt, Equatorial Guinea, France, Ghana, Indonesia, the Kurdistan region of Iraq, Libya, Malaysia, Norway, Peru, Russia, Thailand, the United Kingdom and the United States (U.S.). The M&R segment manufactures refined petroleum products and purchases, markets and trades refined petroleum products, natural gas and electricity. The Corporation owns 50% of HOVENSA L.L.C. (HOVENSA), a joint venture in the U.S. Virgin Islands. In January 2012, HOVENSA announced a decision to shut down its refinery and operate the complex as an oil storage terminal. The Corporation also operates a refining facility, terminals, and retail gasoline stations, most of which include convenience stores that are located on the East Coast of the United States.
Was that a list of countries that the company operates in or some sort of alphabetical exercise?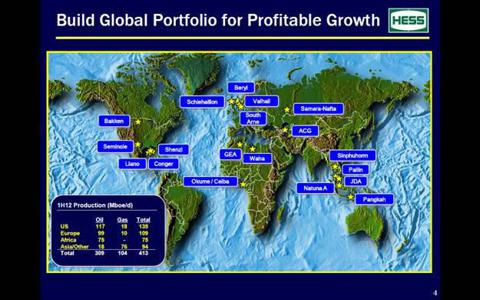 Elliot Associates thinks this scattering of assets causes the stock market to apply a valuation multiple similar to that of a slow growth "major" integrated oil company, when in reality Hess has assets similar to faster growing operators which command much higher multiples. Hess thinks the best way to improve the valuation discount and realize $126 per share of value is to create three separate, manageable and focused enterprises in three simple steps:
Step 1: Spin off Hess's Bakken, Eagle Ford, and Utica acreage into a company purely focused on unconventional oil and gas development. Elliot believes that on its own these assets would command more than double the valuation multiple that they do inside Hess.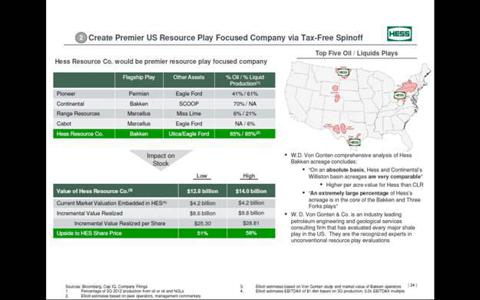 Step 2: Sell off downstream assets and resource play infrastructure. Elliot thinks Hess has far too much capital tied up in infrastructure, refining and other businesses it should exit. Elliot thinks that Hess could raise $5 billion of cash by getting out of these businesses and return that money ($11 per share) to shareholders.
Step 3: Streamline the remaining international portfolio. Elliot believes that once the resource plays are spun out in Step 1 and the assets sold in Step 2, that Hess would be left with a premier portfolio of low decline (long-life) oil assets that would garner a premier market multiple. The key is eliminating the noise around these assets created by the high growth (but capital intensive) resource plays and the mishmash of downstream and infrastructure assets.
To try and make sure its desired changes in Hess are made Elliot has proposed five nominees for election to the board of directors. So far, the stock price has reacted favorably to the news of Elliot's activist efforts, but there is a still a long ride up to $126 per share for interested investors.
Disclosure: I have no positions in any stocks mentioned, and no plans to initiate any positions within the next 72 hours. I wrote this article myself, and it expresses my own opinions. I am not receiving compensation for it (other than from Seeking Alpha). I have no business relationship with any company whose stock is mentioned in this article.