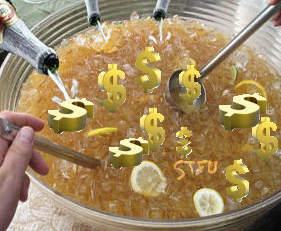 Economic data Wednesday revealed the nation's GDP contracted -.1% vs. 1% expected and prior 3.1%. Most of the decline was attributed to inventories and a large decline in defense spending. There was plenty of spin surrounding this data. Some blamed it on "this is what austerity might look like with less spending" (Keynesians), while others just accepted the data for what it was -- not good. Markets initially shrugged to the news, knowing bad data means more Fed QE, which is always bullish. ADP Employment Data rose slightly (192K vs. 172K expected and prior revised sharply lower to 185K from 215K). Some, including me, don't think much of this report generally, since it's too volatile and in the end, unreliable.
Tuesday's Consumer Confidence severe drop (58.6 vs. 65.1 expected and prior 66.7) was a shocker, reflecting higher payroll taxes, and perhaps slightly influenced by debt ceiling negotiations. Since I wasn't posting Tuesday, it seems the only conclusion was more of the "bad news is good" meme, which dominates trading with ZIRP and QE keeping training wheels on bullish investors.
The Fed announcement contained little new information, except a mention that weather was one cause for the GDP decline. (When in doubt, whip that one out.) Fed policies were left unchanged, so QE will remain in place, providing that proverbial tailwind pundits love to cite.
We now turn to more earnings, Jobless Claims and Friday's big employment report. Both of these employment reports will be misleading given the number of people falling off the employment rolls.
The dollar (NYSEARCA:UUP) fell sharply on the GDP data, while gold (NYSEARCA:GLD) bounced, as it should given dollar weakness. Stocks fell modestly, and selling picked up downside speed in the last hour of trading. Leading sectors lower were small caps (NYSEARCA:IWM) and housing (NYSEARCA:ITB). Bonds (NYSEARCA:TLT) prices fell and yields rose. Commodities (NYSEARCA:DBC) rose, with gains in energy (NYSEARCA:USO) and metals (NYSEARCA:JJC).
Volume was, once again, modest and returning to levels last seen in 2006 and early 2007. Breadth per the WSJ was negative overall.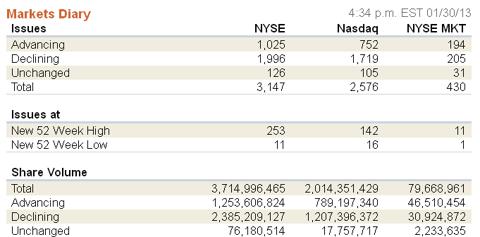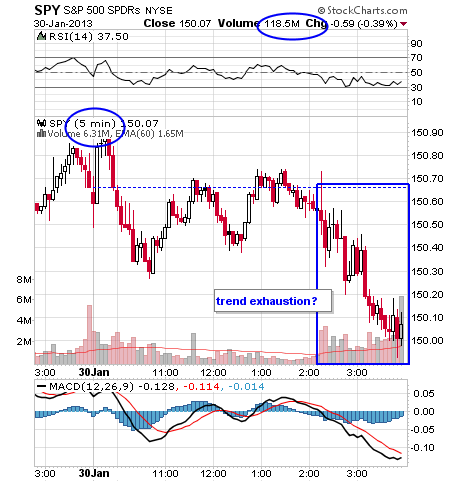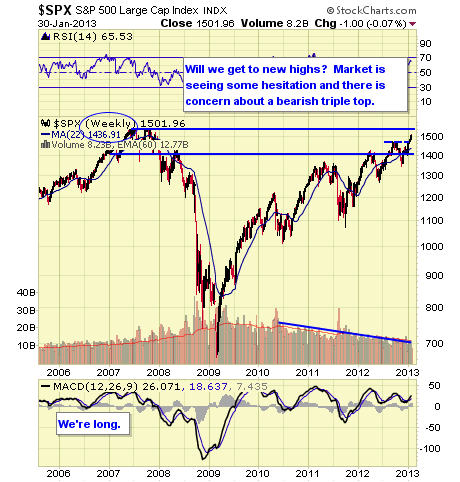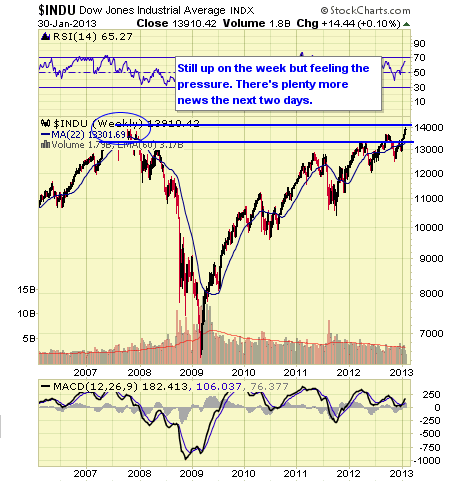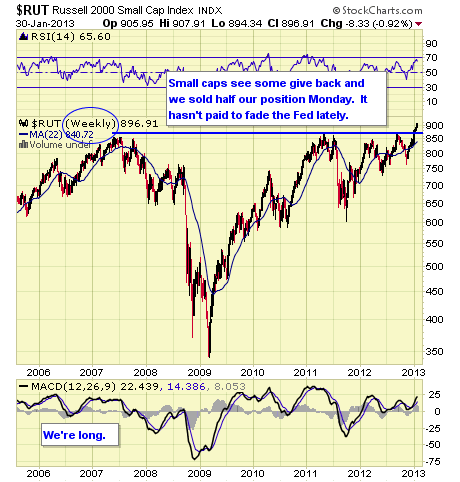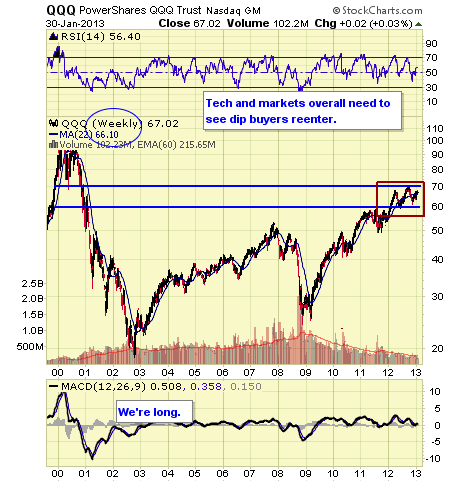 Continue to U.S. Sector, Stocks & Bond ETFs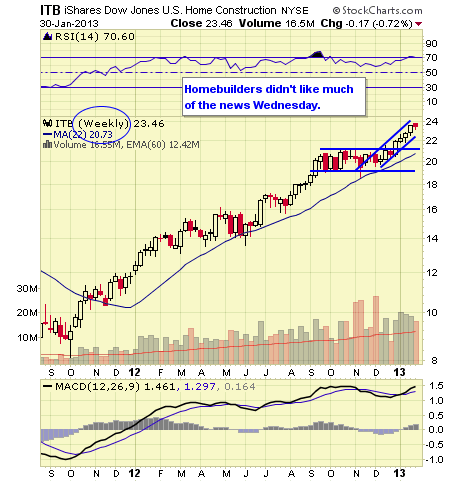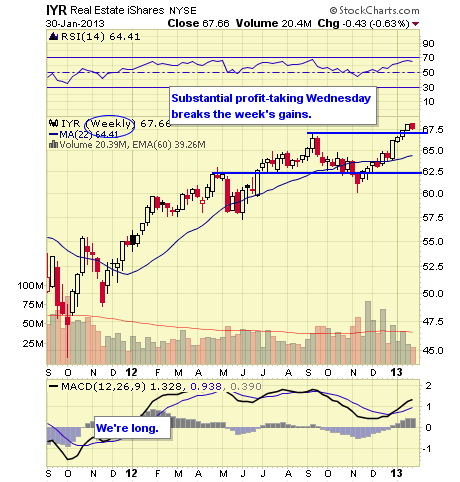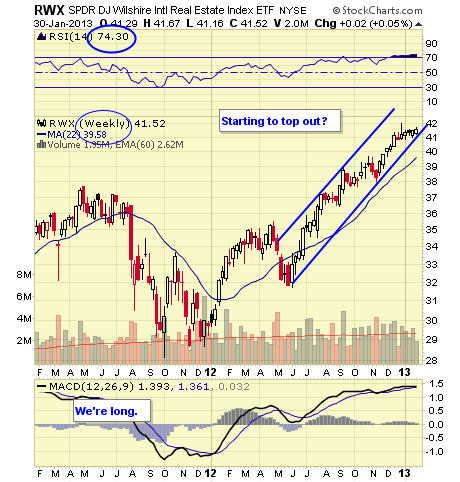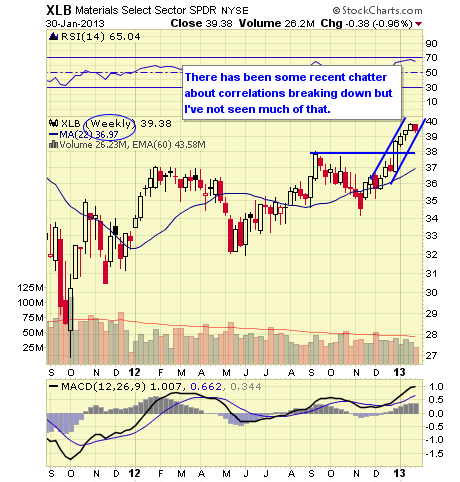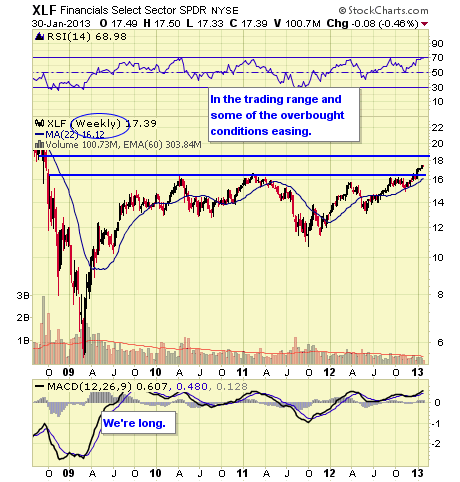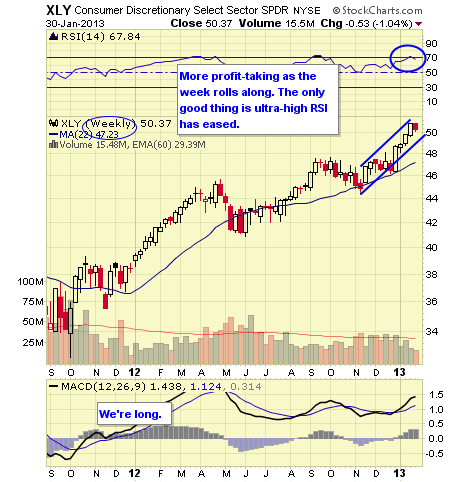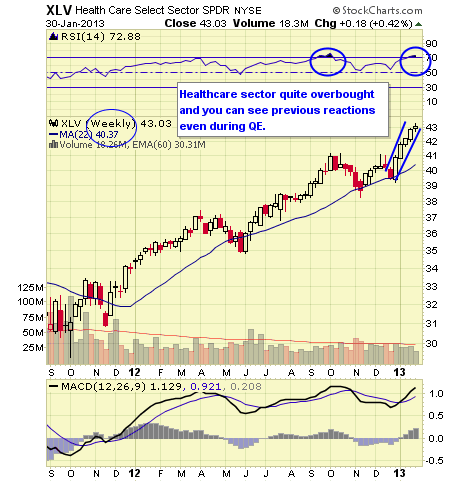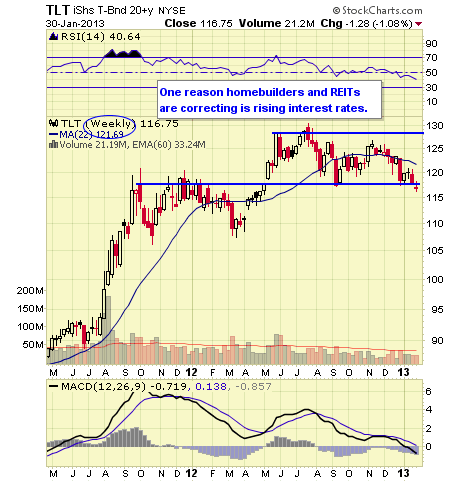 Continue to Currency & Commodity Market ETFs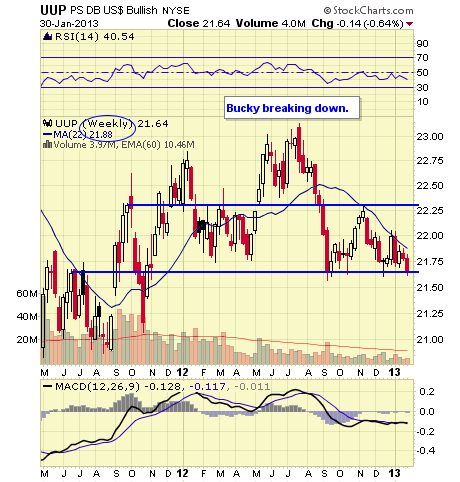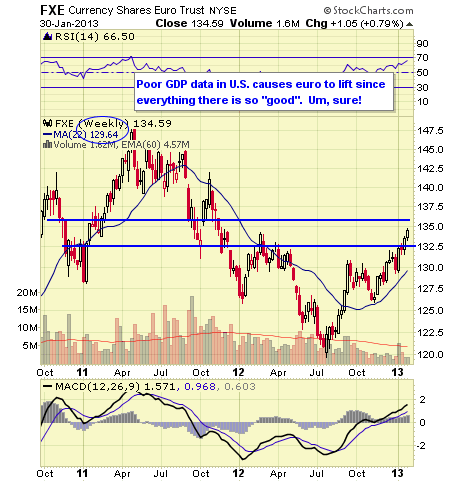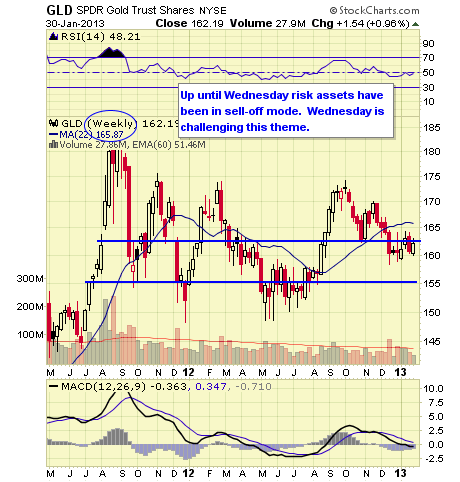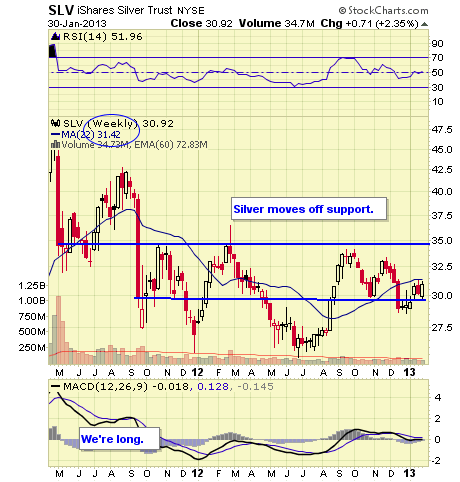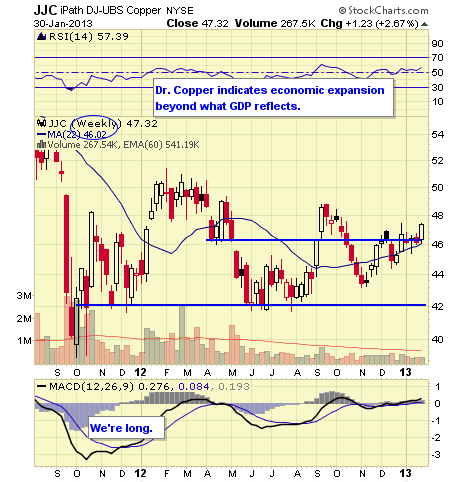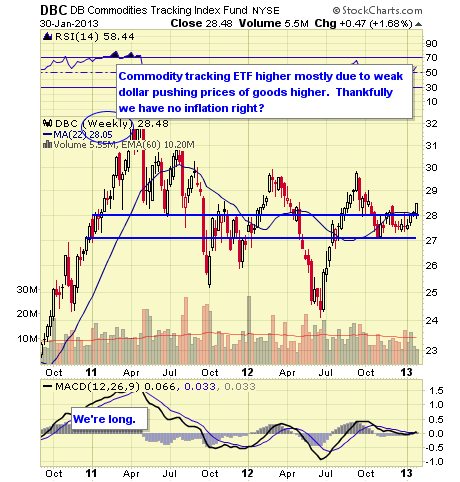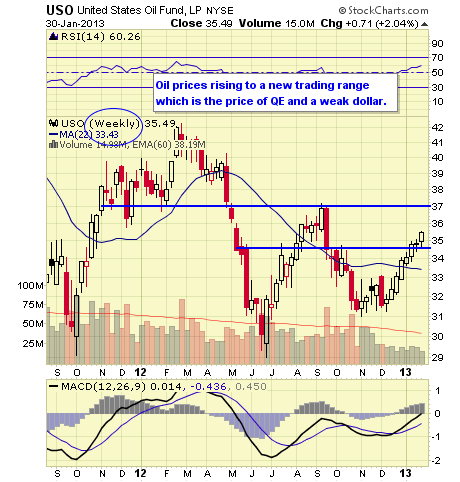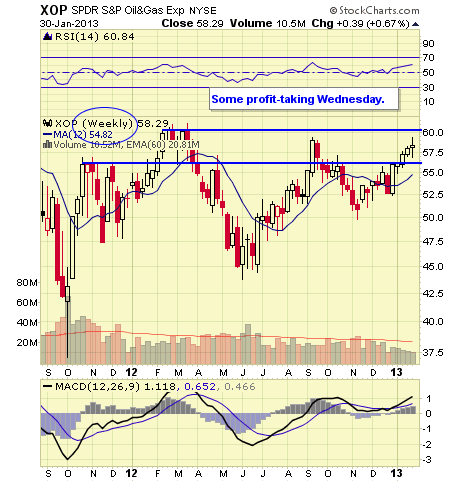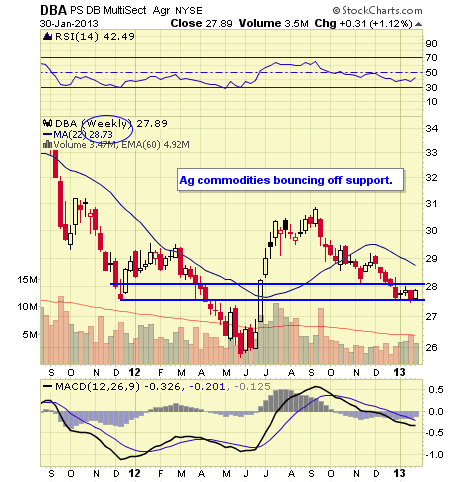 Continue to Overseas Sectors & ETFs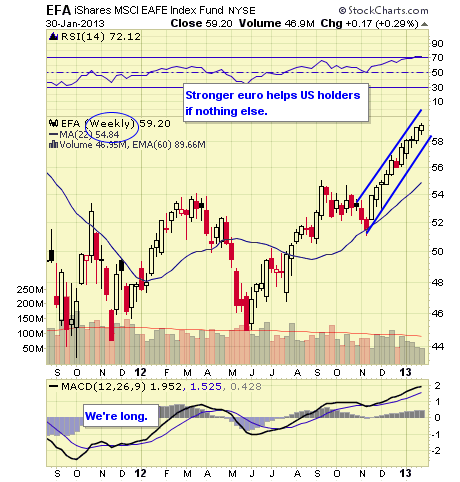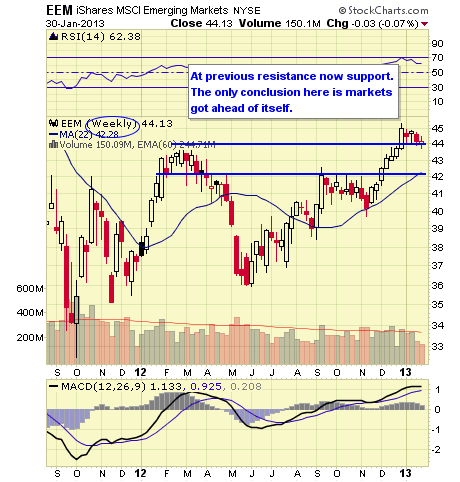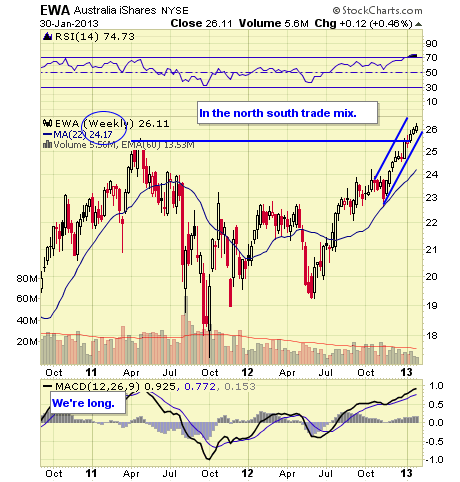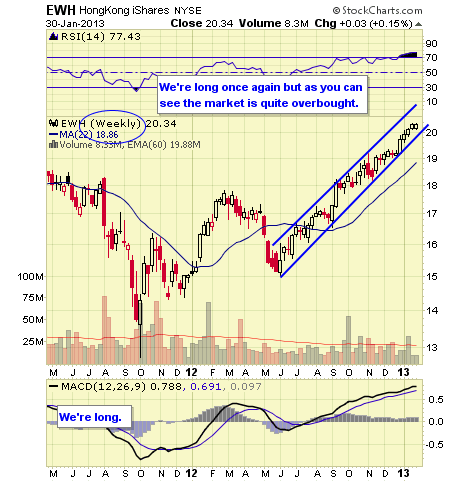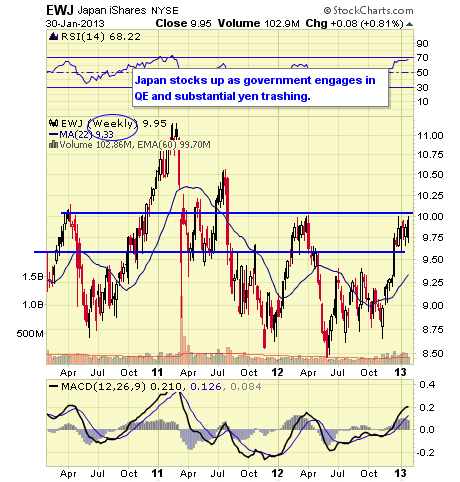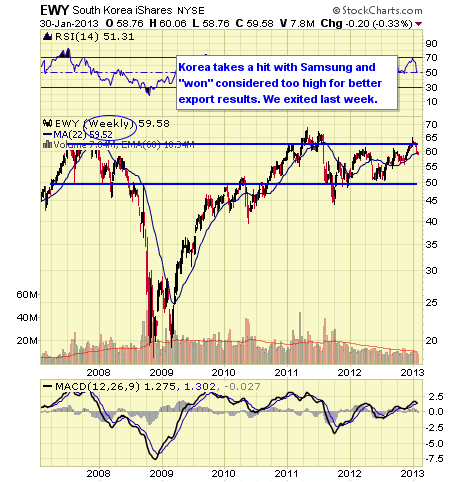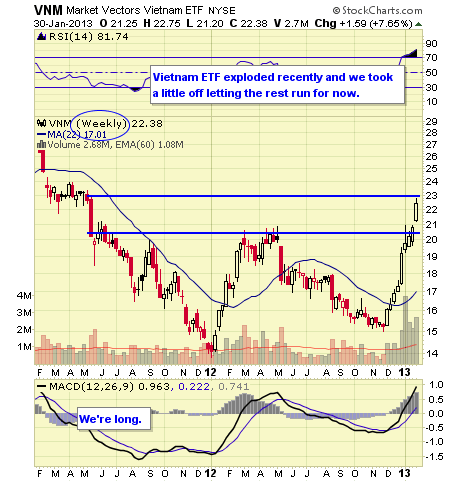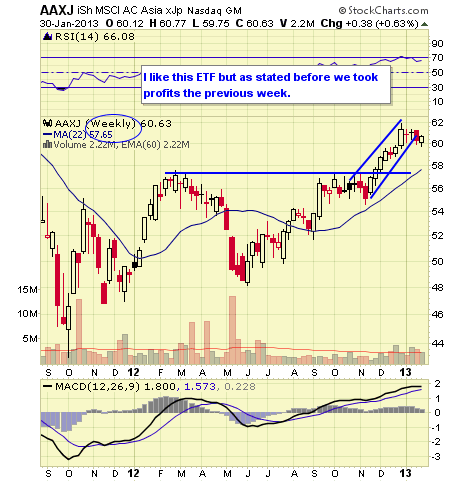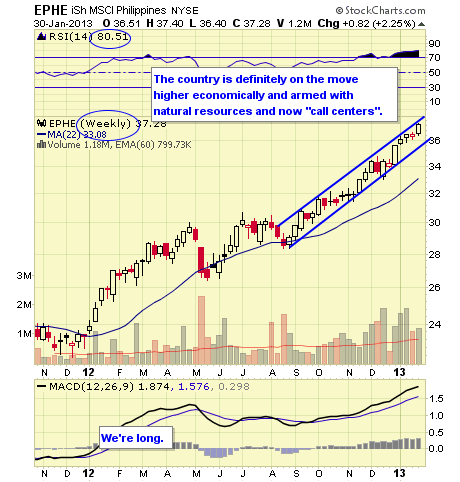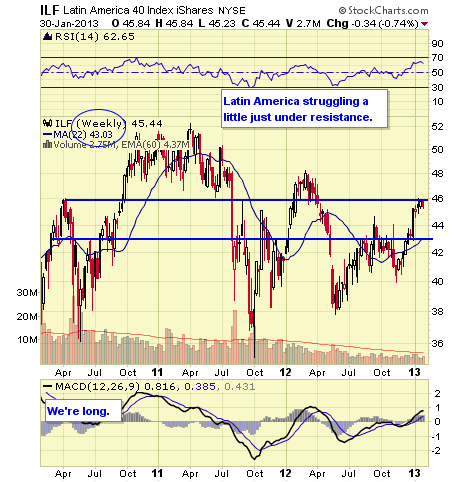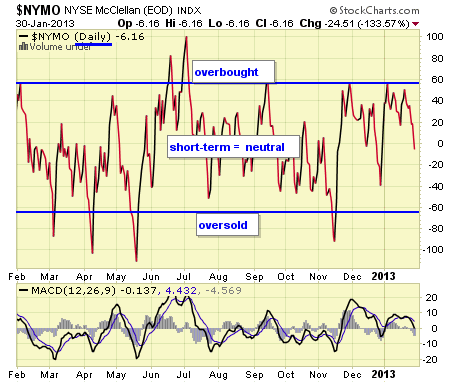 The NYMO is a market breadth indicator that is based on the difference between the number of advancing and declining issues on the NYSE. When readings are +60/-60, markets are extended short term.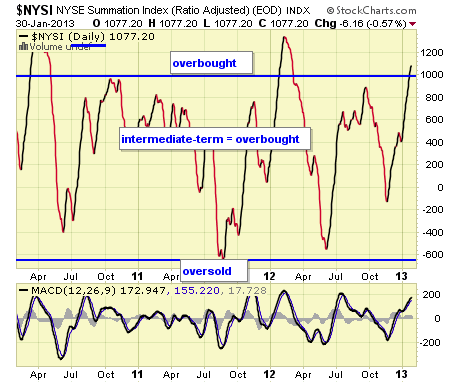 The McClellan Summation Index is a long-term version of the McClellan Oscillator. It is a market breadth indicator, and interpretation is similar to that of the McClellan Oscillator, except that it is more suited to major trends. I believe readings of +1000/-1000 reveal markets as much extended.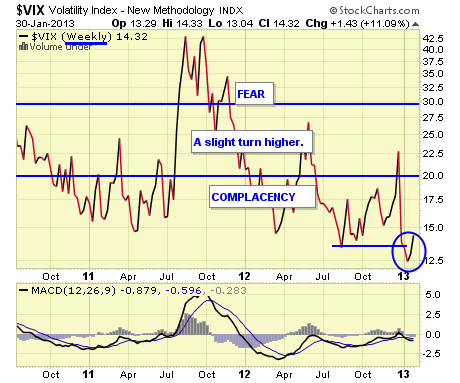 The VIX is a widely used measure of market risk, and is often referred to as the "investor fear gauge." Our own interpretation is highlighted in the chart above. The VIX measures the level of put option activity over a 30-day period. Greater buying of put options (protection) causes the index to rise.
Concluding Remarks
Maybe markets are just getting a little tired. Most DeMark indicators signal this. But with QE in place, all this liquidity can steamroll many technical indicators.
There's still much in the way of economic data and earnings these last two days of the week. Jobless Claims, Personal Income & Outlays, Employment Cost Index and Chicago PMI (Thursday). Then Friday is the Employment Report, Consumer Sentiment, ISM Mfg Index and Construction Spending. Taken together, these can and will move markets.
Disclaimer: The ETF Digest maintains an active ETF trading portfolio and a wide selection of ETFs away from portfolios in an independent listing. Current "trading" positions in active portfolios, if any, are embedded within charts: Lazy & Hedged Lazy Portfolios maintain the follow positions: VT, MGV, BND, BSV, VGT, VWO, VNO, IAU, DJCI, DJP, VMBS, VIG, ILF, EWA, IEV, EWC, EWJ, EWG, & EWU.
The charts and comments are only the author's view of market activity and aren't recommendations to buy or sell any security. Market sectors and related ETFs are selected based on his opinion as to their importance in providing the viewer a comprehensive summary of market conditions for the featured period. Chart annotations aren't predictive of any future market action rather, they only demonstrate the author's opinion as to a range of possibilities going forward.
Disclosure: I have no positions in any stocks mentioned, and no plans to initiate any positions within the next 72 hours. I wrote this article myself, and it expresses my own opinions. I am not receiving compensation for it. I have no business relationship with any company whose stock is mentioned in this article.