With many corporations holding billions of dollars in cash on the balance sheet, and with more signs that the U.S. and the global economy might be starting to achieve "escape velocity" whereby enough growth occurs for the recession to become a thing of the past, investors should consider that more merger and acquisition deals could be coming in 2013. Interest rates remain at very low levels, which means cash earns little when sitting on the balance sheet, and it also means that it is cheap to borrow money if financing is needed for a buyout. Low priced stocks and companies with smaller capitalizations can make big moves in a takeover situation, and that's why it can pay to focus on stocks such as the ones below. Furthermore, some of the smaller companies here are often overlooked by investors and analysts, which can result in great buying opportunities.
Companies may find competitors to be attractive takeover targets, but in addition, there could be a wave of private equity deals and leveraged buyouts, which have recently made the headlines with companies like Dell (NASDAQ:DELL) and others. A recent article in The Wall Street Journal says that private equity deals are "coming back, baby". The stocks below appear undervalued and may also have takeover potential, especially as the worst-case scenarios for the global economy such as a European financial crisis or a "hard-landing" in China seem to fade. Here are four stocks to consider: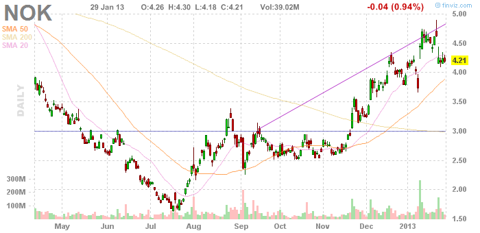 Nokia (NYSE:NOK) shares have been trending higher in the past few weeks, (as shown in the chart above), but have recently declined a bit after the company announced it was eliminating its dividend. What's remarkable about this news is that Nokia has been paying a dividend for about 143 years, so this is certainly a landmark decision. However, it seems prudent to eliminate the dividend in view of the decline in both sales and profitability that Nokia has seen in the past couple of years. Ending the dividend payments will allow the company to keep more of its cash as it tries to complete a turnaround.
In spite of the challenges facing Nokia and many smartphone makers, this sector could be ripe for mergers and acquisitions. This company has been considered to be a takeover target in the past, and some investors and analysts believe that Microsoft (NASDAQ:MSFT) could be a likely suitor since Nokia features the Windows 8 operating system on its flagship smartphone, the "Lumia". It also makes sense, since Microsoft has a history of making acquisitions and it has about $66 billion in cash, which means it can afford to do so.
The possibility of takeovers in this sector has recently been heating up, as it was just reported that China's Lenovo is considering a deal for a smartphone maker. Lenovo's chief financial officer, Wong Wai Ming, was quoted as saying: "We are looking at all opportunities -- RIM and many others," during an interview with Bloomberg at the World Economic Forum's annual meeting in Davos, Switzerland. While he specifically mentions RIM or Research in Motion (RIMM), it seems likely that a company like Nokia could be part of the "and many others" due to its history and position as a mobile phone maker. Plus, since Canadian officials have shown reluctance in the past to sanction a takeover of RIM, and because the U.S. government could also have security concerns, a takeover of Nokia might have less regulatory resistance.
Nokia also has a strong balance sheet, which makes it more attractive as a takeover target. This company has about $12 billion in cash and around $6.75 billion in debt. While many challenges remain for Nokia, at just over $4 per share and with a market capitalization of about $15 billion, it could be an attractive takeover target. Considering the huge run RIM shares have had in the past few weeks, this might make Nokia even more attractive from a valuation perspective. The risks for shareholders seem to be heightened if Nokia is either unable to complete a turnaround and achieve sustainable profits or find a buyer. It could slowly see its cash position dwindle, and that may eventually take the share price down. But for now, the company has plenty of cash, and that means it has time for a more positive outcome to develop.
Here are some key points for NOK:
Current share price: $4.21
Earnings estimates for 2012: 5 cents per share
Earnings estimates for 2013: 18 cents per share
Annual dividend: none
Cal Dive (NYSE:DVR) is a Texas-based company that offers a wide range of services to the oil and gas industry, which include manned diving, pipe laying and pipe burial, platform installation, as well as salvage services. These services are needed for new construction and maintenance on pipelines, production platforms, risers, etc. It has a fleet of about 29 vessels, which operate in the Gulf of Mexico, Latin America, China, Australia, the Middle East, and other locations.
This company was significantly impacted by the global recession and the slowdown in drilling in the Gulf of Mexico after the BP (NYSE:BP) oil spill, but it could be ready for a much brighter future after announcing a restructuring in 2012. The company appears to be very well-positioned to take advantage of oil prices, which have been rising back towards $100 per barrel, and renewed drilling activity as the Gulf of Mexico rebounds. While risks remain since the company has posted losses recently, the stock has been showing strength, and that could be signaling the positive factors that now seem to be in place for this company and the industry it operates in.
With the U.S. and global economy showing increased growth potential, Cal Dive shares look very undervalued. The company could be an attractive takeover target from a major oil services company. A company like Halliburton (NYSE:HAL) might be a good fit, but a firm that provides similar services like Helix Energy Solutions Group, Inc. (NYSE:HLX) could even be better positioned to consider buying a company like Cal Dive. Helix is another leading firm in this sector, and it recently agreed to sell its oil and gas subsidiary for about $610 million, plus additional consideration. This divestment allows Helix to strategically focus on the services side of its business. The cash from the sale could put Helix in a great position to grow or make acquisitions. Aside from an industry player as a possible suitor, Cal Dive is small enough for many private equity firms to be able to consider it as a potential acquisition.
It is interesting to note that a number of well-known funds own a significant stake in Cal Dive, and this could be another indicator that the shares are undervalued: The Fidelity Low Priced Stock Fund owns about 6.6 million shares which is equivalent to about 7% of the entire company, and a number of other Fidelity funds own a significant position. Vanguard also owns a solid position, with roughly 5.3 million shares, or about 5.5% of the company.
Aside from the increasingly positive fundamentals for the economy, oil, and the drilling industry, by looking at the chart above, Cal Dive shares appear ready to break out above resistance levels of around $1.85 and perhaps move over $2 per share, which it has not done in many months. As one recent article points out, this company has a strong contract backlog (worth $224 million), and the stock could also have short squeeze potential. Analysts expect revenues to jump nearly 25% from about $421 million in 2012 to around $538 million in 2013. Furthermore, stocks often begin to rebound in advance of more positive financial results, and that could be the case we are now seeing with Cal Dive.
Here are some key points for DVR:
Current share price: $1.85
Earnings estimates for 2012: a loss of 45 cents per share
Earnings estimates for 2013: near break-even results
Annual dividend: none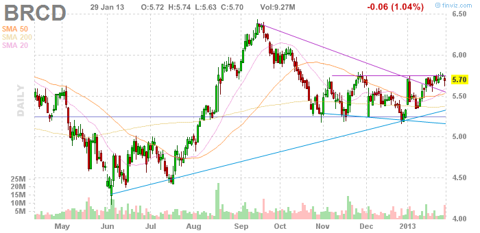 Brocade Communications Systems, Inc. (NASDAQ:BRCD) has been considered to be a takeover target in the past, but a couple of recent events have once again brought this possibility to the forefront for some investors. First of all, Brocade has a new CEO named Lloyd Carney, who sold the last two companies he led, which include Xsigo Systems, which was acquired by Oracle (NASDAQ:ORCL) in 2012, and Micromuse, which was sold to IBM (NYSE:IBM) in 2005. Since the new CEO has a solid track record in making deals, it would make sense to consider that there is a chance a sale scenario could happen again.
In addition, some analysts also believe that Brocade is a likely takeover target. Investment banking firm Morgan Stanley (NYSE:MS) recently compiled a list of companies that it believes to be solid picks for a buyout offer, and Brocade made the list.
Brocade is a leading developer and manufacturer of data storage and networking equipment. It competes with a number of other companies, so as a smaller company with a market capitalization of around $2.6 billion, it could be an "affordable" and strategic acquisition. Brocade has a strong balance sheet with about $713 million in cash and just around $601 million in debt. This solid financial position could make Brocade more attractive to potential suitors.
Analysts expect the company to earn 63 cents per share in 2013, and 66 cents per share in 2014. Brocade shares appear undervalued, as it trades for just about nine times earnings. That seems cheap, since the average stock in the S&P 500 Index (NYSEARCA:SPY) trades for about 15 times earnings. It also trades for just a slight premium to book value, which is $4.89 per share.
Here are some key points for BRCD:
Current share price: $5.70
Earnings estimates for 2013: 63 cents per share
Earnings estimates for 2014: 66 cents per share
Annual dividend: none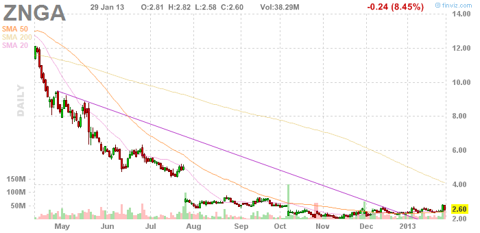 Zynga, Inc. (NASDAQ:ZNGA) is mostly known for its online games such as "Words with Friends" and "Farmville," and as a leader in the social gaming sector, it was once a Wall Street "darling." Zynga had an initial public offering and the stock did very well initially, going well past the IPO price of $10 per share. However, investor enthusiasm did not last long, and it seemed that making money in this industry was more difficult than some investors expected. Then came the much anticipated Facebook IPO and since that went poorly, it created less enthusiasm for investors to buy and hold stocks in the social networking sector. However, it is worth taking a fresh look at Zynga for a number of reasons now.
Zynga shares are trading for about $2.60. That is just a fraction of the IPO price, and way below the 52-week high of $15.91 per share. At about $2.60 per share, this stock looks like an incredible bargain when you look at the balance sheet. Zynga has around $1.3 billion in cash, and this is equivalent to roughly $1.70 per share in cash. It has about $100 million in debt. After the cash is backed out, it means the market is only valuing this company with an enterprise value of about $700 million. That seems very low, considering the long-term potential of the online gaming industry.
Last year, a Wall Street Journal article summarized why Zynga could be an attractive takeover target based on the fact that it has around 35 million "Zynga Poker" users. It also noted that International Game Technology (NYSE:IGT) offered to pay up to $500 million for Double Down Interactive, a casino game developer on Facebook, which at the time had about 5 million users. In addition, Caesars Entertainment (NASDAQ:CZR) paid up to $200 million for Playtika, a slot machine game company with around 7 million users. If you compare these values with the 35 million users Zynga has for just its poker game, this company looks like a bargain with an enterprise value of roughly $700 million. The Double Down deal valued each user at about $100, and if that same value was applied to Zynga with 35 million poker users, that would imply a $3.5 billion value (just for the poker games).
What's even more interesting is that since that Wall Street Journal article came out, Zynga has moved aggressively into real-money gambling. It has applied for a gaming license in Nevada, and it recently pre-launched two websites, "Zynga Plus Poker" and "Zynga Plus Casino" in the United Kingdom. In the future, online gambling might also be legalized in the United States, especially since states and the Federal government need to find new tax revenues to fill major budget gaps.
A Seeking Alpha author feels that Las Vegas Sands (NYSE:LVS), MGM Resorts International (NYSE:MGM) or Wynn Resorts (NASDAQ:WYNN) could be possible Zynga suitors due to its push towards real money gaming, online technology and its significant user base. With the stock trading at very low levels, the downside appears limited. Of course, the risk is that Zynga burns through over $1 billion in cash, and online gambling never catches on enough for this company to turn in solid profits, but that seems unlikely. This could be an ideal bet on the future of online gambling, and perhaps even benefit from a potential takeover in the future.
Here are some key points for ZNGA:
Current share price: $2.60
Earnings estimates for 2012: 3 cents per share
Earnings estimates for 2013: 1 cent per share
Annual dividend: n/a
Data is sourced from Yahoo Finance. No guarantees or representations are made. Hawkinvest is not a registered investment advisor and does not provide specific investment advice. The information is for
informational purposes only. You should always consult a financial advisor.
Disclosure: I am long DVR, ZNGA. I wrote this article myself, and it expresses my own opinions. I am not receiving compensation for it (other than from Seeking Alpha). I have no business relationship with any company whose stock is mentioned in this article.