This is a continuation of my search for the best small companies from the 200 listed in Forbes 2008. You can refer to the previous results here: 1-15 | 16-32 | 33-70 | 71-130

The companies ranked 131-160 has yielded 9 results. This is the first time I've come across these companies and there are some interesting businesses here definitely worth a second look.
Results
Jack Henry & Associates (NASDAQ:JKHY) - provides data processing systems for banks and finance companies
Heico (NYSE:HEI) - makes replacement parts for jet engines
Heartland Express (NASDAQ:HTLD) - provides nationwide transportation services to major shippers
LoJack (NASDAQ:LOJN) - makes stolen vehicle tracking and recovery systems

Seems to be very oversold from a quantitative standpoint.

Circor International (NYSE:CIR) - develops instrumentation and thermal fluid control products
Rimage (RIMG) - makes compact disc production and duplication equipment
Haemonetics (NYSE:HAE) - makes automated blood processing systems
Universal Electronics (NASDAQ:UEIC) - makes universal remote controls for home devices
Healthcare Services Group (NASDAQ:HCSG) - provides housekeeping and laundry services to nursing homes
Click to enlarge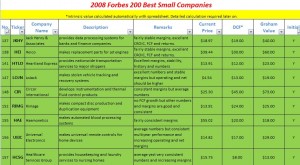 Disclosure: No positions at time of writing.