Monday afternoon, former tech darling Yahoo! (NASDAQ:YHOO) reported solid fourth-quarter results. Revenue jumped 2% year-over-year to $1.35 billion, and revenue ex-TAC (traffic acquisition costs) came in at $1.2 billion, a 4% year-over-year increase that was in line with consensus expectations. Operating earnings per share jumped 28% year-over-year to $0.32, easily exceeding consensus estimates.
As wonderful as it is to see revenue grow, the real story at Yahoo! remains the turnaround that CEO Marissa Mayer has embarked upon. Given the incredibly competitive market for talent in the tech industry, Mayer has worked to transform the company into one of Silicon Valley's best places to work. She noted in the conference call:
To date, we introduced rigorous hiring protocols, quarterly performance reviews for all employees, aggressive quarterly and annual goals for the company, for teams and for individuals, and new product readiness process for launches, internal feedback tools for new products, smartphones and higher-performance laptops for all employees, free food worldwide, an employee-driven system for breaking down bureaucracy, as well as a weekly all-hands meeting to communicate transparently, accountably and efficiently on the most important issues facing the company.
These changes have allegedly decreased attrition among the firm's highest performing employees, and 95% of employees now see a positive future ahead for Yahoo!-up 32% from its previous survey.
In addition to switching the firm's talent treatment policies, Mayer has announced strong hires, including Adam Cahan (head of mobile and developing products) to oversee new innovation. Given the company's incredibly large desktop user base, we think the firm is poised to perform well on mobile platforms, assuming it can get the correct products to market. The new Flicker app for iOS (NASDAQ:AAPL) has already received high marks, and we've noticed the company is attempting to move traffic drivers like fantasy sports onto mobile devices. Monetizing these ventures remains crucial to the company's long-term profitability.
Search (details shown in image below) continues to lag the market leader Google (NASDAQ:GOOG), but Mayer has seen how Google executes, so we're optimistic about the business going forward. Search revenue ex-TAC jumped 14% compared to the same period a year ago to $427 million, with the price-per-click advancing 1%. Although competition is fierce, ranging from Google and Bing (NASDAQ:MSFT) to Facebook (NASDAQ:FB), gaining search share on mobile devices could materially move the top and bottom lines. We'll be watching what direction Yahoo! takes in the mobile space very closely (Image Source: YHOO Earnings Presentation).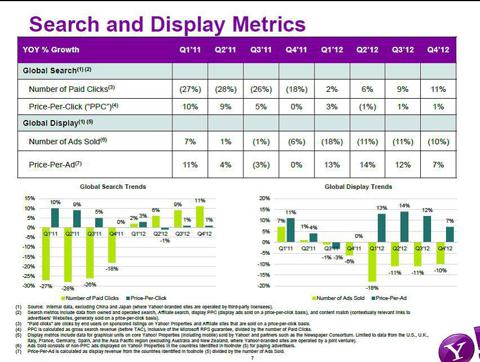 Yahoo!'s free cash flow generation remains strong, with adjusted free cash flow totaling $221 million during the fourth quarter and $1.4 billion during 2012. The monetization of the Alibaba stake was returned to shareholders via $1.5 billion of share repurchases (80 million total shares).
Going forward, we think guidance (shown below) looks solid, but certainly not incredible. Yahoo!'s business appears to have stabilized, but the long-term business transition will be challenging. We absolutely love what Mayer has done thus far, and a culture change is exactly what the firm needed to shift directions. Nevertheless, we aren't jumping to add shares to the portfolio of our Best Ideas Newsletter at this time.
Disclosure: I have no positions in any stocks mentioned, and no plans to initiate any positions within the next 72 hours. I wrote this article myself, and it expresses my own opinions. I am not receiving compensation for it (other than from Seeking Alpha). I have no business relationship with any company whose stock is mentioned in this article.
Additional disclosure: AAPL and MSFT are included in our actively-managed portfolios.