On Tuesday afternoon, online retail giant Amazon (NASDAQ:AMZN) reported its fiscal fourth quarter results. The company missed tremendously on both revenues and earnings, and issued guidance that was well below expectations. Despite that, shares rallied strongly in the after hours session after an initial dip, and held some of those gains on Wednesday. For those that don't believe in Amazon's continued rally, it was another frustrating experience. Today, I'll break down the good, the bad, and the ugly, and show why despite the terrible results, Amazon just keeps going higher.
Fourth Quarter Overall Results:
Amazon reported fourth quarterly revenues of $21.268 billion. While that number represented 22% growth over the prior year period, Amazon missed expectations for $22.26 billion. Yes, the company missed on the revenue line by a billion dollars! Amazon was also about a quarter of a billion below the midpoint of its revenue guidance range for $21.5 billion.
Amazon does not provide earnings per share guidance, but the company came in at $0.21 per share. That missed analyst expectations by 8 cents, and was down from the prior year period of $0.38.
Amazon does provide operating income guidance. For the fourth quarter, they guided to a range from a $490 million operating loss to a $310 million operating profit, with a midpoint of $90 million loss. Amazon did quite well here, producing an operating profit of $405 million in the quarter, above the high end of their range. I'll break down how that is both good and bad as this article progresses.
Some good news:
There were a few positive items, so I have to give Amazon credit where it is due. Amazon's gross margins came in very strong. Amazon doesn't provide gross margin numbers, but most people use revenues minus the cost of sales. Some argue that there are fulfillment expenses that could be included in the cost of goods sold, but most use the method above, so I will too.
Amazon's gross margins in the period were 24.13%, which is substantially above the 20.66% in last year's period. As you can see from the chart below, Amazon's gross margins fluctuate from quarter to quarter, but this year, they've been fairly strong.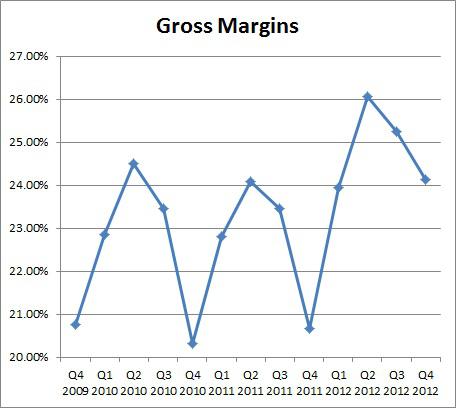 In fact, gross margins rose nicely in 2012. In 2011, the company had gross margins of 22.44%. In 2012, that number was up to 24.75%. That's a tremendous jump when you think about it.
Since the cost of sales is Amazon's largest expense, an improvement will be a big deal. It is the improvement in gross margins that had several analysts raising their targets on Wednesday. Here's a list of some of them:
Barclays Capital raises target from $245 to $260.
Benchmark goes from $310 to $330.
JP Morgan shoots its target higher, from $245 to $333.
B of A Merrill goes from $300 to $315.
Nomura ups its target from $285 to $325.
The other positive news, for now anyway, was the sizable cash position Amazon had. At the end of the year, Amazon had nearly $11.5 billion in cash, equivalents, and marketable securities. That's up almost $2 billion from the prior year period. It is a positive for now, however, they also had a huge rise in liabilities, a fair amount will be paid off in Q1 of 2013. Also, they raised $3 billion in debt during the quarter, which has inflated cash. The cash balance is good for now, but it will come down, and I'll have more on this later.
The bad news:
There was a fair amount of bad news and red flags in this report. I can't cover every single piece, so I'll only focus on what I feel is most relevant for the company going forward.
The first piece of bad news is that Amazon's operating expenses are rising, and fast. In the following table, I show Amazon's main operating expenses, not including the cost of sales (dollar values in millions). These are the fourth quarter values over the past four years. The first half of the table shows the actual expense, while the second half shows the percentage of revenues each category equals.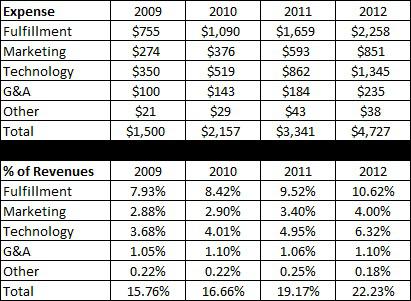 Fourth quarter revenues have increased by 64.26% in the past two years. However, four of the operating expense categories have increased at faster rates, with three of them more than doubling. Here are the staggering increases:
Fulfillment expenses up 107.16%.
Marketing expenses up 126.33%.
Technology expenses up 159.15%.
General/Administrative expenses up 64.34%.
Total operating expenses up 119.15%.
So most of that progress made on the gross margin front has been wiped away on the operating expense level. From the year ago period, gross margins were up 347 basis points. However, operating expenses were up just 41 basis points.
But it's not just Amazon's operating expenses that have been the issue. It is just as bad as you go further down the income statement. From the fourth quarter of 2009 to this reported quarter, Amazon's interest expense (in the fourth quarter) has gone from $8 million to $11 million to $20 million to $28 million. If you remember, Amazon added $3 billion worth of debt during the quarter, which would add $48 million in debt expense per year (before tax benefits).
Additionally, Amazon's "other income" swung from income of $19 million to an expense of $49 million. But that's not just the only thing. Amazon's losses from its equity investments, like Living Social, have jumped as well. These losses, net of tax, have gone from $2 million to $6 million to $10 million to $46 million over the past four years (for the fourth quarter).
The other negative is Amazon's effective tax rate. In the past three fourth quarters, it has gone from 16.60% to 31.50% to 57.57%. Amazon's tax provision was $194 million in the quarter, compared to just $86 million in the year ago period. The reason behind this jump is probably simple. North American segment operating income jumped from $285 million to $608 million, while International segment operating income declined from $177 million to $70 million. Having more profits in the higher taxed United States is going to hurt the tax rate.
The Ugly:
There were some truly ugly items in this report, and I'm not just talking about the overall numbers.
The first part is that, and I jokingly congratulated Amazon on this the other day, Amazon lost money in 2012. Yes, a company with more than $61 billion in revenues, up more than $13 billion from the year before, actual lost $39 million for the year. That compares to a $631 million profit in the year before. Despite a year over year increase in operating margins (for the fourth quarter), fourth quarter net profit margins declined by 56 basis points.
I've put together a chart showing the trailing twelve month operating and net profit margins for Amazon. This is not an average number. It is a combination of the quarters, the total operating income for the previous four quarters divided by the total revenue for those four quarters. So for example, the Q4 2009 number below is actually the margins for the entire year in 2009, whereas the Q4 of 2012 number would be the 2012 numbers. These numbers are based on the GAAP results, and do not take out any adjustments, such as any gains or losses from equity investments that are always discussed when it comes to Amazon.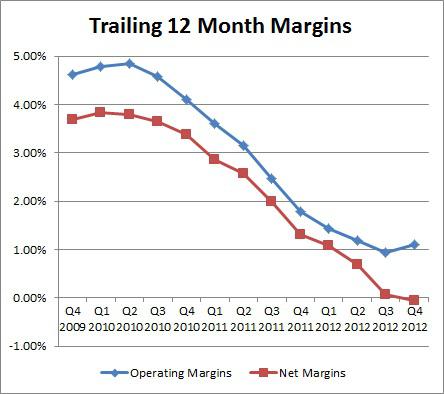 The other item is the balance sheet. Thanks to that large debt issuance, Amazon's liabilities have increased a bit. The company's debt (liabilities to assets) ratio has increased from 69.31% at the end of 2011 to 74.84% at the end of Q4. As I've mentioned in the past, because of the seasonality of Amazon's business, that number can fluctuate from quarter to quarter. So instead of a chart with a bunch of up and downs, I've changed things up a little. To reduce the impact of seasonality, I've created a 4-quarter running average chart for the debt ratio, as seen below. The logic is simple. I've taken the average total liabilities for the past four quarters divided by the average total assets for the past four quarters. The debt ratio simply is total liabilities divided by total assets, so we're just using averages. So in the chart below for example, the Q4 of 2009 figure does a 4-quarter average from Q1 of 2009 to Q4 of 2009. The final point, Q4 of 2012, includes Q1 of 2012 through Q4 of 2012.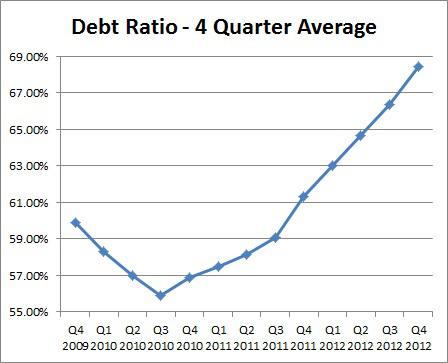 Additionally, it is likely that Amazon's debt ratio could worsen as Amazon burns through some of that cash. The company is still working to build out its fulfillment centers and other infrastructure. Also, they are heavily battling Netflix (NASDAQ:NFLX) in a war over content. Amazon, like Netflix, is moving to more original programming, which can be very expensive, especially as it carries more upfront costs.
But the worst part of this report had to be the guidance. Amazon stated that fiscal Q1 revenues would be in a range of $15.0 to $16.6 billion dollars, or 14% to 26% growth over 2012. However, analysts were expecting much more, at $16.86 billion, or 27.9% growth. The high end of Amazon's range didn't even meet street expectations. Additionally, the company guided operating income in a range from a loss of $285 million to a profit of $65 million. The midpoint of that is an operating loss of $110 million, compared against a $192 million profit in the year ago period. That probably means that the $0.34 per share estimate for earnings, against $0.28 in Q1 of 2012, is probably a bit high. Look for Amazon's estimates to be cut as we go further.
The Amazon Rally and Circus:
Amazon shares rallied a bit on Wednesday, which would seem illogical based on missing revenues, missing estimates, and issuing terrible guidance. But this is Amazon, and how it works. I noted in one of my earnings season preview articles that this situation was likely to occur. Amazon was likely to disappoint, drop initially in the after-hours session, then rally strongly. Well, at about 3:58 PM on Tuesday, Amazon was at $268 per share. In the last minute or so, the stock dropped $8 and closed roughly around $260. In the minutes right after the report came out, shares dropped to about $252. Over the next hour or so, shares rallied hard, reaching approximately $290. On Wednesday, shares closed up $12.40 to $272.75. However, if you include that roughly $8 fall in the last minute or so of Tuesday's trading, the stock was up less than $5, less than 2%. So the "gain" is not as much as it really seems, and well off the roughly $290 high we saw in the Tuesday after hours session.
Here's the funny part when it comes to Amazon. I've followed this name for quite some time now, and I want to go back a year or so. On October 25th, 2011, Amazon analysts were expecting roughly $65 billion in revenues for 2012, and a profit of $3.20 for the year. That day, the stock closed at $227.15. Where did Amazon end up for the year? Barely over $61 billion in revenues, and a loss of 9 cents! Yet, the stock is up basically $45 since then.
The moral of the story here is that expectations really don't matter when it comes to Amazon. Amazon reported a terrible fourth quarter, missing revenues by a billion dollars and earnings per share by a wide margin as well. Also, the company's guidance was well below expectations, and they lost money for the full year in 2012.
But the stock just doesn't get hit. It has been one of the most astounding things I've seen lately, and it does frustrate a lot of people who like to trade and analyze stocks on fundamentals. Amazon's stock continues to rally because of the promise of the future. Even though revenue growth is slowing down, this company is still growing at a fairly brisk pace, and is the industry leader in this space. The hope is that Amazon has made a bunch of investments that will allow margins to start rising over time, as the growth rate slows down. Just imagine if Amazon could get its net profit margins even to 1% in 2013, that would be a profit of almost $800 million. Maybe Amazon will start turning rapid profits going forward. That is the hope, and that is why shares keep rising. The average analyst price target will be over $300 soon, which will imply about 10% growth from here. I don't know how this keeps happening, but I'm convinced it will continue.
As long as Amazon continues this revenue growth and we move to a more online retail experience, I think the only way you can value Amazon is by the price to sales ratio. Based on Wednesday's close, Amazon is trading at 2.02 times its trailing twelve month sales. Even if you were to knock that ratio down to 1.8 times for 2013, and lower the revenue estimate to $75 billion (it stands at $79.28 billion before any revisions), you still get about 9.27% upside from here, or about $298. Now that's using a 10% valuation discount and a low sales rate. Were Amazon to do roughly $79 billion in sales this year, I think you are looking at a 1.9 times sales number. That would imply a price of about $331. So if Amazon were to hit $300 this year, I would not be surprised, even after all of the bad and ugly we saw in 2012.
Disclosure: I have no positions in any stocks mentioned, and no plans to initiate any positions within the next 72 hours. I wrote this article myself, and it expresses my own opinions. I am not receiving compensation for it (other than from Seeking Alpha). I have no business relationship with any company whose stock is mentioned in this article.
Additional disclosure: Investors are always reminded that before making any investment, you should do your own proper due diligence on any name directly or indirectly mentioned in this article. Investors should also consider seeking advice from a broker or financial adviser before making any investment decisions. Any material in this article should be considered general information, and not relied on as a formal investment recommendation.