Prior to the release of Wednesday's fourth quarter GDP number, some analysts had been quick to point out that U.S. GDP growth in the third quarter was 3.1% (annualized), which was above the long-term average. Previously I noted that on balance, this is an absurd way to look at things given that it was of course just one data point covering but a three-month period.
Perhaps the better reason to be wary of the third quarter figure, however, was that government expenditures accounted for .75% (or about a quarter) of the total growth. To put this in context, note that quarter after quarter for the past several years, falling government consumption expenditures have subtracted from overall growth, so the sudden surge in the third quarter of 2012 was clearly an anomaly. Subtract out the government expenditures (and again that's being generous because typically the government consumption expenditures category is a drag on growth) and third quarter GDP was 2.25% - below trend as expected.
Given this, it was certainly reasonable to expect that fourth quarter GDP growth might well print below expectations which sat at around 1.1% going into Wednesday. Sure enough, the U.S. economy contracted in the fourth quarter as the preliminary GDP number came in at -.1%. This was surely a bitter disappointment for optimists, bulls, and media cheerleaders alike and the apologists were scrambled to the scene like F-16s to orchestrate a damage control campaign.
The number was called "stunning" by the Associated Press which was also quick to offer the following upbeat analysis:
...the weakness may be because of one-time factors. Government spending cuts and slower inventory growth subtracted a total of 2.6 percentage points from growth...And those volatile categories offset faster growth in consumer spending, business investment and housing -- the economy's core drivers of growth.
Jim Cramer jumped to the economy's defense as well calling Wednesday's print a "shocker" and a "one-off number." Cramer cited his own anecdotal take on earnings as justification for his comments:
"There are way too many companies that reported during this period that saw growth...Stocks were saying that this wasn't a 'true' number."
The most ridiculous spin, however, came predictably from CNBC's chief economic correspondent Steve Liesman who noted that,
"The things that matter actually got better."
What Liesman meant was that business spending and consumer spending were relatively strong in the fourth quarter. While there is some truth to this, let us not forget that last quarter, when government spending accounted for a quarter of economic growth, CNBC had Richard Bernstein on to tell investors that growth was above trend based on the third quarter GDP number.
Wednesday, Steve Liesman told viewers that the only numbers that are worth paying attention to are personal consumption expenditures and fixed investment. If that's true, then last quarter's print (which Bernstein so enthusiastically celebrated on air) would have been rather disappointing. Those categories in isolation grew by 1.75% in the fourth quarter, however, which looks far better than the -.1% headline.
The point is that you can't have it both ways. Either government spending should be discounted or it shouldn't. Rick Santelli was quick to remark on the apparent cherry picking:
So then why don't we just have [personal consumption and fixed investment] and not have GDP then, Steve?
If we had done that, the third quarter number would have been far less impressive. The graph below shows quarterly GDP broken down by component: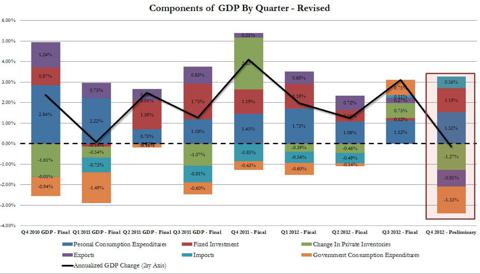 Source: Zerohedge
In the final analysis, the economy contracted during the quarter and this was the first quarter of negative GDP growth since 2009. This comes on the heels of the Conference Board's report which showed consumer confidence sliding to its lowest level in a year, falling to 58.6 in January from 66.7 in December.
Despite the slumping economy and falling confidence, the stock market doesn't seem to care. As Rick Santelli observed Wednesday morning,
You can have an up or down stock market but is that really reflecting what's going on in the economy?
The answer to that question is "absolutely not." Have a look for instance, at the following two charts. The first shows an epic disconnect between consumer confidence and the S&P 500 and the second shows that not only is consumer confidence disconnected from stocks, consumer confidence is in fact disconnected from consumer spending as well: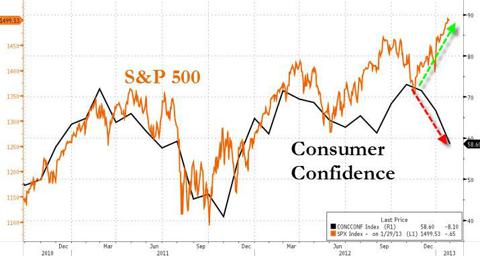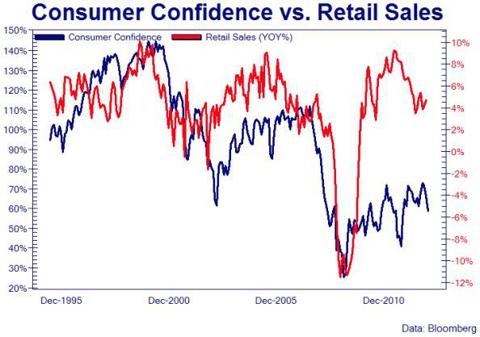 Source: Bloomberg, ZeroHedge
One certainly wonders how long the disconnect between retail sales and consumer confidence can possibly last.
Consider also that the last time the economy experienced a quarter of negative growth, the S&P 500 was sitting at around 900 - it is now 40% higher. Investors should also be aware that nominal GDP growth was just .05% in the fourth quarter. That's down from 5.9% in the third quarter and it is fully four times lower than the average sequential level of nominal GDP growth during recessions. These data points come from David Rosenberg who also notes that:
...never before have we seen such a depressed print in NOMINAL GDP growth without the broad economy actually being in a recession.
As for Jim Cramer's position that there are just too many firms reporting growth to make this GDP data "real," consider that according to Goldman Sachs, the percentage of firms reporting positive earnings surprises at this point into earnings season has run at around 47% over the last 40 quarters, at around 40% over the last four quarters, at around 36% during last year's third quarter earnings season, and at just 34% during the current earnings season: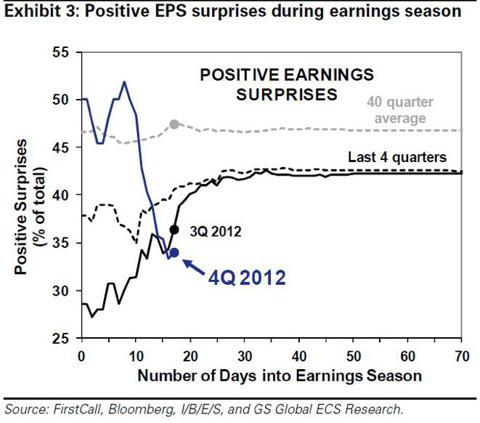 It isn't clear to me where the relative strength is.
Of course, what we do know is where all the buying in the stock market is coming from - quantitative easing. The following chart shows the S&P 500 with the various iterations of QE marked: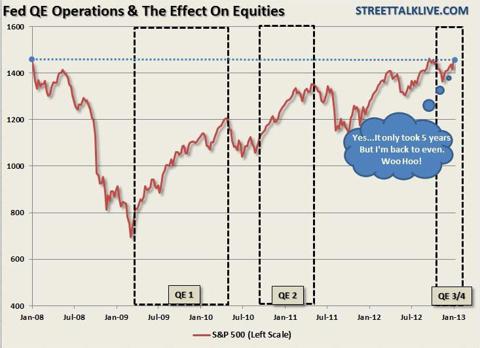 Source: StreetTalkLive
It really couldn't be much clearer that quantitative easing, not the economy, is primarily responsible for the rise in stocks.
This is to the point of being absolutely unsustainable. It has already been shown that the Fed is set to suffer some 6 years of capital losses when interest rates begin to rise in 2014. This is due to both the losses the central bank will take on the eventual disposal of its SOMA holdings and to the negative income that will accumulate from the disparity between stagnant coupon payments on its remaining assets and rising IOER rates. As I demonstrated in a previous article, this dynamic will lead to a multi-billion dollar "deferred asset" on the liabilities side of the Fed's balance sheet as it continues to essentially take a deferred tax carryforward against theoretical future remittances to the Treasury department.
However, as demonstrated by the Fed's whitepaper on the subject, this scenario is exacerbated with each successive round of QE. The larger that "deferred asset" becomes, the more broke the Fed will effectively be. At some point it would seem, the madness has to stop and that is bad news for stocks (NYSEARCA:SPY) (NASDAQ:QQQ), especially now that the few retail investors left in the market can no longer look to supposedly strong GDP figures to justify their decidedly misplaced optimism. Wednesday's GDP number was a shocking dose of reality for many - there will be more to come.
Disclosure: I have no positions in any stocks mentioned, and no plans to initiate any positions within the next 72 hours. I wrote this article myself, and it expresses my own opinions. I am not receiving compensation for it (other than from Seeking Alpha). I have no business relationship with any company whose stock is mentioned in this article.