Market Recap:
The market weakened on Wednesday after GDP came in lighter than expected, and the Fed commented that economic growth had "paused" in the country. The Fed's comments were actualized in the GDP numbers that were released yesterday morning. Expectations were for Q4 GDP to come in at 1.0% growth, but the reading came in at -0.1%. The reason for the decline, though, was mostly due to a drop in government spending and increase in inventories.
Both reduced GDP by 1.3 percentage points each. Consumption was up 2.2% and fixed investment was up 9.7%. Residential investment increased 15.3% as well. While the headline looked weak, the details showed solid growth. Additionally, the Fed noted that while growth had paused, it was mostly due to weather and transitory reasons. Yet, in a very strong market that looks extended, these types of headlines present a reason to not buy or unload longs. ADP Employment Change was also released yesterday and showed an increase in jobs nearing on 200K vs. 170K+ expectations. Yet, this headline was outweighed by the GDP and Fed comments. We believe things could continue to be flat to weak for a bit of time here, as the market does look toppy in the near-term.
Stocks To Trade:
Today, we are looking at an earnings trade in Research in Motion (RIMM) and longs in Freeport-McMoRan (NYSE:FCX) and Williams (NYSE:WMB).
For an earnings trade, we like the looks of RIMM. We believe that the period between now and earnings will be extremely volatile for RIMM, as the release of the BB10 platform could make or break the company. The company is so dedicated to its newest phone Z10 and its new software that it is even changing its name to Blackberry and changing its ticker to BBRY.
What we can expect for the company's March earnings report? It's hard to say. The initial reactions to the new phone have been fairly solid but the biggest criticism for the phone is that apps are lagging the competition. The app gap could be the difference between success and failure. So, where are we headed? It's hard to say, and that is why we like designing a trade to hedge both longs and shorts that may be on both sides of the tape. Right now is a time of volatility and anticipation, and anyone who is calling what will happen will likely be wrong or lucky.
What can a RIMM (soon to be BBRY) long do to help hedge the coming volatility? We suggest buying a Reverse Iron Condor. The RIC is an options position that takes advantage of movement. The position makes its full gain if the stock moves outside of a certain range because it involves both a bull call spread and bear put spread. Right now, heading into March earnings, we can buy the 15/16 bull call spread and the 14/13 bear put spread for a 22% potential gain. We just need the stock to move outside of the 13-16 range. We believe this is likely as so much is anticipated to come out between now and March16, including numbers for Z10, BB10 reviews, and earnings expectations.
Trade: RIMM, Mar16, Reverse Iron Condor
Max Gain: 22%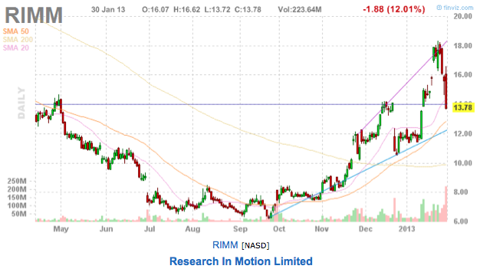 For longs, we like the looks of Freeport-McMoRan and Williams. FCX looks solid for a potential outperformance of the market on the back of some renewed strength in gold, as well as recent solid earnings. The company reported very solid earnings on January 22, hitting a 0.78 EPS versus 0.70 expectations. Additionally, revenue came in at $4.51B versus $4.47B expectations. What may have been the best news for the company is that its view on China has become more positive than it was last fall. FCX has a lot of growth potential in use of copper in China and needs continued growth in the country. China has put up some solid data recently, beating GDP expectations as well as having a strong PMI recently.
With the improved situation in China and copper demand rising, we like the fundamental situation in FCX right now. What makes the company look even better is the potential for gold to have some upside in the near-term, due to the potential drop in the dollar after yesterday's headlines. When gold increases, it helps FCX-- which is a gold manufacturer-- to get better pricing. The gains are hypothetical gains, but any situation that is positive for gold is positive for FCX. With the market looking a bit weaker right now, we like FCX paired with a short on the S&P 500 SPDR Index (NYSEARCA:SPY).
Equity Trade: Long Freeport-McMoRan , Short SPDR S&P 500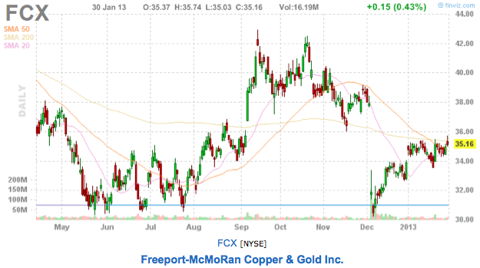 Another stock we like long right now is Williams. The company performs the majority of its business as a natural gas pipeline services company, as well as provides transportation for offshore drillers. The company has been seeing some nice upside as of late on the back of a strong dividend increase of 4%, bringing the company's yield to just under 4%. That yield, coupled with a very solid company makeup, is a definite positive.
What we like most about WMB, though, is that the company's business will expand with natural gas growth. The USA has often been called the "Saudi Arabia of natural gas," and we believe it will be a major part of the future of energy in America. As a natural gas servicer, WMB will benefit from this trend. Natural gas demand, in 2012, appears to have grown about 5% in the January - October period over 2011. Natural gas consumption is expected to grow again in 2013. Add on top of that the company's expected 8% growth in sales in 2013, as well as its strong dividend, and you are looking at a company that appears very solid for quite some time! We like starting off a position long along with some options exposure to help hedge our position. We like buying now and adding a 34/33 bull put spread for Feb16, which is offering a 20% gain right now.
Position: Long WMB / WMB, Feb16, 34/33 Bull Put Spread
Max Gain: 20%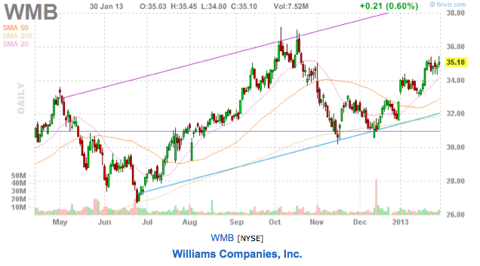 Thursday's Outlook:
As we stated in our weekly outlook, the market is starting to look very toppy and should be ready for some near-term pullbacks. We stated in that report that the market would need very strong data and earnings all week to remain in the green. Any expectations that were met and/or missed would cause weakness. Today we have a healthy slate of earnings and data to watch that could give us some more downside to follow through and/or reverse for upside. The key to the day will probably be a large slate of data - jobless claims, personal spending/income, Chicago PMI, and Challenger Job Cuts. A solid report from jobless claims and Challenger Job Cuts could definitely bring a rosy picture to Friday's NFP. As for earnings, the key reports to watch this morning will be MasterCard (NYSE:MA), UPS (NYSE:UPS), and Whirlpool (NYSE:WHR). A nice slate of data and earnings could easily give the market back Wednesday's losses, but that is a big question. Look for some pretty solid movement down if these numbers disappoint.
Chart courtesy of finviz.com.
Disclosure: I have no positions in any stocks mentioned, and no plans to initiate any positions within the next 72 hours.
Business relationship disclosure: The Oxen Group is a team of analysts. This article was written by David Ristau, one of our writers. We did not receive compensation for this article (other than from Seeking Alpha), and we have no business relationship with any company whose stock is mentioned in this article.