In Part 1 of this article I covered 4 of my Top 13 stocks for 2013. They included D. H. Horton (NYSE:DHI) and Toll Brothers (NYSE:TOL) to play the continuing housing rebound, and Kodiac Oil & Gas (NYSE:KOG) and C & J Energy Services (NYSE:CJES) to play the continuing move towards U.S. energy independence. In Part 2 I will cover 4 themes and 5 stocks.
As noted in the first article, I attempt to use catalysts to propel my short-term and intermediate-term trades. Specifically, for intermediate-term trades I tend to look for a theme that is likely to play out over the next 6-12 months. That's how I'd like to approach this article about more of my favorite choices over the next 11 months.
Theme: Gold Miners Ready to Get Some Lovin'
Gold has largely been "dead money" for the better part of two years, but I believe that it has been building a base for its next leg up. Whether or not gold actually serves a function or not, it is perceived to be a store of wealth by many people on this earth and it will likely continue to serve that function. With some central banks printing lots of money into the foreseeable future, inflation is still a potential threat. Add to this the fact that many central banks are diversifying reserves away from dollars and into other areas -- gold being one. Gold stocks have been stagnant along with gold, but if gold makes the move over 2000 this year, many gold miner stock prices will follow.
Silver Wheaton (SLW) is not a gold stock, but rather a silver stock. I am picking this stock based on the fact that silver frequently tracks gold, and more importantly, Silver Wheaton has a very nice business model. It has: limited risk to typical precious metals mining issues; very little debt; large expected earnings growth into the future; and huge profit margins. Specifically, the PEG is a tiny .38 which implies that it is undervalued compared to future growth prospects. It also has operating margins of 74.24%, which obliterates competitors like Pan American Silver Corp (30%) and Coeur d'Alene Mines (18.94%). Earnings have grown over 50% annually the last 5 years, and are projected to grow 59% annually the next 5 years. The chart isn't pretty, following a channel lower, but I think because of the solid position this company is in that it will rip if silver prices go up, but have a solid floor if silver does decline.
Harmony Gold (HMY) has another horrible looking chart, but this choice is based on a very low valuation due mostly to events at its South African mines. I believe that it is oversold. If either: the events at its mines get marginally better, gold prices increase, or investors take notice of its value - and I believe that one of these events will happen - it has the potential to increase dramatically. It has a forward P/E of 5.42 and a price-to-book value of .72. It also has very little debt. This one is tough because I don't attempt to "catch falling knives," but I do think it is undervalued, so my method would probably be to limit my risk by buying some Jan14 $8 calls for .70. It would be a much smaller position value than if I was going to buy the stock outright.
Theme: South America Has Its Spots
While many analysts have suggested Colombia as the place to be in South America, I don't really like the idea of picking something that everyone else has suggested, even if I do agree that it will do well. So for this theme I'd like to go with a country that continues to grow quickly and bears the same name as the town I grew up in - Peru. I would also like to avoid another gold miner, which is why I have chosen a different type of industrial goods stock from Peru.
Cementos Pacasmayo (CPAC) is a cement maker poised to capitalize on the continued economic growth in Peru. It has a forward P/E of 18.96, which I think is relatively low considering the following: it's projected to grow earnings 40% annually over the next 5 years; it has a very low debt-to-equity level of .11; its management runs it well, as evidenced by its good profit margins; and it is under-owned by institutions. For these reasons I believe it is positioned well for stock price appreciation this year.
Theme: Beneficiary of Obamacare & Aging Population
One of the major beneficiaries of the Affordable Healthcare Act is the hospital sector. More insured people means more extended stays paid for by insurance and more emergency room visits actually paid for.
The healthiest of the bunch, in my opinion, is HCA Holdings (HCA). It has a forward P/E of 10.41 and its PEG is .46, which means that it is relatively cheap if future earnings growth is figured in. It has solid margins and manages its input costs well, as evidenced by its high gross margins. It is currently a bit over-extended so I would prefer to buy it on a pullback, maybe closer to $34.
Theme: Uncertainty As 2014 Approaches
On its face, this seems to be a theme that can derail the rest of my picks. Maybe so, but if we have large gains the first half of the year I would expect you to take your gains. If there are large gains, I'd also expect retail investors to start to move heavily into stocks, as they always do at later stages of market moves. This could leave relatively few buyers to carry the market higher, and provide the opportunity for a severe market decline. I really don't know what the likelihood of this is, but I just see it as more possible the higher the market rises. Also, please know that I really like hedging my portfolio. That is probably a factor of starting investing and trading in 1999 and going through the ups and downs since that period. Either way, that leads me to another component of this prediction list. I know I'll catch some grief for this one...
VIX (I'll link to VXX since Seeking Alpha doesn't have a VIX page) measures implied volatility for options on the S&P 500. Implied volatility is basically how much options traders think the S&P 500 will fluctuate in the future. This measure tends to have sharp spikes, so I don't think it will remain high for a long period, but I think it provides some safety if the market experiences any large, sharp declines. If you look at the chart below you can see that during calm periods it can go years without spiking much over 20, in which case this can be a losing purchase. But in less certain times spikes toward 40 are possible.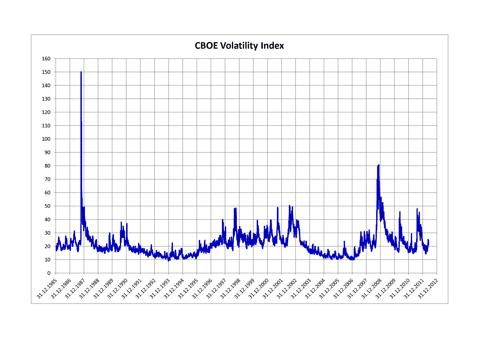 It is probably fairly priced now based on recent realized volatility, but stashing away some VIX out-of-the-money calls every few months could pay off if something bad does happen. This could be thought of (and is referred to) as portfolio insurance, so if a catastrophic event does not occur and you lose the money you pay for this "insurance," it can be thought of as a necessary cost. Because large moves in the VIX are not frequent, it's important not to buy too much and not buy too little. I encourage you to learn more about VIX and how to determine how many VIX calls you need to buy (and at what price/expiration) to hedge your portfolio. Because of the short nature of these spikes, I would start selling the calls if we got a major spike. Also, because of time decay involved in options I would roll them over into options with expirations further out -- maybe 3 months -- at least 21 days prior from expiration.
That does it for Part 2. I will put out Part 3 soon. Have a nice day.
Disclaimer: We do not know your personal financial situation, so the information contained in this article represents my opinion, and should not be construed as personalized investment advice. Past performance is no guarantee of future results. Do your own research on individual issues.
Disclosure: I have no positions in any stocks mentioned, and no plans to initiate any positions within the next 72 hours. I wrote this article myself, and it expresses my own opinions. I am not receiving compensation for it (other than from Seeking Alpha). I have no business relationship with any company whose stock is mentioned in this article.