MagicJack Vocaltec's (NASDAQ:CALL) 1 Year Share Price performance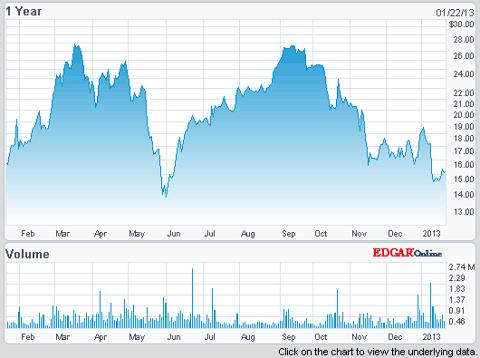 MagicJack Vocaltec is currently trading at an incredibly cheap valuation based on its earnings, free cash flow, and enterprise value to EBITDA. Considering MagicJack's expected growth and exciting new products its current share price makes it a compelling investment with possible 12 month return of over 100% from its current share price to my target price (see financial models). The firm has an immaculate balance sheet and strong revenue, EPS & free cash flow growth. With excellent margins, cost control, and ROIC there is very little to complain about from a fundamental perspective. The company's Q4 earnings release on March 12 and introduction of its highly anticipated 'MagicJack Wi-Fi' in early Q2 will provide the near term catalysts to drive the share price to its fair value.
The firm has a disruptive communication service with a sustainable competitive advantage. I believe the company can achieve a market share of 25% of US and Canadian households within the medium term with the new MagicJack Wi Fi, its mobile applications, and planned integration of additional services. I expect the firm to further expand its range of devices and services to remain competitive and grow its target consumer base. The capabilities of its new products will allow the firm to integrate voice, data, and mobile services into a 'MagicJack ecosystem'.
For example, the 'MagicJack Wi-Fi' will be able to sync voicemails from your mobile device and your home number into one convenient place and provide traditional telephone services such as directory assistance free of charge on your mobile devices. The firm's exciting new products and the execution of its integration strategy will drive revenue growth significantly in the near term. I believe the company has proved it will be able to leverage emerging trends with innovative new products and services to ensure continued growth in the future.
Company Description
MagicJack Vocaltec is a vertically integrated group of companies. The firm owns a microprocessor chip design company: an appserver and session border controller company; a wholesale provider of VoIP services; a softphone company, and the developer and provider of the MagicJack product line. The MagicJack service is designed to provide customers with low cost VoIP services from anywhere in the world, as long as the area has broadband access, to anywhere in the U.S. & Canada. The most popular products are MagicJack and MagicJack PLUS, which are VoIP devices that provide phone services for home and enterprise customers. Devices work anywhere with an internet connection and a telephone such as homes, offices or hotel rooms.
About Target Market
66% of American households have landline telephone service or around 83 million households according to a recent CDC survey. Also, a CTIA survey indicated over 50% of Americans still use traditional landline service as their primary means of communication. Annualized voice service revenue is over $60 billion in the US alone, while international voice service produces over $150 billion in yearly revenue. As landline voice subscribership has declined, the industry assumed customers had been substituting with wireless. This was measured by the difference between telco line losses and cable voice line acquisition. However, if MagicJack users are actually using this service to replace their home phone lines, wireless substitution rates are much lower than industry estimates.
Brief on New Management
Gerald Vento was named President and CEO of MagicJack Vocaltec as of January 1, 2013. He served as the Chairman of MagicJack Vocaltec since April 2012 and has been a Director since July 16, 2010. In 1996 Mr. Vento founded TeleCorp PCS Inc. From December 1993 to March 1995 he was a Vice Chairman and CEO of Sprint Spectrum/American PCS where Mr. Vento oversaw the development of the first PCS network in the United States. Mr. Vento has extensive experience in the cable, communications, and wireless businesses. His expertise lies in identifying various classes of underperforming and/or undervalued assets, and designing a plan to quickly develop them into investment grade, ready-for-sales assets. During his career Mr. Vento has managed the financing, franchising, construction, and marketing functions necessary to transform communications companies into thriving enterprises.
Response to Investor Concerns
Many investors are worried by the fact that MagicJack derives a majority of its revenue from sales of its MagicJack product and related subscription revenue. With only one product the firm's ability to maintain growth would be tenuous and future revenue expectations could not be reliable due to accelerating innovation and changing consumer tastes. Moreover, the market for wired voice services has been shrinking as consumers increasingly replace wired service with wireless alternatives.
However valid this argument is, it is backward looking and fails to account for management's adaptation to the changing nature of its target market. The firm's new product line and integrated services are designed to take advantage of the increasing capabilities provided by today's technology. Thus, accelerating innovation is an opportunity for the company rather than a risk. MagicJack's expansion can easily be fueled by capturing market share in the landline voice market as it is still enormous compared to the size of the firm. For example, the MagicJack APP has allowed the company to enter the growing mobile market, and modifications to the MagicJack Wi-Fi leverage the firm's ability to monetize growing demand for data.
At close glance it doesn't seem like MagicJack has a competitive moat to protect its business from growing competition. There are many VoIP options available to consumers including Skype (NASDAQ:MSFT), Google Talk (NASDAQ:GOOG), and Vonage (NYSE:VG). It is reasonable to assume that increasing pressures from existing competitors and possible entrants will reduce MagicJack's margins and revenue growth. Though all of the above services are VoIP service providers, this is a broad category and the firm is able to differentiate from its competitors in two very important ways. Only MagicJack's products provide the always available features of traditional voice services, along with new capabilities discussed above, with an unbeatable cost structure.
For example, MagicJack has consistently won consumer awards from vendors and consulting firms, such as Radioshack and Frost Sullivan, for the products' unparalleled quality and price. A major advantage MagicJack has over its competitors is its ownership of its own competitive local exchange carrier (CLEC) called YMAX corp. This subsidiary ensures free access to public telephone lines for MagicJack customers allowing the firm to boast a 99.99% service availability rate. MagicJack's consumer experience is consistently better than its competitors because YMAX uses the firm's proprietary software to direct calls between the internet and copper lines in a way that dramatically reduces data degradation to produces the voice quality that can't be replicated on other services. The firm's proprietary software and capabilities of its products are protected by MagicJack's impressive intellectual patent portfolio. MagicJack's superior product portfolio and the capabilities offered by the firm's upcoming products create the competitive moat that ensures the company's customer retention, confirmed by customer acceptance of higher annual fees, and continued market share growth.
A last major concern among investors is the firm's past positions in derivatives of its own stock to reduce the cost of its share repurchase program. It has been postulated that this is a highly aggressive and unconventional use of the firm's cash and could result in a large undisclosed liability. In reality the put/call strategy used by the company results in the same cash outlay for the repurchase program regardless of stock price movements as the puts guarantee MagicJack could lock-in a repurchase price if the put is exercised. Stock price drops can have an "other income/loss" impact on the income statement (this effect is removed in the calculation of non-GAAP EPS below) but do not affect the balance sheet. In the future the company has stated it will use a traditional approach to share repurchases which will not have an impact on the income statement.
Firm Financials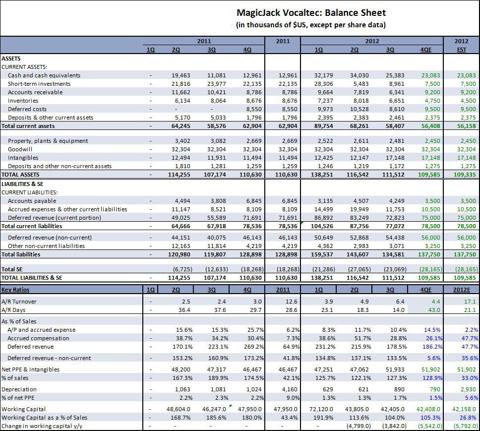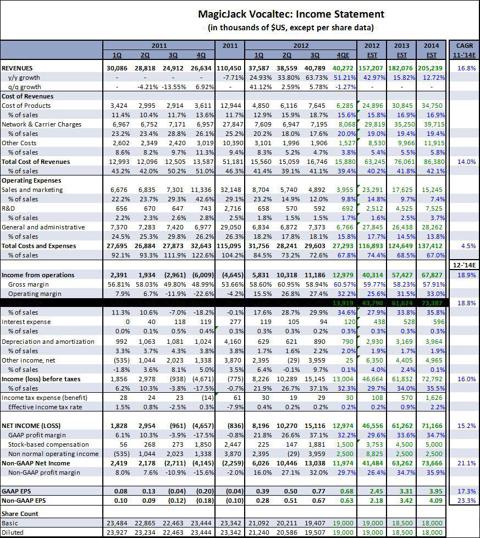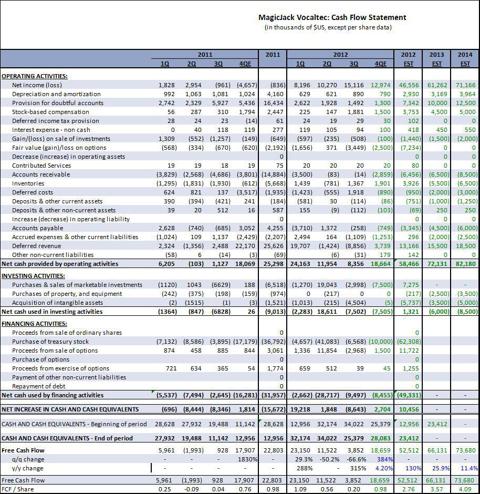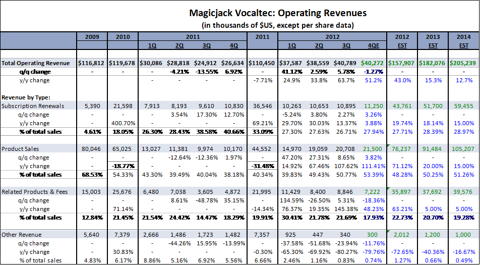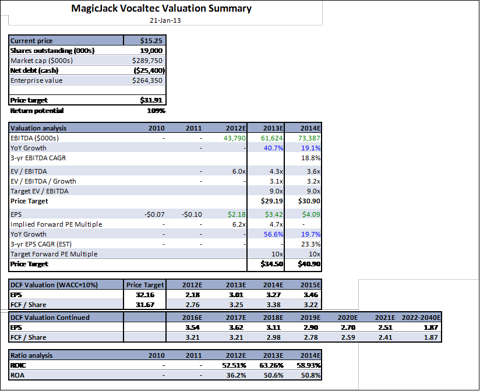 Price Target
The 12 month price target of $31.91 is derived from the average of four valuation models; fair value EV/EBITDA multiple, fair value forward PE multiple, discounted cash flow of future earnings per share, and discounted cash flow of future free cash flow per share. The 9x multiple is based on averaging the firm's competitor multiples (AT&T (NYSE:T), Verizon (NYSE:VZ), Sprint (NYSE:S), Vonage etc.) and adding a slight premium to compensate for the MagicJack's higher expected growth. Similarly, the target forward PE multiple of 10x was estimated using comparable multiples.
The DCF of future EPS & FCF / share uses a weighted average cost of capital of 10%. Risks to MagicJack's price target and its share price include the possibility of the company's failure to deliver MagicJack Wi-Fi in early Q2. Additionally, weaker than expected demand and production delays or terminations could have a material impact on future revenue and thus impact the firm's share price. Finally, unfavorable regulation aimed at VoIP providers and unforeseen legal liabilities are possible risks to the firm's sustainability and would negatively impact share price.
Conclusion
My estimates indicate MagicJack is easily capable of sustained revenue and EPS growth of 20%-30% in the medium term. Free cash flow will continue to have strong growth giving the firm immense flexibility to execute on strategies to maximize shareholder value. The company's margins will improve in the near term with the new product cycle and changes to its expenses. MagicJack's vertically integrated structure and excellent cost management will enable the company to sustain its industry leading margins in the future as well.
To give an idea of MagicJack Vocaltec's potential revenue generation consider its new product MagicJack Wi-Fi. It is estimated to sell for around $99 and with improved margins. A conservative estimate for average unit sales volume is 150,000 units per month based on sales volume of previous products. I see strong upside potential to this number due to the device's improved functionality, new features and integration with other services. Assuming upfront average annual subscription cost of $30 per customer, based on new pricing guidelines, and 9 months of sales we arrive at $174,150,000 of 2013 revenue for this product alone. I believe these general estimates are reasonable and serve to demonstrate the capacity for revenue generation and growth the firm has excluding existing subscription renewal revenue, carrier charge revenue and related product revenues.
It is important to be aware that a large portion of the population still requires the features that only wireline services can provide; such as long distance calling, conference & video capability, fax capability, quality of service among others. Though the traditional market for voice service is indeed shrinking the data does not distinguish between not having wired voice services and using VoIP as a replacement voice service. Thus, with 10 million MagicJack products sold the company could be capturing a significant portion of these 'defecting consumers' and more importantly this implies the actual decline in wired voice subscriptions is substantially smaller than estimated.
The MagicJack Wi-Fi will appeal to more than the traditional retail voice consumers. It will appeal to a new element of consumers that are attracted to its integration with mobile devices, additional features such as texting and ability to provide alternative low cost high speed internet. The full capabilities of this device are not yet defined, but already it can be used to provide voice, data, and streaming media services or a complete replacement for traditional home cable service. The company's potential consumer base will continue to grow with MagicJack's proven ability to anticipate industry changes and enter growing markets with innovative products that customers demand. In the future subscriber retention and growth is likely to be driven by the firm's integration of its services and products into an 'ecosystem' and by continuing to introduce products with capabilities unmatched by competitors.
One of the most exciting aspects of the firm's future is its eventual penetration of international markets. As this becomes reality MagicJack's revenue potential will increase exponentially. Moreover the advantages of the company's low cost structure and the mobility feature of its products will be a more persuasive selling point in less developed parts of the world. Though it is unlikely this expansion will happen in the near term, the prospect is still important when evaluating MagicJack's future.
Disclosure: I am long CALL. I wrote this article myself, and it expresses my own opinions. I am not receiving compensation for it (other than from Seeking Alpha). I have no business relationship with any company whose stock is mentioned in this article.