After the market close on Wednesday, ConocoPhillips (NYSE:COP) announced Q4 earnings of $1.16/share. Excluding special items, Q4 2012 adjusted earnings were $1.43 per share. This beat the consensus street estimate by a penny. Q3 adjusted earnings were $1.44/share.
Full-year 2012 earnings were $8.4 billion, or $6.72 per share, compared with full-year 2011 earnings of $12.4 billion, or $8.97 per share. However, the comparisons are not apples-to-apples as 2012 earnings included only four months of downstream results. ConocoPhillips spun off Phillips 66 (NYSE:PSX), composed of its midstream and downstream assets, in May of 2012. Full-year 2012 adjusted earnings were $6.7 billion, or $5.37 per share, compared with full-year 2011 adjusted earnings of $8.0 billion, or $5.75 per share.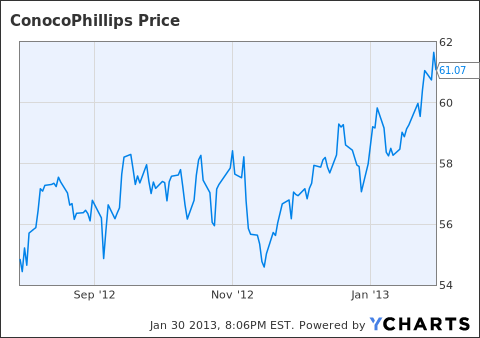 Highlights from the Q4 Report:
Fourth-quarter total production of 1.607 million BOE/d; full-year total production of 1.578 million BOE/d.
Year-end proved reserves of 8.6 billion BOE; annual organic reserve replacement of 156 percent.
Eagle Ford and Bakken continued to set new production and efficiency records.
Oil sands production exceeded 100,000 BOE/d average for the quarter.
FCCL expansion progressed with sanction of Christina Lake Phase F and Narrows Lake Phase A.
First oil achieved from the Gumusut Field in Malaysia.
Continued drilling and testing of unconventional shale plays; increased Niobrara acreage position to approximately 130,000 acres.
Increased deepwater Gulf of Mexico position to 1.9 million acres; continued exploration and appraisal drilling.
Production
Q4 production of 1.607 million BOE/d was up 82,000 BOE/d from Q3 production of 1.525 million BOE/d.
Production from continuing operations for the year was 1.527 million BOE/d, compared to 1.561 million BOE/d for 2011. Adjusted for completed asset dispositions, production grew by 7,000 BOE/d compared to 2011. New production from major projects and drilling programs, as well as higher production from the resumption of operations in Libya, offset normal field decline and downtime.
Total production for the Q1 of 2013 is expected to be 1.580 to 1.600 million BOE/d, including production from discontinued operations of approximately 40,000 BOE/d. Full-year 2013 production from continuing operations is expected to be 1.475 to 1.525 million BOE/d.
The Eagle Soars
As I pointed out in my earlier article, COP has an excellent position in the best shale play in the lower-48: the Eagle Ford. This is clearly shown in a slide from the company's presentation at Jefferies last November: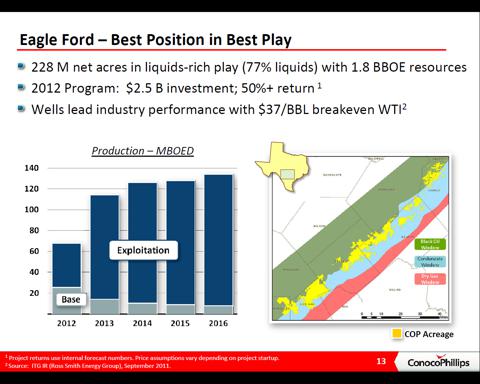 Note the large gap up in Eagle Ford production estimates from 2012 to 2013, the breakeven price of $37/barrel, and the 50%+ returns. Obviously, the company's Eagle Ford assets and operations are a very positive catalyst going forward. During the quarter, Eagle Ford averaged 89,000 BOE/day, achieving a peak daily rate of more than 100,000 BOE/day. That's a 17% jump from Q3's Eagle Ford average daily production of 76,000 BOE/day. As expected, COP's Eagle Ford results were a bright spot in this report.
Bohai Bay
One of the other 2013 catalysts I identified for COP in my article entitled 'ConocoPhillips: Bullish Catalysts for 2013' was for production in the Penglai oilfield to head back toward full capacity. Penglai production was not broken out in the report, but quarterly production in Asia Pacific and Middle East was 322,000 BOE/d, up 32,000 BOE/d compared to Q4 2011 and up 16,000 BOE/d from Q3's 306,000 BOE/d. Q4 production "reflects stabilized production at Penglai and growth from Panyu, which more than offset the impact of the Vietnam disposition earlier in the year."
Reserve Replacement Ratio 156%
Preliminary year-end 2012 proved reserves are 8.6 billion barrels of oil equivalent. Proved organic reserve additions for 2012 are expected to be 942 million BOE, representing an organic reserve replacement ratio of 156 percent of 2012 production, including fuel gas. Sales completed during 2012, net of purchases, reduced reserves by 83 million BOE, giving a total reserve replacement ratio of 142 percent.
Organic reserves were added across the portfolio, adding approximately:
500 million BOE in Canada, primarily in the oil sands, with ongoing expansion phases at Foster Creek and Christina Lake, and following Phase A sanction at Narrows Lake;
230 million BOE in Lower 48, mostly in liquids-rich shale plays, including the rapidly growing Eagle Ford and Bakken;
100 million BOE in Asia Pacific, with progress at Australia Pacific LNG and multiple projects in Malaysia, including the recently online Gumusut Field and under-construction Malikai development; and
50 million BOE across multiple developments in Europe, including the Jasmine Field where first production is expected in 2013.
Realized Prices
For Q4, the company's total realized price fell to $67.45 per BOE, compared to $69.99 per BOE in Q4 2011. Realized crude oil prices decreased to $103.08 per barrel, down from $105.92 per barrel for the fourth quarter of 2011, but up from $102.72 per barrel in Q3. Realized natural gas liquids [NGL] prices decreased by 18 percent to $44.93 per barrel, compared with $55.06 per barrel for the fourth quarter of 2011. Realized natural gas prices decreased to $5.79 per thousand cubic feet [MCF], compared with $5.88 per MCF for the fourth quarter of 2011. Realized bitumen prices decreased by 31 percent to $48.32 per barrel, compared with $70.20 per barrel for the fourth quarter of 2011.
2012: A Year of Asset Sales
2012 was a busy year for COP. The company has been selling non-core assets to optimize its portfolio. Sizeable asset sales announced in 2012 were:
The company continued asset sales in early 2013 with the announcement to sell its properties in the Cedar Creek Anticline, comprising approximately 86,000 net acres in southwestern North Dakota and eastern Montana, to Denbury Resources (NYSE:DNR) for a total of $1.05 billion. The sale did not include any of ConocoPhillips's assets in the Bakken Formation, where COP owns 626,000 net acres, consisting of 207,000 net lease acres and 419,000 net mineral acres.
Including this transaction, the company has announced total asset sales of approximately $12 billion since the beginning of 2012.
The proposed sale of these assets is part of ConocoPhillips's plan to increase value for shareholders through portfolio optimization, focused capital investments that deliver growth in production and cash margins, improved returns on capital, and sector-leading shareholder distributions.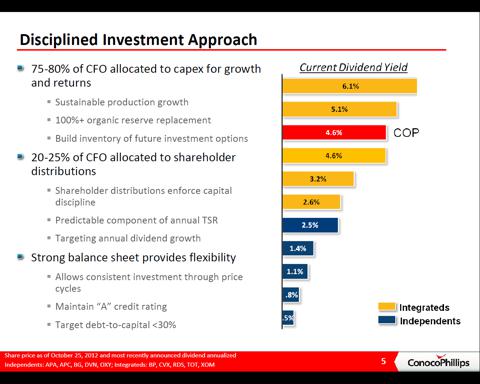 Summary
While the earnings release met street consensus, I was expecting a beat. On the up-side, organic reserve replacement and Eagle Ford results were very good. The company's asset disposition plan has come off without a glitch. Once these sales are closed, it will be much easier to evaluate the company's quarter-to-quarter performance without having to back out production from discontinued operations.
COP's long-term strategic plan is beginning to come into focus. It is now up to the company to come through on production and margin growth expectations. COP appears to be fairly valued. I consider the stock a hold. The dividend is 4.3%. The company expects to generate additional proceeds of $9.6 billion from announced asset sales that are expected to close by mid-2013. Despite many articles to the contrary, S&P sees no threat to the dividend.
The company's Q4 earnings conference call will be held today at 9:30 am EST. You can register for the webcast here.
Q4 earnings for Exxon Mobil (NYSE:XOM) and Chevron (NYSE:CVX) will be released before the market opens on Friday. Phillips 66, which announced earnings on Tuesday, had excellent Refining and Chemical results. For PSX, fourth-quarter Chemicals earnings were $246 million, an increase of $98 million from the same period last year, primarily attributable to improved margins. The Chevron Phillips Chemical Company ("CPChem"), is a 50-50 JV between Chevron and Phillips 66. PSX's Chemicals results bode well for CVX.
Disclosure: I am long COP, CVX, PSX, XOM. I wrote this article myself, and it expresses my own opinions. I am not receiving compensation for it (other than from Seeking Alpha). I have no business relationship with any company whose stock is mentioned in this article.
Additional disclosure: I am an engineer, not a CFA. Please do your own research and contact your investment adviser. I am not responsible for investment decisions you make. Thanks for reading and good luck!