McDonald's recently posted its 2012 full-year earnings results and issued a warning for January 2013 same-store sales. The tone of this call seemed cautious and muted as management cited concerns such as the Informal Eating Out market shrinking between 20 and 50 basis points as well as continued commodity pressure in 2013. Overall, McDonald's 2012 financial results are much less than what investors have gotten accustomed to:
A global comparable sales increase of 3.1%.

Revenue up 5% in constant currencies.

Operating income up 4% in constant currencies.

Earnings per share up 5% in constant currencies.
Perhaps most disappointing of all was CEO Don Thompson's long-term guidance of 6-7% operating income growth. It would seem the past decade's amazing marketing and remarkable growth may not be repeatable for McDonald's (NYSE:MCD). In this article, we will look at why investors should expect slower dividend growth and more moderate returns in the foreseeable future.
All above information are from 4Q 2012 Earnings Conference Call Webcast and accompanying press release.
Still The Fast Food King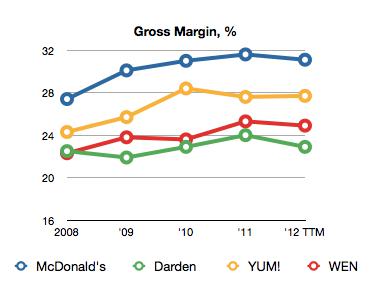 Margins are a very important metric in the fast food industry. Here, we can see that McDonald's is well above the others.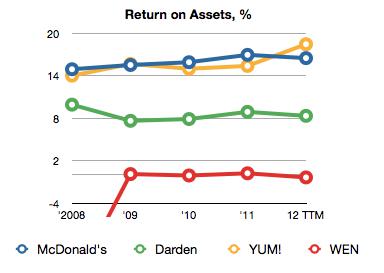 Data by Morningstar, charts by author
Looking at return on assets, McDonald's and competitor YUM! Brands (NYSE:YUM) have swapped the top position in recent years. Even though McDonald's has come under pressure from competition lately, especially in the United States, it is still a cut above the rest from an overall operations perspective.
A Generous Dividend
Management's commitment to a progressive dividend in the past has been an important factor in McDonald's returns. Take a look at the below table from F.A.S.T. Graphs: If one had invested $1,000 in 1999, that investment would now be paying a 7.5% dividend after all the dividend hikes.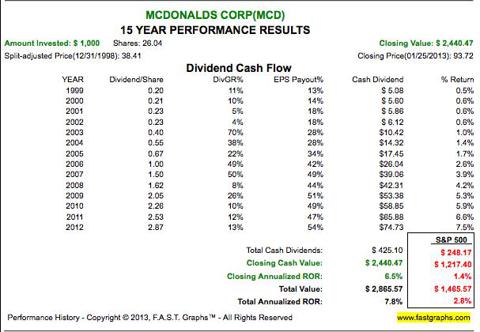 Data from F.A.S.T. Graphs
Tailwinds Abating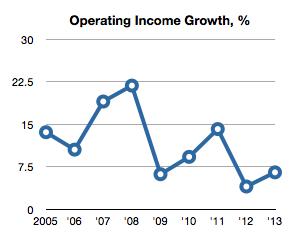 Operating income growth in 2007 modeled by reported 19% gain excluding spinoff of Latin American franchises to Arcos Dorados
However, operating income growth is in a long-term decline. Most of this is due to difficult previous-year comparisons and the law of large numbers: McDonald's market cap is nearly $100 billion with over 33,000 restaurants. Growth of 15-20% would be difficult to maintain indefinitely and it is unrealistic to have that expectation. This is especially true in an economic environment like this one.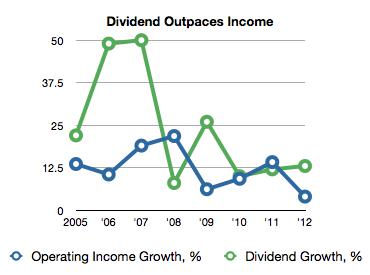 Income deceleration means that dividend growth rates will eventually have to follow suit. The dividend has been raised impressively for the last ten years, but has outpaced earnings.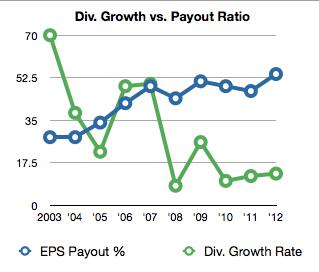 Data by Morningstar, charts by author
Looking at it another way, the dividend coverage ratio has marched steadily higher. While it may still have some room to increase from the mid 50 percent range, the easy increases are well behind us.
The payout ratio can only go so high before it impacts McDonald's substantial capital spending plans. Therefore, future dividend increases should more closely follow earnings growth. Don't be surprised to see sub-10% dividend growth going forward.
Caution: Contents Hot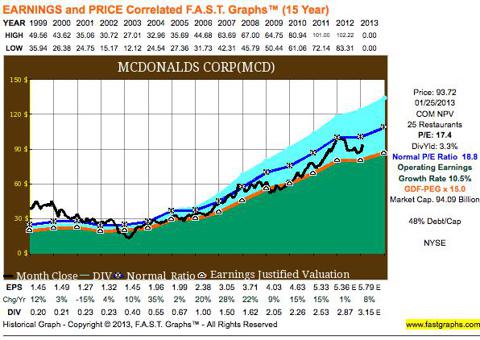 Chart by F.A.S.T. Graphs
Looking at our F.A.S.T. Graph, we can see that McDonald's has traded tightly in line with its earnings trend line for the last fifteen years. Despite a pullback last November, it is still well above that line.
Considering scaled-back growth prospects and a trailing twelve month P/E ratio of 17.4, it's time to handle McDonald's carefully. Fundamentally speaking, there is more downside than up, and absolutely no reason to buy with both hands at these levels.
Greater Than The Sum Of Its Parts
The entire restaurant industry has been coming under pressure as of late with flat to declining global traffic in the past year. This headwind is industry wide. Still, many investors seem disappointed that McDonald's hasn't remained above the fray.
Don't underestimate management's long-term ability to turn things around for the better, though. Although it may be unrealistic to expect the remarkable performance of the past decade, McDonald's management has proven experience and is very shareholder friendly. They are already making adjustments so that McDonald's can grow profitably for many years to come.
Stay Tuned
While now might not be a great time to buy McDonald's, pullbacks do happen and sentiment can turn quickly. I will continue to follow this company and will provide updates periodically as well as a more in-depth look at its business.
Disclosure: I am long MCD. I wrote this article myself, and it expresses my own opinions. I am not receiving compensation for it (other than from Seeking Alpha). I have no business relationship with any company whose stock is mentioned in this article.