The US economy has steadily added an average 155,000 jobs each month in 2011 and 2012, posting best back-to-back gains since 2005-2006. Although the housing prices are still 30% below their 2006 peak, the recovery remains robust as the Case-Shiller index reported a price increase of 5.5% in November 2012, the fastest since 2006. The US 10Y T-Note is now trading above 2% p.a. indicating an improved risk appetite also well reflected in the Eurozone peripheral yields having fallen considerably, with Euro up by 11.2% against USD since July 2012.
However, a weaker dollar against the Euro adds inflation risks for the US consumer as 16% of the total US imports come from the Eurozone. Add to it the recent payroll tax which seems to have already hit the consumer sentiment and is expected to eventually affect spending. Though it's difficult to assess the actual impact it will have on spending, the consumer confidence index is already the weakest in January since November 2011. Fewer consumers now expect better job prospects for the next six months including better jobs availability or an increase in their income. This is particularly important for an economy where the national savings rate is already low at 3.6% and the consumer spending comprises two-thirds of the GDP. Therefore it would be interesting to see the trajectory for job growth from here on with lower expectations on consumer demand growth.
One must also consider the "underemployment" in addition to the unemployment figures for a better analysis of the macroeconomic prospects. According to the US Bureau of Labor Statistics, "unemployment plus underemployment" in US averaged a whopping 14.7% compared to only 8.1% average "unemployment" in 2012. Now as we enter the next phase of the fiscal cliff deal negotiations, the spending cuts are also added to the table, naturally, with an increasingly uncertain outlook on job creation.
It's a very challenging scenario for the markets as the consumer sentiment is already affected with 2% lower disposable income in a market prone to inflation. The market's stability is about to be disturbed as earnings season ends with spending cuts lurking around the corner. It is amusing to see the S&P500 volatility index (NYSEARCA:VXX) trading at such low levels given the uncertainties and dark clouds over corporate earnings.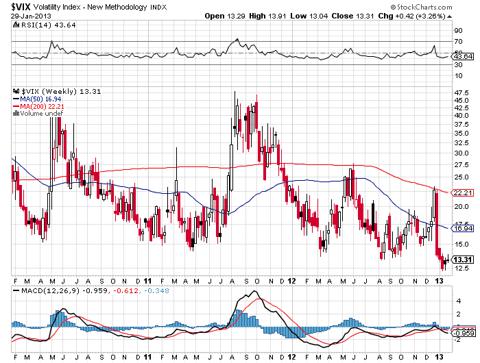 Although one could argue that the economic recovery is back on track as indicated by the encouraging data, it's worth taking a bet on the higher volatility in the next couple of months as this perfect storm hits the US markets.
Disclosure: I have no positions in any stocks mentioned, and no plans to initiate any positions within the next 72 hours. I wrote this article myself, and it expresses my own opinions. I am not receiving compensation for it (other than from Seeking Alpha). I have no business relationship with any company whose stock is mentioned in this article.