The major big box retailers saw December 2008 customer spend increase 15%. This can be attributed to an increase in the number of monthly visits per customers. The average customer visited these big box retailers 3.24 times during the month, which is a 16% increase from the 2.78 visits per month last December. This data was compiled by Geezeo's Main Street Spending Index (MSSI).
Wal-Mart (NASDAQ: WMT) showed the largest growth. The average customer visited Wal-Mart 3.63/month in December 2008, up 27% from the 2.86 visits in December 2007.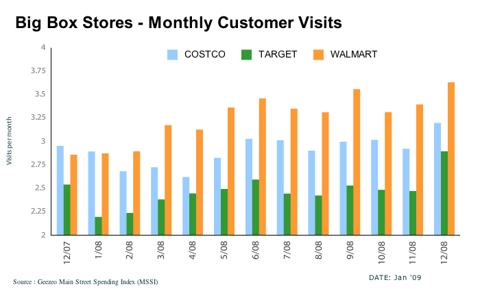 The average purchase per visit has remained relatively flat at ~$70/ visit across the big three stores. Costco (NASDAQ: COST) customers spent an impressive $98.84 per visit, up 33%+ more than either Target (NYSE:TGT) or Wal-Mart.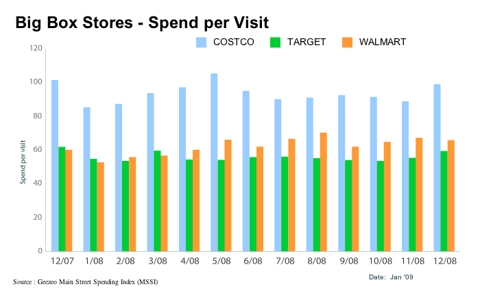 While most retailers limped through the holiday season, the average monthly spend at the three largest big box stores increased 15%, from $209 per month in December 2007 to $242 in December 2008. Wal-Mart has shown the most growth. In December 2008, customers spent $238.73 per month, up a stellar 39% from the $171.50 customers spent in December 2007.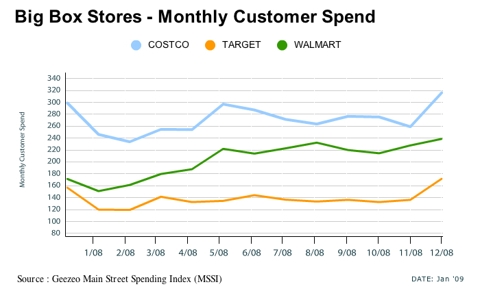 Contrary to some of the macro trends being reporting, Geezeo's Main Street Spending Index is seeing strong big box spending across younger families and working professionals. Given our turbulent economic times, these customers are shopping for value. This is great news for retailers that offer one stop shopping and competitive pricing. Expect this trend to continue.