Transcanada Corp. (NYSE:TRP) is a Canadian company that owns and manages natural gas pipelines from western Canada to the U.S. It developed the Keystone pipeline in 2010 and the expansion plan is well underway with its Keystone XL project.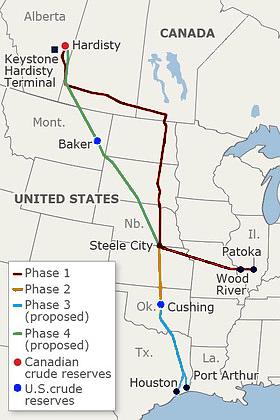 Source: Transcanada Corporation
TransCanada's cash flow as measured by EBITDA is separated into four business units: natural gas (60%), energy (28%) and oil/liquids (12%). Needless to say, Transcanada's network is one of the largest in North America with more than 35,000 miles in length. The Keystone XL expansion would connect the Alberta province to Nebraska. The project is awaiting approval from President Obama's administration.
The problem with the original route of the Keystone XL pipeline was that it was scheduled to cross the Sand Hills region of Nebraska, a sensitive zone that could cause some environmental hazards in case of a spill. On January 22, the company received welcome news. Nebraska Governor Dave Heineman has approved the reroute of the proposed project through its state.
Here's the new route below: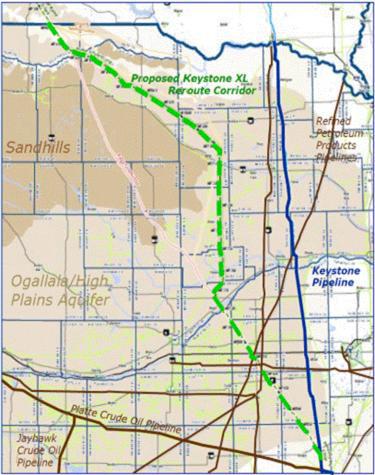 Source: Transcanada Corporation
Construction of Keystone XL will result in $418.1 million in economic benefits, support up to 4,560 new or existing jobs, generate $16.5 million in taxes from pipeline construction materials, and is expected to yield up to $13 million in local property tax revenues in its first full year of valuation in Nebraska, according to Mr. Heineman.
According to the company, this proposed oil pipeline will transport oil from Hardisty, Alberta and Baker, Montana before reaching delivery terminals in Steele City, Nebraska. Keystone XL is estimated to cost about $5.3 billion (U.S. funds) to build and will support the creation of 9,000 jobs on the American portion of the pipeline and about 2,200 on the Canadian side. The projected in-service date for Keystone XL is late 2014 or early 2015, subject to approval of the company's Presidential Permit application.
In my point of view, the equity's company will get a major boost in appreciation when President Obama's approval will be said and done. And it will be done. The administration can't afford losing more than nine thousands jobs and generating much revenues in taxes. There is simply too much at stake here. If there is a company able to put up such a feat, it is Transcanada Corp. Leader in natural gas and oil pipeline infrastructure for more than 60 years, they have the expertise needed to succeed in developing such a large and environmental sensitive project. And it is without saying that TransCanada is one of the continent's largest providers of gas storage with more than 400 billion cubic feet of storage capacity.
Transcanada provides great earnings stability due to its regulated utilities and pipelines network. Investors should expect to pick up a decent dividend yield of 3.5%-4.5% and that could increase with their expansion projects in the near future. Trading around $48.45 on the TSX market and $48.15 on the NYSE, I would recommend waiting for a better point of entry at this time. Many analysts value the equity at a fair price of $50 which is to me, very conservative. Adding the Keystone XL to the mix, the price of the stock could climb much higher, reaching new highs in the coming months after President Obama's final approval. A flow of cash is up for grabs. Will you be part of it ?
Disclosure: I have no positions in any stocks mentioned, and no plans to initiate any positions within the next 72 hours. I wrote this article myself, and it expresses my own opinions. I am not receiving compensation for it (other than from Seeking Alpha). I have no business relationship with any company whose stock is mentioned in this article.