Analyst and investor expectations were more than what VMware (NYSE:VMW) could actually achieve [see earnings call transcript]. The exceptional post-recession growth has slowed. However, VMware has excellent fundamentals and on the post-earnings price drop it becomes a more reasonably priced stock and an attractive long position.
The most recent Q4 2012 GAAP earnings per share were $0.47, second highest ever. This is a respectable increase of +31% from the prior quarter but only a meager +2% from the prior year. Therein lies the problem with investor expectations for the present and future. A +2% year over year EPS gain fails prior VMW standards, but is an indicator of a rebound and continued growth. Worse yet, the lowered management outlook was disappointing and resulted in downgrades.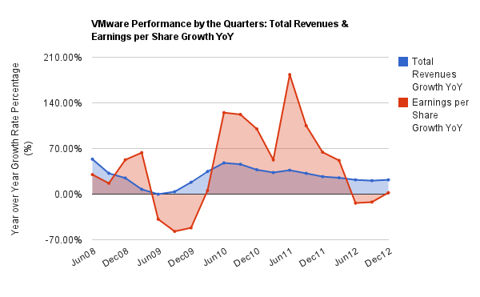 GAAP earnings per share of $0.47 continue strong and are the second highest ever. Non-GAAP earnings per share of $0.81 are a record high and indicate solid core operations. Cash flow from operations per share remains solid, the fourth highest ever, though a significant amount of revenue has been deferred short-term and long-term.
(click to enlarge)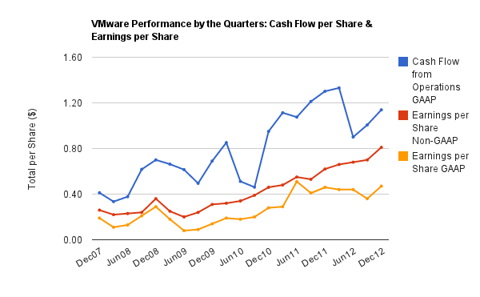 Revenues ($1.29B) are a record high and were the largest quarterly increase in history quarter over quarter (+$156K). More revenues growth should be reported in the future with record short-term deferred revenue ($2.2B) and record long-term deferred revenue ($1.3B). Operating income is also a record high. Net income is the second highest ever, which corresponds with the second highest earnings per share reported.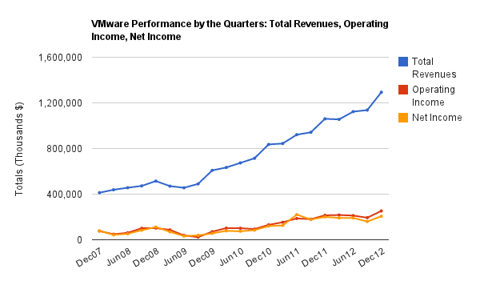 The gross (85%), operating (20%), and net (16%) margins are above the long-term averages of 83%, 16%, and 15%, respectively. The margins have been resilient.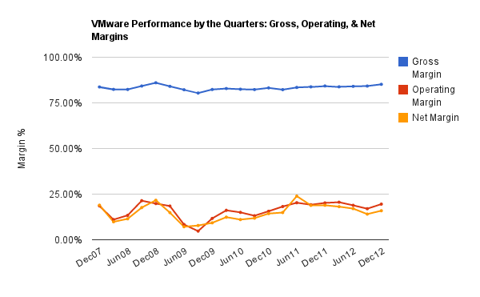 Annual revenue guidance for 2013 is $5.23 billion to $5.35 billion, which is +13% to +16% growth over 2012. Quarterly revenue guidance for the next quarter ending March 2013 is $1.17 billion to $1.19 billion, which is +10% to +12% growth over the prior year March 2012 quarter, but a -7% to -9% drop from this most recent, and peak, quarter reported ending December 2012.
VMware is very liquid with strong capital. The fundamentals are there, it is the technicals, the VMW stock price, that overreached. Don't expect the high growth rates of the past, but do expect a continued grinding upwards by earnings per share, especially on an annual basis, as the revenues are poised to reach yet higher.
Disclosure: I have no positions in any stocks mentioned, and no plans to initiate any positions within the next 72 hours. I wrote this article myself, and it expresses my own opinions. I am not receiving compensation for it (other than from Seeking Alpha). I have no business relationship with any company whose stock is mentioned in this article.