BlackBerry, formerly Research in Motion (RIMM) has a tough task ahead: to have its new BlackBerry 10 OS gain traction in the market place. The big question is: Does it even have a chance?
The entire future of the company depends to a large extent on this. The phones announced Wednesday will be running against Apple's (NASDAQ:AAPL) iconic iPhone, Samsung's (OTC:SSNLF) hot Galaxy S series, a whole slew of other phones running Google's (NASDAQ:GOOG) Android operating system, not to mention new entries running Microsoft's (NASDAQ:MSFT) new Windows Phone 8, such as the recent hit Lumia 920 by Nokia (NYSE:NOK).
Once the BlackBerrry series was the cutting edge of new smartphones (what we would call today feature phones), RIMM lost big when they completely failed to realize the import of the introduction of the iPhone. They then introduced the Storm and PlayBook both of which were major failures that resulted from serious issues with the products.
The results are that RIM's stock price has crashed from a 2008 high of $140 to a low of $6.22 last September. Recently it has recovered to the $14 - $18 range.
Note: RIM has changed their name to BlackBerry, and begining Monday (4 Feb) will trade on NASDAQ under ticker symbol BBRY.(Toronto Exchange BB).
I. Wednesday's Event
Wednesday's event announced some very impressive looking hardware and software. The BB10 features look attractive and the designers have thought very carefully about the interface design. Clearly, they have brought some real innovation to the smartphone marketplace.
But is this enough?
II. RIM is Dead!
So say many. They argue that BB10 has come too late to the smartphone party, that even if it should turn out to be a solid system, responsive and without serious bugs, it is just too late. They do not now have any chance whatsoever of succeeding. The argument is simply this:
The boat has left and iOS and Android are the two winners, and nothing will change this. WP8 will take a distant third place.
BB10 is left in the dust. They will never revive their market share and so will gradually disappear following the fate of Palm.
InfoWorld reports:
"Unfortunately for RIM, its BB10 strategy will be a case of too little, too late," Cameron Yuill, CEO and founder of AdGent Digital, told the E-Commerce Times.

...

"RIM is turning up late to a party that has been in full swing for some time. Waving around BB10 is not going to attract anyone's attention," he predicted.
III. The Fallacy
There is, however, an essential fallacy in this argument.
The underlying assumption of statement #1 is this:
#2 The smartphone market is like the PC market, there is one winner, one runner up, and maybe one trailing player. This is the rule of the marketplace. Nothing can change this.
Sorry BB. You missed your chance.
But why should this be so? What law is there that there shall be but two major operating systems in the world?
Surely in other fields there are many players. In cars, televisions, shoes, shampoo, there are all several leading players and a trail of several more with minor shares.
But here we are talking operating systems, the advocate replies. The public does not want more than two operating systems. They assume this from the history of the PC.
IV. I question that thinking
I question assumption #2. I don't believe it has any validity. The PC and the smartphone markets are two very different animals.
First, we have to look at the history of the development of the PC (here used mean personal computer no matter the OS). The PC originally was very expensive, beyond the means of most home users. It's intended customer was primarily the business community. Today, even a small business does not think much about investing $450 in a PC, but in 1981, a $2000 computer was a serious expense. This price was above the means of most families. In 1981 there were about 3M PCs sold. Last year, over 350M.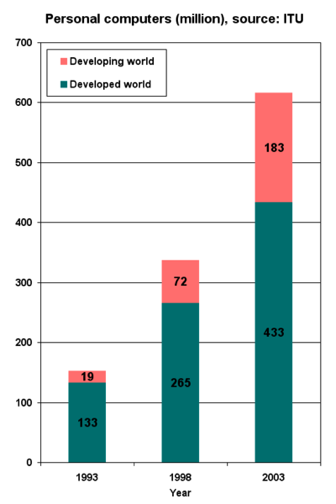 Personal computers (million) by International Telecommunication Union, source.
Thus, the PC industry took a long time to slowly grow, and was greatly influenced by business. As such, it was driven by business needs.
One of business's greatest needs was standardization. If they wanted to hire someone in particular for a particular job, then they did not want to have to train that person on their computer. They want him or her to be proficient from the go. This went for application software as well as the OS. This was a major driving force for moving to one OS, and that OS was MS Windows.
But …
The smartphone market is not the historical PC market. The buyers of smartphones are mostly individuals, and individuals who are already computer savvy (to one degree or another). These users are much more diverse and each has his or her own personal needs, desires, preferences. This applies to both hardware and software features. The individual is less interested in the compatibility with other systems because he or she may not own other systems.
Perhaps more importantly …
Communication between apps is no longer the issue that it used to be because so much is now done over the World Wide Web. As long as email, and Facebook (NASDAQ:FB), and Twitter, and Flickr, etc. etc. can work, and the browser properly renders web pages, there is little need for any other "compatibility."
V. Conclusion
These two major differences lead us to the conclusion that there is not any real theoretical issues blocking the growth of BB10 (or for that matter WP8).
Obviously, there are real headwinds to the adoption of a new system. Tens of millions of people already own Android and iOS systems and many of these people will be unwilling to switch. But BlackBerry has a huge following, and with its unique features will probably win converts.
The question then becomes whether or not they can win enough customers quickly enough to move into a solid, profitable position from which they can continue to grow. If they can do this, then BB10 will become a serious contender to eventually regain its number one position. There are no logical reasons prohibiting this.
Blackberry will never regain the dominance they once had - there are too many other serious contenders for that to happen, but they could plausibly move to the number two or even number one spot given enough time.
Personally, I see BB10 taking more market share from Android than I do from iOS. The customer satisfaction rating for Apple products is so high that this would slow the rate of defection. I have explored this topic in my Android is Dead? Series. The links are below.
-----
Android is Dead? Series posts:
In part 1: Why? I put out my thesis and basic arguments.
In part 2: Titans Clash, I note corroborating analysis from a Goldman Sachs report titled Clash of the Titans.
In Part 3: The Numbers, I proposed a 2016 market share scenario, complete with numbers, in which Android had lost significantly to Windows Phone 8, and BlackBerry 10.
In Part 4: New Contender Windows Phone 8, I discuss the new Windows Phone 8 operating system, and a couple of particular devices.
In Part 5: Number of Players , I addressed criticism that 4 was too many players in the market.
In Part 6: Nokia Triumphs , The Lumia series seems to have met with success.
In Part 7: WP8 Ratings Review, WP8 has met with superior satisfaction ratings.
Disclosure: I am long AAPL. I wrote this article myself, and it expresses my own opinions. I am not receiving compensation for it (other than from Seeking Alpha). I have no business relationship with any company whose stock is mentioned in this article. I may open long or short options positions in any of the mentioned stocks in the next 72 hours.