While we usually leave all the options coverage for some of our other favorite blogs, we simply had to point out this interesting activity in HSBC (HBC). Optionmonster has highlighted the fact that as of Monday (Jan. 12):
HBC traded 173,000 puts versus average of 7,700 puts over the past 30 days. Crazy busy and 94 percent trading out in March.
Activity was mainly in the March contracts at the 50, 45, and 40 strikes. If it continues to escalate, they said the activity would remind them of that once seen in Lehman Brothers and Bear Stearns. They also noted that it was the largest put activity in that name, ever.
And, yesterday (Jan. 13) the put activity continued, as the March 25's were starting to see volume. As you can see from the chart below, HSBC is in a strong downtrend and at the time of writing was trading around $45, a level of recent support. If it breaks this level, then look out below.
click to enlarge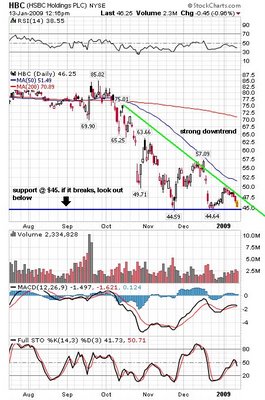 We have highlighted HSBC as a short on the blog numerous times. Back in August, we noted that delinquencies were rising across the board and the best way to play it would be to short institutions with lots of leverage, derivative exposure, or residential and commercial mortgage exposure. Our post on August 31, 2008 suggested shorting C.B. Richard Ellis (NYSE:CBG), General Growth Properties (NYSE:GGP), Capital One (NYSE:COF), Discover Financial (NYSE:DFS), HSBC and Washington Mutual (NYSE:WM). Obviously, shorting all of those names has paid us off handsomely.

GGP and WM both collapsed rather quickly. However, all along, HSBC has been meandering along, trading sideways. In our post on September 16, 2008, we looked at writedowns, losses, and capital raised for various institutions. At that time, we noted that:
One institution in particular I want to point out is HSBC: $27.4 billion in writedowns and losses, but only $3.9 billion raised. It, by far, has one of the more lopsided ratios. Now, we obviously know that this simple chart does not tell the whole story, but I thought it was worth highlighting.
Then, in October, signs of weakness started to appear as the market turmoil continued. Our post on October 8, 2008 highlighted various Leverage Ratios of financial institutions. In that post, we saw that HSBC's leverage ratio (total assets/equity) was 20.1 as of June 30 2008, an increase from their ratio of 18.4 in 2007. At the time, we saw that HSBC loosely had this deadly mix: use of leverage, large writedowns, and low capital raised.

HSBC has been in a downward spiral ever since, and now we see news of interesting options activity in the name. While we by no means think HSBC is in as bad of shape as a Lehman or Bear, we do think rough waters are in store and that is why we've highlighted them as a short numerous times in the past.

Proceed with caution, as the $45 support level is more important now than ever.
Disclosure: None