Skyworks Solutions (NASDAQ:SWKS), an Apple (NASDAQ:AAPL) supplier, provided an earnings report that gave its shareholders something to cheer about today. I have noticed over the last few weeks that Apple suppliers have fared much better than the giant from Cupertino in the stock market recently. This trend might continue until Apple can find support and exercise the negative sentiment around its stock. Investors looking for smartphone plays should consider Skyworks as well as Triquint Semiconductor (TQNT) that will report its latest results on February 6th. Triquint also just reported an over $450K insider purchase by a company director.
Skyworks Solutions offers analog and mixed signal semiconductors worldwide.
4 reasons SWKS still has upside from $24 a share:
In its just reported quarter, revenues were up 15% and non-GAAP earnings came in at 55 cents a share. Both of these figures were above the company's previous guidance. The company also stated it expected revenue growth of 15% in the upcoming quarter, higher than the usual growth 10% to 12% historical average for the quarter.
In addition to Apple (25% of sales), the company supplies smartphone manufacturers Samsung (17% of revenues) and Nokia (NYSE:NOK), providing customer diversification.
Oppenheimer came out after earnings and reiterated its "Buy" rating on the stock as it believes Skyworks is gaining market share in the power amplifier market. The median price target by the 19 analysts that cover the stock is $30 a share. Look for upgrades on the back of this latest earnings report.
Analysts expect between 13% to 15% sales increases for both FY2013 and FY2014 and the stock sports a five year projected PEG of under 1 (.67).
TriQuint Semiconductor provides radio frequency (NYSE:RF) solutions and technology for communications, defense, and aerospace companies worldwide.
4 reasons TQNT is cheap at $5 a share:
The company has a robust balance sheet with almost 20% of the company's market capitalization in net cash. In addition to the recent purchase by a director, the stock has several other small insider buys in November.
The stock is selling for just 90% of book value. TQNT is selling near the bottom of its five year valuation range based on P/S and P/CF as well.
After declining sales and a small loss in FY2012, analysts expect the company to post an 8% increase in revenues and a profit of 16 cents a share in FY2013. The company should benefit from the incremental RF demand lift provided by the migration to 4G networks.
The stock has traded in a narrow range for the last 15 months. However, it traded almost three times higher less than two years ago. If the company can meet the projections for a turnaround in earnings and revenue growth, the results could be explosive (See chart).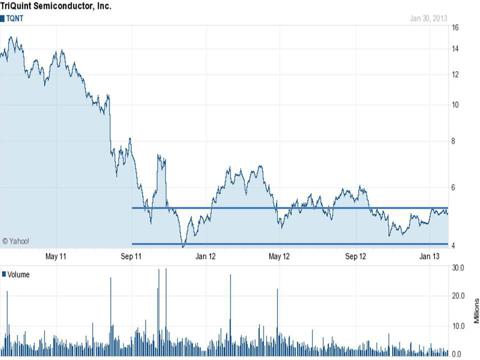 Click to enlarge
Disclosure: I am long AAPL, SWKS, TQNT. I wrote this article myself, and it expresses my own opinions. I am not receiving compensation for it (other than from Seeking Alpha). I have no business relationship with any company whose stock is mentioned in this article.