"My attitude is that if you push me towards something that you think is a weakness, then I will turn that perceived weakness into a strength." - Michael Jordan
Much of the media has hyped up the idea that Dow Transports have confirmed the melt-up Fiscal Cliff rally as it makes new highs and the world looks towards new all-time highs in the Dow Industrials. The premise? Based on Dow Theory, the performance of companies that ship things (transports) should confirm the performance of companies that make things (industrials). While there is some merit in the thinking, I do not believe new highs are predictive. Rather, intermarket trend analysis within the context of behavior and the environment one is operating in provides a high probability for a successful trade.
I have been more and more negative in my recent series on writings as various intermarket trends change just as Nouveaux Bulls get excited about Dow 14,000. Our ATAC models used for managing our mutual fund and separate accounts got highly defensive last week as internals deteriorated, and the odds appear to be growing of a corrective period ahead. Many will argue that it is hard for markets to fall given Dow Theory confirmation, but Transport leadership may be nearing its end.
Take a look below at the price ratio of the iShares Dow Jones Transportation Average (NYSEARCA:IYT) relative to the Dow Jones Industrial Average (NYSEARCA:DIA). As a reminder, a rising price ratio means the numerator/IYT is outperforming (up more/down less) the denominator/DIA.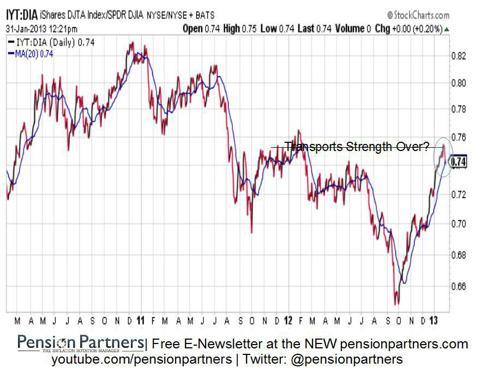 Click to enlarge
Transports have been on utter fire, strongly leading throughout the "Fiscal Cliff countdown" and fear about how 2013 would play out. Note that the ratio in the past few days has turned down aggressively, after hitting a resistance level that the ratio has stayed around in late 2011. I suspect a reversal may be in order should the correction take place and odds of further weakness in risk assets increase. This means that just as everyone is looking at Transports as an all-clear, a turnaround may be just about to start in the Transports/Industrials relationship.
Disclosure: I have no positions in any stocks mentioned, and no plans to initiate any positions within the next 72 hours. I wrote this article myself, and it expresses my own opinions. I am not receiving compensation for it (other than from Seeking Alpha). I have no business relationship with any company whose stock is mentioned in this article.
Additional disclosure: This writing is for informational purposes only and does not constitute an offer to sell, a solicitation to buy, or a recommendation regarding any securities transaction, or as an offer to provide advisory or other services by Pension Partners, LLC in any jurisdiction in which such offer, solicitation, purchase or sale would be unlawful under the securities laws of such jurisdiction. The information contained in this writing should not be construed as financial or investment advice on any subject matter. Pension Partners, LLC expressly disclaims all liability in respect to actions taken based on any or all of the information on this writing.