The present market conditions are particularly dangerous, attending to serious warnings provided by weakening levels of global economic activity. There is the clear likelihood that the remedy used incessantly after the 2008 financial crisis no longer delivers results. In fact, the monetary easing has, over time, shown fragile to anemic results with regard to solving problems like deflation and lack of growth.
Central bank intervention, with the intention of stimulating the economy and the banking system -- which has been happening all over the most powerful economies -- has a significant role in the present market rally. The situation is not new. For several years, we witnessed a constant rush to place more and more money into the economy, with short-term results that lead to new and probably severe problems.
With exaggerated issuance of money in a system already full of liquidity, global economies fail to cure imbalances created by large budget deficits and growth inability. More importantly, actions pointing to healthy development are scarce and doubtful. One may wonder if a liquidity trap is under way, as additional increases in the money supply fail to stimulate the economy.
Click to enlarge images.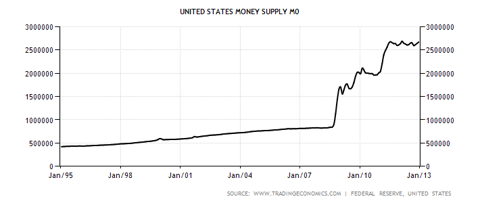 I believe we may see a liquidity bubble because the above-mentioned monetary strategy still remains. To make things even worse, it is important to evaluate the terms of a recent joint statement from the government and the Bank of Japan on monetary policy: "The bank sets the price stability target at 2%," and "will pursue monetary easing and aim to achieve this target at the earliest possible time." As a matter of fact, such measures will generate a tough currency struggle that will further increase the monetary flow to the economy.
The yen (NYSEARCA:FXY) has already depreciated 10% against the dollar since December and is also falling against other main currencies. Market analysts believe that the Japanese government may target a move back to 100 yen per dollar in the medium term. Repercussions will be severely felt throughout the world, and the U.S. will have no choice but to try hard to avoid the existence of a stronger dollar, which will hurt exports hugely.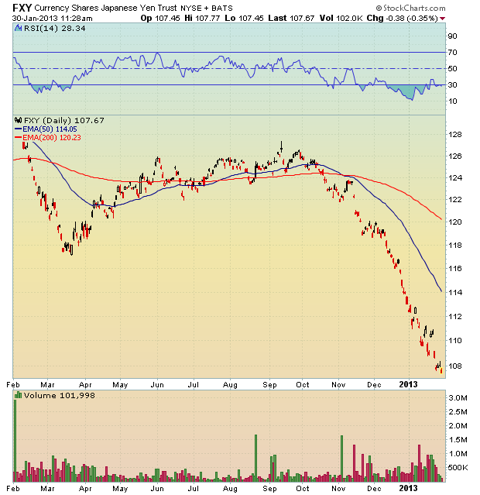 Charts courtesy of StockCharts.com at http://stockcharts.com
To measure the level of economic activity on a daily basis, we can use a guide of world supplies for any type of industry or business. The Baltic Dry Index (BDI) is that kind of indicator. It measures the demand for shipping capacity vs. the supply of large bulk carriers that transport inputs into the production of intermediate or finished goods. The index is seen as an efficient leading indicator of future economic growth and production. This index has been at a low level through most of 2012, and is also not far from the December 2008 bottom.
There is an ETF that seeks to track an equivalent index, but which only was launched in June 2010 -- the Guggenheim Shipping ETF (NYSEARCA:SEA). Its prices have a similar evolution to those of the BDI, which leads to the conclusion that this unusually low level may point toward a downward global economy.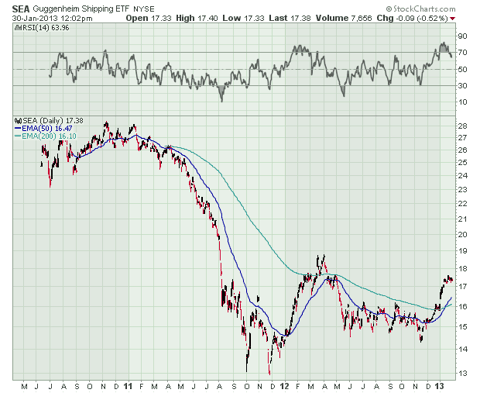 So, we have in the near future the likelihood of a liquidity bubble, which will be the gloomy outcome of a misleading monetary policy put in place since the 2008 crisis. At the same time, we will observe a currency conflict that may bring critical imbalances to the global economy -- and particularly to the level of U.S. economic growth.
Usually, the financial markets reflect all of those problems. In fact, they tend to mirror all the news about the global economic situation and are seen by many investors even as leading indicators. As they are now in an overbought pattern, the markets should be particularly sensible to the probable chain of events analyzed above. Particular attention must be given to the S&P 500 Index (NYSEARCA:SPY), as shown in the chart below.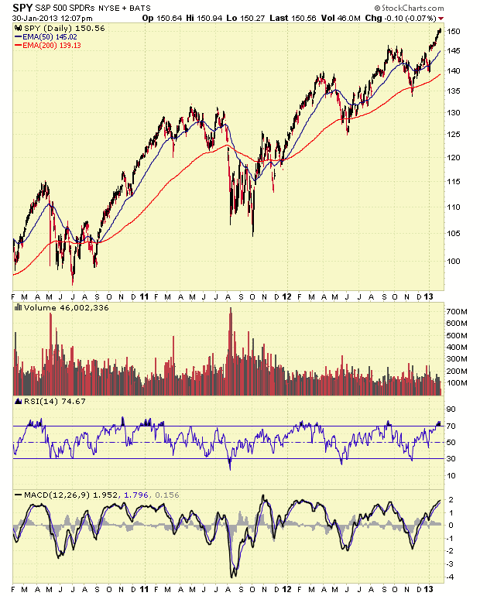 Conclusion
The economic situation is fragile and problematic in the U.S. and globally. There is an increasing probability of a liquidity bubble development set off by recurring monetary policies. Several signs point to a potential reversal in market trends. I think that we are arriving at a time when neutral or even good information and data will make many investors sell on the news. That is the opposite of what we are seeing now, when there is a belief that all is fine and problems will be handled and resolved.
The company reports are generally good, but the problem is in the short- or medium-term future. I anticipate that investors will probably show growing risk aversion that may change their market appraisal.
Suggestions for an Action Plan
If there is a real confirmation of a market reversal, investors should wait calmly to sell their shares in a measured manner and finding the right time to do so. As there are some stocks more sensible than others, investors have to decide according to their portfolio strategy.
For now, I do not suggest shorting the market, but only to assess positions after identifying the market's potential correction. If a strong correction will be decidedly in place, then almost every kind of stock will fall. We have been in that situation several times and different approaches may be prepared. Some may want to hold their portfolios and wait for the bull market to resume, or because they believe in a kind of price stability at lower levels.
At this point, whatever action plan investors may choose, my advice is to buy gold (NYSEARCA:GLD), silver (NYSEARCA:SLV), Royal Gold (NASDAQ:RGLD), Silver Wheaton (NYSE:SLW), Capital High Yield Bond (NYSEARCA:JNK), the International Government Inflation Protected Bond ETF (NYSEARCA:WIP), and the TIPS Bond Fund (NYSEARCA:TIP). They should assess the timing, carefully, to buy emerging market stocks of China (NYSEARCA:FXI). For long-term investors, holding their stocks makes sense -- especially if the opportunity arises later on to buy more at lower prices.
Disclosure: I have no positions in any stocks mentioned, and no plans to initiate any positions within the next 72 hours. I wrote this article myself, and it expresses my own opinions. I am not receiving compensation for it (other than from Seeking Alpha). I have no business relationship with any company whose stock is mentioned in this article.