Introduction
Activision Blizzard (NASDAQ:ATVI) is known for popular franchises such as Diablo, World of Warcraft, Starcraft, Call of Duty and Skylander's.
I have seen a lot of shareholders claim that ATVI has a lot of growth-potential, and therefore they believe that the current stock price of $11.42 makes the company undervalued. While I acknowledge that the company has potential, I think it is more likely than not, that earnings will decline over the next five years.
In this article I will present 5 reasons for why I believe that to be the most likely outcome.
Argument 1 - World of Warcraft (WOW) subscriber figures will likely decline
If you look at the below graph you can see that subscriber figures declined from Q4 2010 to Q3 2012, where the most recent expansion pack "Mists of Pandaria" was released.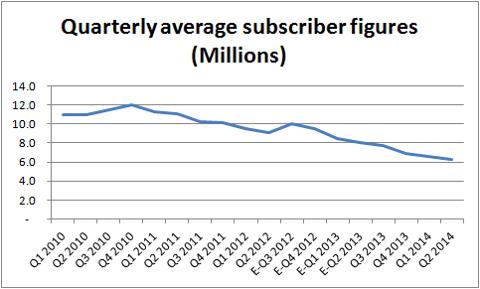 Source: Activision Blizzards quarterly reports and my own estimations
Some investors may think that the subscriber growth caused by Mist of Pandaria is sustainable. I believe they are very wrong, and I think many players have bought MOP with the intention of playing it for a couple of months, and as of today they have already quitted or will quit within a couple of months.
In a previous article I wrote about the community's response to the expansion pack and while many enjoyed it, it was also pretty clear that it wasn't exactly the kind of game which would have players hooked up for a long time.
Argument 2: The only "growth-franchise" of ATVI, Skylander's, doesn't have very good long-term prospects.
This may sound somewhat contradictory, as one may believe that growth-franchises always have great long-term prospects, but I disagree. Skylander's is a franchise which is very popular among young kids right now, and I expect it be widen in popularity over the next 1-3 years. However, Activision has a history of milking cash cows too hard (Guitar Heroes for instance which led to Activision dropping the franchise in 2010 after a couple of very successful years). I believe it is likely that Skylander's could face the same destiny.
But I do acknowledge that Skylander's until then has the potential to be a very profitable franchise, and Activision has recently announced that the franchise has earned more than $500M in sales alone in the US.
Argument 3 - ATVI's TTM earnings are "artificially" high as they have benefited from non-sustainable earnings
Diablo 3 was released in May 2012, and so far the game has sold roughly 10M copies. According to my estimations, D3 has added roughly $550M to revenue, and $400M to the bottom line over the last twelve months. But Diablo 3 (despite the great sales) ended up receiving terrible reviews among customers. While I still believe World of Warcraft and Starcraft (the two other Blizzard franchises) have a profitable future, I don't think Blizzard can earn a lot of money with the planned expansion pack to Diablo 3.
Argument 4 - While World of Warcraft's "successor", "Titan" likely will do very well, it will likely still suffer from the "mean reversion"-concept.
Titan is expected to be released in 2014, and at that time I expect that most World of Warcraft players will switch to this new game. However, even if everything goes as planned, it is just unlikely that this game will be as successful as World of Warcraft has been over the last 8 years.
Argument 5 - Call of Duty has peaked
The sales figures for Activisions Call of Duty are still and will continue to be absolutely phenomenal. However, it seems that the game peaked last year (Q4 2011), and Activision themselves even acknowledge that sales for Q4 2012 likely will be slightly lower than last year. They have also cancelled their Call of Duty Elite subscription program (for unknown reasons), which I believe will lead to a worse monetization of the hardcore players.
I don't expect any huge decline over the next 2-5 years, but I believe that a negative sales growth of 0-5% per year is the most likely outcome. Basically, nothing lasts forever, and the teenagers today may not be buying the game five year from now on.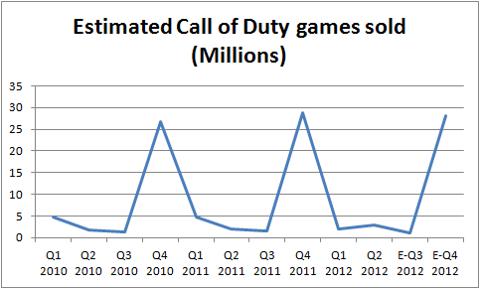 Source: Vgchartz.com and my own estimations.
Final words
After having estimated sales figures for every major game ATVI is expected to release over the next twelve months, my model predicts that EPS will decline from 10.82 to $10.15 over the next twelve months.

If we look further forward I think EPS will increase in 2014 due to the expected release of Titan, but I expect 2014 to be the last "good" year for ATVI. From then on I expect earnings to decline, and the share price should suffer at a similar rate as well, as negative earnings growth isn't priced into the stock.
Disclosure: I have no positions in any stocks mentioned, and no plans to initiate any positions within the next 72 hours. I wrote this article myself, and it expresses my own opinions. I am not receiving compensation for it (other than from Seeking Alpha). I have no business relationship with any company whose stock is mentioned in this article.