EVENT: NVIDIA (NASDAQ:NVDA) Slashes FQ4 Revenue Guidance, Down 40-50% Q/Q (-38.7% Below Street)
CAUSE: Weakness In End User Demand, Inventory Reductions In PC Supply Chain
IMPACT: Negative Data Point For Semis, Distributors, Foundries, PC Supply Chain
ACTION: Continue To Avoid AAPL, CAJ, DELL, HPQ, MSFT, PC Supply Chain, Distributors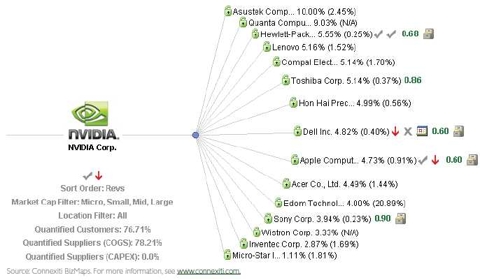 Click to enlarge
SUPPLY CHAIN EVENT TRACKER
11.18.08 Customer HPQ guides FQ4 revs -5.9% below Street expectations
11.20.08 Customer DELL reports FQ3 revs -8.6% below Street expectations; no guidance
12.1.08 Supplier TSM guides Q4 revs -8.5% below Street expectations
12.2.08 Competitor MRVL guides FQ3 revs -3.6% below Street expectations
12.4.08 Customer AVT guides FQ2 revs -2.5% below Street expectations
12.4.08 Competitor AMD guides Q4 revs -22.9% below Street expectations
12.8.08 Supplier ASX reports Nov revs -17.3% below seasonal norms
12.8.08 Competitor BRCM guides Q4 revs -10.0% below Street expectations
12.11.08 Supplier CHRT guides Q4 revs -17.1% below Street expectations
1.7.09 Supplier ASX reports Dec revs -23.9% below seasonal norms
1.7.09 Customer INTC guides Q4 revs -6.7% below Street expectations
1.12.09 Supplier AMKR guides Q4 revs -3.6% below Street expectations
EVENT: SLASHED FQ4 GUIDANCE. NVDA yesterday morning warned that FQ4 (Jan) revenues would be down 40-50% Q/Q (midpoint $493.7M -38.7% below Street expectations). The implied Q/Q revenue decline of -45% is well below normal seasonality of +10.6% (σ=11.41).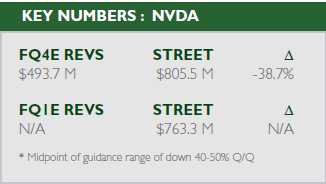 CAUSE: WEAK DEMAND, INVENTORY REDUCTIONS. In a press release, NVDA management cited weak demand and inventory reductions in the PC supply chain, consistent with recent data points from AMKR, INTC, AMD, and others.
IMPACT/ACTION: CONTINUE TO AVOID PC SUPPLY CHAIN NAMES. It is difficult to overestimate just how bad NVDA's warning is—and this is compounded by the fact that guidance is wide enough to drive a truck through with just a couple of weeks left in the quarter. NVDA's bomb, coupled with the recent spike in the VIX, should put to rest any notion that bad news is "priced in." As we have argued for some time, due to the overall lack of visibility, companies generally have not provided 2009 guidance, and thus so-called "cheap" tech stocks will not look so cheap once the Street has a better handle on how 2009 will shape up.
Based on initial commentary from TXN, as well as guidance from off-cycle semi companies like SMSC and NSM, Q1 semiconductor revenues look to be down 20-30% in aggregate Q/Q. 2009 Y/Y revenue growth looks to be down -23%+ in a best-case scenario. We view NVDA's warning as another negative for foundries TSM, CHRT, and UMC; outsourced semiconductor application and test names like AMKR, ASX, and SPIL, and distributors such as ARW, AVT, IM, and TECD.
Within the PC supply chain, we now have seen sharply lower guidance from leading suppliers INTC (-20% Q/Q), AMD (-33% Q/Q), and NVDA (-45% Q/Q). However, the Street is still assuming far greater Q/Q rev growth for AAPL (+25%) and CAJ (+19%), and even DELL (-2.9%) and HPQ (-4.3%). We see a gross disconnect between the Q/Q revenue growth of these major suppliers and their OEM customers, and thus we continue to hold a negative view on each. We believe investors should continue to brace for a steady diet of negative supply chain data for the foreseeable future.