For those who follow the financial news, these days of bankruptcies, suicides, foreclosures and Ponzi schemes may have inured you to an item appearing Friday that may bear further scrutiny.
How's this for the makings of an intrigue: a convicted con-man become Christian Minister accuses homebuilding giant, Lennar Corp. (NYSE:LEN), of fraud – something he has a modicum of experience in, having served seven years of a 25 year sentence for the same before being paroled.
Lennar then returns fire by saying (among other things):
Today convicted felon Barry Minkow, acting as an agent for a disgruntled litigant, Nicolas Marsch III, posted false and inflammatory accusations concerning Lennar. Marsch's civil litigation against Lennar was just dismissed by a California Superior Court judge. This Internet posting was hurriedly made only after evidence surfaced this week in litigation that Marsch and Minkow may have attempted to illegally obtain information relating to Marsch's legal proceedings against Lennar. Lennar continues to investigate acts of wrongdoing by Marsch and Minkow.
Oooooowwwweeee!
But in the meantime, an unbelievable number of put options traded in Lennar Corp. late last week – more than 64,000 on Friday alone, when the stock fell 20%. Reports from the Wall Street Journal confirm the stock bottomed at $8.23 (before recovering to $9.15), after Minkow's Fraud Discovery Institute accused Lennar of running a Ponzi scheme. Meanwhile, reports the Journal, "unusual put activity started to appear in the last couple of days on Lennar and several other homebuilders." (Underline mine.)
So what does it mean?
First, note the timing of the events:
First, the action in the puts – several days before the alleged "news" was broken.
Then the accusation by Minkow on Friday morning at the open.
Then the stock bottoming, while
Investors poured in with massive put buying for the rest of the day.
And finally, the expected denunciations of Minkow and associates as mischief-making clowns.
From this we can only conclude one of the following:
Either Minkow and buddies have gone back to their devious ways, buying puts in Lennar and then foisting their "news" on a greedy, leverage-drunk public before cashing out, or
Others with inside knowledge of the company started to buy puts when misdeeds began to surface and the possibility of a quick trade looked inevitable, or
Both. That is, Lennar is in cahoots with Minkow and company in a scam to profit from news of a "scandal" at a time when markets are salivating for opportunities to go full throttle short on the weariest sectors.
We're not for conspiracies…
Does it help Lennar to have the cover of a distrusted felon turned Preacher – along with his aptly named Fraud Discovery Institute – drive down prices before everyone drops the story and goes home? Does it help to perpetrate a scam like this before the new administration's SEC Chair takes over and starts implementing a new enforcement regime? Are Minkow's bona fides just weak enough to let the story pass under the radar at this critical juncture?
We hate to engage in the name-calling and conspiracizing that litters so much of the web, but this looked a little too cheeky to us. And considering the cast of characters involved, and the timing of events, the smell emanating from Lennar put activity is downright fishy.
Make up your own mind, but in the meantime avoid shares of Lennar for better chances in the other homebuilders.
Across the Border and Into the Mall
The homebuilders and general Real Estate market was in our sights this fall when we recommended a homebuilding ETF and Pulte Homes (NYSE:PHM) to our subscribers, and we reiterate both those items as buys today. The yield on the ETF has contracted somewhat, but there are still good and safe payouts to be found in another far-flung corner of the Real Estate world – indeed, one doesn't even have to travel that far to find them.
Canadian Real Estate Investment Trusts ((REITs)) got slammed when their American counterparts were beheaded, and real estate from Miami to Madrid began circling the drain. The chart below compares U.S. and Canadian REITs over the last five years.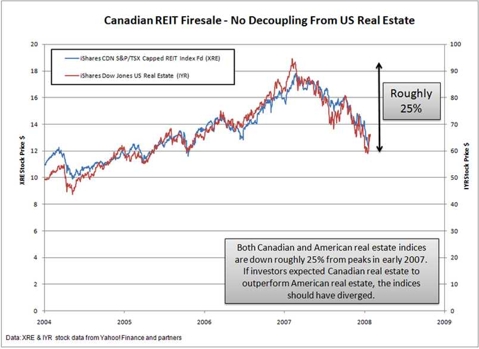 Click to enlarge
Yet in the case of Canada, there appears little reason for such a deep selloff to occur.
The Canadian economy may be the healthiest of the G-7 nations at the moment; certainly, recent strength in the Canadian dollar attests to this. A resource based economy at its core, Canada has profited tremendously from the commodity bull market that began at the turn of this century. And the IMF predicts Canada will lead the world's biggest economies in growth in 2009, and may be the only advanced economy not to experience a recession.
Why Canadian REITs now?
That said, Canadian REITs also have an advantage over their American counterparts: structurally, they don't carry the leverage that American REITs do. They're also being bought up by insiders at an incredibly rapid rate – particularly the biggest operators, RioCAN REIT (OTCPK:RIOCF) and Calloway REIT (OTC:CWYUF). It hasn't escaped executives in these two outfits that their companies were unnecessarily thrown out with the bath water.
Either of these companies are offering juicy yields (RioCAN – 9.58% and Calloway – 13.64%), but there may be a better bet than either at present.
The iShares Canadian S&P/TSX Capped REIT Index Fund [XRE:TSX] now yields a beautiful 14.46% and is trading at $8.27 Canadian. Even with the exchange rate risk you're more than amply compensated for owning this one – and you have professional management and a diversified portfolio to boot.
As Bill Gross head of the world's biggest bond fund said recently:
Shake hands with the government; make them your partner by acknowledging that their checkbook represents the largest and most potent source of buying power in 2009 and beyond. Anticipate, then buy what they buy, only do it first.
The fix is in, folks. Real Estate can't fail.
Residual Income Report recommends immediate purchase of [XRE:TSX] at $8.27 Canadian.
'Cause this ain't no Ponzi Scheme!