Yesterday morning, Audiocodes (NASDAQ:AUDC) reported its fourth-quarter and year-end 2012 results, as well as presented its annual financial outlook for 2013. The company didn't disappoint me, or my followers on the long side, as it reported revenues of $32.8 million and EPS of $0.03. Furthermore, the company generated an unexpected cash flow of $8.4 million.
Audiocodes has clearly benefited from a product shift and a cost reduction plan, and it is positioned to take advantage of a big upside as enterprises focus on using over the top (OTT) VoIP applications to handle their voice services. VoIP at its core is known or thought of as a legacy technology, but in truth OTT is about to take VoIP on another leg of growth as the technology has dozens of startups and large multibillion-dollar tech titans positioning themselves to deliver high quality and highly reliable voice calls to the enterprise. This is a massive opportunity for the cheapest of the pure play VoIP players, Audiocodes. As a result, I'm raising my target to $10 per share on a 50% discounted valuation of the Wall Street darling Acme Packet (NASDAQ:APKT).
Analyst's Costly Mistake
After seeing the company report such good numbers, I was surprised to see the stock come under such selling pressure. The cause of the weakness was identified by Bloomberg reporter Leon Lazaroff. In an article he notes how the Oppenheimer analyst in a recent note had mistakenly put his earning per share estimate for 2013 at $0.16. When Audiocodes guided for earnings per share for 2013 of between $0.10 and $0.14, it looked like a miss. The fact is that the Oppenheimer analyst made a mistake with his estimate of $0.16 as it should have been $0.10. He admitted his mistake in a phone call to the reporter and noted that Oppenheimer had corrected the estimate to show that it is really $0.10.
The analyst made amends this morning as he upgraded Audiocodes to Outperform from Perform and raised the price target to $5. He also raised his 2013 revenues to $135 million and his 2013 EPS to $0.12. I believe that he is being conservative with his numbers, maybe waiting for another good quarter before raising his guidance and price target further. I have raised my estimates and feel confident that Audiocodes will have 2013 revenues of $138 million and 2013 EPS of $0.18.
Microsoft Lync Sales Keep Growing at Feverish Pace
Microsoft (NASDAQ:MSFT) reported a 35% year-over-year increase in Lync sales last week when it reported its fourth-quarter 2012 results. Microsoft's next sneak peek at Lync will be on Feb. 18-21 when it holds its annual Lync Conference in San Diego. At the conference, we expect to hear news about Microsoft Mobility that will highlight Audiocodes' relationship with Microsoft and open investors' eyes in dramatic fashion to its opportunities.
In October 2012, Microsoft took the Lync division out of the business group and folded it into the Skype group. A huge boost to the speculation that Microsoft will bundle Skype into future versions of Lync, thereby establishing it as a PBX replacement in the enterprise space. Think about the 500 million Skype users and the millions of enterprises that run Microsoft's operating system as potential customers. The Lync/Skype connection bodes very well for Audiocodes either being folded into Microsoft or delivering very strong Lync product/service sales in 2013 and beyond. The VoIP players have been whittled down and only a few remain. Audiocodes, with its extensive VoIP experience, strong intellectual property (IP), and strong know-how, should see greater demand as Lync and Skype become universal.
Audiocodes' One Voice Lync is the result of collaboration with Microsoft. Audiocodes is the only single-source provider for Microsoft buyers with a complete end-to-end voice solution package. This makes the contract bidding process easier for Microsoft as it can offer a more plug-n-play solution when going up against Cisco Systems (NASDAQ:CSCO). Investors should understand that when Microsoft bids a customer they can now direct that customer to Audiocodes, which will be able to offer the customer a one-stop shop with access to all the equipment and expertise needed for Lync installation. The effort is sure to pay big dividends in the months and years to come for both Microsoft and Audiocodes.
Audiocodes's management said on the call that One Voice Lync, which is only two weeks old, is bringing more and bigger orders to the table. It's just a matter of time before this sinks in with analysts and fund managers. When it does sink in, I await the price and volume surge that will follow. This relationship alone could bring Audiocodes to $15-$20 per share if Microsoft adds Skype into its Lync platform or talks it up at the upcoming Lync Conference. My bet is that Microsoft doesn't disappoint and that positive press releases are issued surrounding Lync and Skype, which should be a direct positive to Audiocodes. I'm buying more shares going into this event.
Over the Top
Vonage (NYSE:VG) CEO Marc Lefar recently presented at an investor conference and the CEO was enthusiastic about its new enterprise offering in the OTT VoIP market. Vonage is symbolic to legacy in the investment world. This new market could wake up investors to the upside of OTT and VoIP and to the very few suppliers in the space that can capitalize on the potential mountain of growth ahead. Vonage isn't alone. Apple (NASDAQ:AAPL) has Facetime, Google (NASDAQ:GOOG) has GoogleTalk, Facebook (NASDAQ:FB) has a new Voice application, Microsoft has Skype, and there are dozens of video and voice OTT players set to come to market via IPO in the months ahead. Technology has finally caught up with VoIP and the kinks have been worked out of the traditional VoIP as we knew it.
The next wave will see a higher quality and a higher reliability of calls with the more advanced E-SBCs, gateways, OTT mobile software, routers and other SIP services from the 1,000s of potential enterprises across the globe. The opportunity is here and it's not tremendously capital intensive for either the OTT players or the enterprises. It simply makes too much sense for OTT not to explode before VoLTE. To me, Audiocodes is the best risk reward play for the potential explosion in OTT in 2013-15. I am looking for Audiocodes to announce exciting new products at the Mobile World Congress in Barcelona on Feb. 25-28, 2013. Coming on the heels of Microsoft's Lync conference and announcements about Microsoft Mobility and Audiocodes, I would expect to see momentum come into the stock and move it higher.
Voice Over LTE (VoLTE)
Carriers are weighing its options on the threat posed by OTT, as it allows its customers to bypass the service providers' toll booths. VoLTE is designed to create its own VoIP network that will ensure they can control their own financial destiny. I'm reading more articles that are slanting toward cautious optimism as the capital expenditures are high and the risk reward has increased due to OTT's fast adoption.
I have also heard concern about VoLTE by a few analysts in the sector. The concern is that the service providers may not be ready to build out as fast or as big in the 2013/2014 time frame. This would be a negative for Acme Packet and Sonus Networks (NASDAQ:SONS), but a nonevent to Audiocodes. Wall Street is betting big that Acme Packet will regain its torrid growth on the back of the VoLTE market. I think any delays will be welcomed by investors of Audiocodes. A recent sign that investors are becoming cautious is the fact that APKT's largest institutional holder, Fidelity, just filed and it decreased its position from 9.6 million shares to 600,000 shares a sign they're concerned on the risk reward at APKT. I think yesterday's earnings from Audiocodes, comments from its management, and signs that VoLTE is being pushed back bodes well for Audiocodes to see additional institutional interest.
Private Branch Exchange (PBX)
Private Branch Exchanges have been the most prevalent communication system within enterprises for decades. PBXs make phone connections internally within an organization and connect them to the PSTN to make outgoing calls. PBXs are becoming out dated as many more advanced Internet-based alternatives have come along. Microsoft is leading the charge in pushing enterprises out of their old PBX systems and into new VoIP based calling. The advantages with VoIP are that they are less expensive and offer many more features in addition to voice calls such as presence, instant messaging and video conferencing. I predict that over the next three years we will see a wave of enterprises migrating to VoIP based PBXs. Previously, the internet based exchanges did not have great voice quality, but that has changed and now it is almost impossible to tell the difference between a call over a VoIP network and a call over a landline.
Valuation
I'm done throwing the comparisons up here. Audiocodes delivered the goods this quarter. They increased sales by 5.8% and returned to respectable profits of $1.2 million. The hedge fund community is focused on the service provider market and not the enterprise market. I feel it's time to hedge that bet in those circles as OTT stands to out produce VoLTE. I want to highlight one example that surfaced at the Needham Conference: In the Q&A one investor spoke out of a potential pair trade by shorting APKT and going long AUDC. It's that kind of rhetoric that will eventually bring my 50% or 20 x 2014 EPS of $0.50 valuation to AUDC.
I now have a 2014 revenue estimate of $155 million (10% revenue growth) off the company's 2013 annual estimate of $138 million. Audiocodes can now be looked at on a cash flow basis. I see them conservatively generating $20 million in 2013 and $30 million in 2014. A multiple of 10-15 times 2014 gets us $8-$12 per share. The Sonus and Acme Packets of the Voice world may be great investments but one should consider hedging those positions with a long AUDC position because this management team has bought back its stock and delivered two consecutive quarters of solid turn around execution. I feel like one of two things comes for us longs: strong growth for two to three years, or an outright takeover by private equity or a large multinational OTT player (Google, Apple, or Microsoft). My senses lead me to a takeover as AUDC plays perfect into anyone of these players wanting to control the enterprise PBXs around the globe.
Institutional Interest
Audiocodes has one sell side analyst following it, Oppenheimer. This morning the analyst upgraded the stock from Perform to Outperform. The analyst seems to be mildly comfortable with the turnaround and as such has a conservative price target of $5.00. On the heels of Oppenheimer's upgrade I would now be looking for a positive initiation of coverage from Needham & Co., as their top ranked analyst Rich Valera seems to be increasingly visible on recent calls and has invited them to numerous investment conferences. I am looking for the 21% institutional interest to double or more, in a very short period of time. As I mentioned in other notes, Audiocodes at $6 is still $2 cheaper than SONS and $12 dollars cheaper than APKT on a price-to-sales valuation.
Private Equity
I'm the boy who cried wolf on believing that Audiocodes will be acquired one day by a large player in the space. I want investors to know that Israeli companies do not stay this cheap for long, especially when they have good technology and know how. I see many large private equity firms that specialize in Israeli high tech coming in subtly or aggressively in the next three to four months as Microsoft Lync and VoIP become a large opportunity for Audiocodes to become a top player in a $10 billion market.
One firm I'm curious about is an Israeli private equity firm called Fimi. FIMI recently took an 11% stake in Gilat Satellite (NASDAQ:GILT) and the shares have since doubled to $5.20 per share. Based on Gilat's purchase I think Audiocodes' is just as attractive at $4 per share as Gilat was at $2.50 per share. Why? Gilat is estimated to earn $0.08 in 2012 and $0.23 in 2013. In addition, Gilat is cash neutral with its debt and cash approximately at $60 million each. I estimate Audiocodes at $0.18 for 2013 and $0.45 for 2014 with $33 million in net cash and should be at $40 million to $44 million net cash by year-end. I believe that if the Fidelity's of the world don't uncover Audiocodes then this sort of private equity deal will come to Audiocodes sooner rather than later as it trades at one fourth the valuation of its competitor.
Management (CEO/Chairman)
Shabtai Aldersberg has proven to be an Israeli entrepreneur during his illustrious career in the voice chipset market. He has made a small fortune in his work with DSP Group (NASDAQ:DSPG) and now Audiocodes. Audiocodes has had great runs and great missteps over the past 10 years as a public company. To me, this may have kept some investors in the "show me, don't tell me" mode. Today's results proves to me, and maybe to the analysts and maybe even to the "show me, don't tell me" investors that Shabtai, at the age of 62, has not lost his vision or expertise in delivering strong new products in the VoIP industry.
In the past nine months, Shabtai has been realigning the team to ensure that the significant company stock buyback bears fruit in 2013. The results speak for themselves and I now feel Shabtai will build this company as a perfect plug-n-play for multi-national OTT players (Google, Microsoft, and Apple), enterprise box players (Dell (NASDAQ:DELL), Hewlett-Packard (NYSE:HPQ), and Avaya), equipment suppliers (Juniper (NYSE:JNPR) and Alcatel-Lucent (ALU)) or private equity (FIMI) that can then resell to others in the future. The next six months will undoubtedly highlight one of these scenarios as VoIP becomes en vogue again. Shabtai should now be revisited by the many funds that benefited from the previous big runs in the shares, as the company is leaner and meaner this time around.
Chart
Click to enlarge image.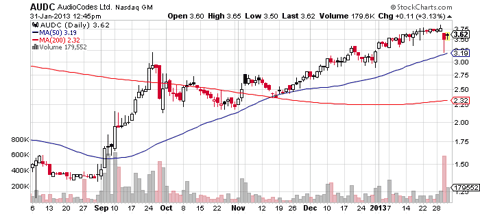 Yesterday's trading saw Audiocodes trade 7 times average daily volume. We saw the importance of the moving averages we follow as the stock sold all the way down to $3.20 just above the 50-day moving average at $3.16. Here it found support as buyers stepped in and pushed the stock back up to a close at $3.51. The resulting action produced a hammer pattern on the chart. This is a bullish pattern and indicates that shares should trade higher continuing its uptrend. Yearly highs are close by at $4.06, and I would expect to see a new high in the next couple of weeks followed by a break out to $5 or $6.
Intangibles
Employee stock options are a key driver of a company's moral and psyche (ask anyone that works at Facebook). I believe from my due diligence that the company now has two years of well priced stock options ($2.70-$3.00) and therefore has many key employees seeing profits in their accounts. This could be the X factor in the next six to nine months as sales guys sell harder, marketing guys build stronger support and engineers proactively engage all teams. This will bring quarterly beats in the quarters ahead. A company with good products and happy employees motivated by stock options will outpace industry growth.
Conclusion
The great thing about Audiocodes is that since I started my due diligence and issued my first report, "Audiocodes: A Call Option On Microsoft's Lync/Skype Intentions," the story still holds as true today as it did then when the stock was priced at $1.40 per share. Today, you're paying up for that option due to the company's execution on many fronts, employees who are all in the money on their options, and an industry trend that is steering in its direction, but the premise still holds. The potential upside has been increased to $15-$20 per share as the PBX market is being targeted by Microsoft and the possibility of a takeover has increased due to profits, cash flow, and industry traction toward VoIP in the enterprise. I'm over the top in confidence that AUDC is set for OTT pure play success.
Disclosure: I am long AUDC. I wrote this article myself, and it expresses my own opinions. I am not receiving compensation for it. I have no business relationship with any company whose stock is mentioned in this article.