The acceptance of marijuana as a medicine is slowly gaining popularity. This market alone has a tremendous potential to change the landscape of the pharmaceutical product lines as more and more states allow their citizens access to marijuana. But medicinal marijuana is only half of the market. The other half of the market is selling marijuana for recreational use. Let's face it: some people just want to get high. Until now, most thought that Medbox, Inc. (MDBX.PK) was the only legitimate route to investing in the marijuana industry that included THC, which is the component in marijuana that provides the psychotropic effects (the buzz) that recreational users desire. But Medical Marijuana, Inc. (OTCPK:MJNA) also has a method for legal entry into the market for the effects of THC that is not widely understood. I'm talking about licensing.
Medbox's primary value is derived from its subsidiary Prescription Vending Machines, Inc. Medbox provides a way for entrepreneurs in the medical marijuana industry to sell their products without a sales force. Transactions are completed using vending machines that read biometric input from users to verify identity for authorization to receive the dispensed products.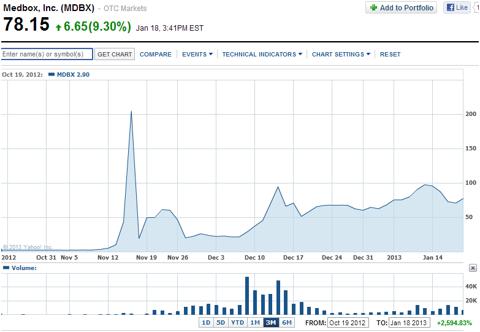 This ability to legally reach the market and show actual results has proven to be extremely rewarding for some shareholders of Medbox. The six month chart above from Yahoo Finance shows a whopping increase of 2,595%.
Initially trading around $2.90, the stock briefly soared as high as $205 in mid-November before steadying to trade around its January 18th closing price of $78.15. Medbox recently announced a 1000% increase in cash reserves in its January 2, 2013 Q4 revenue figures from the prior quarter. Some believe that Medbox could decline as much as 50%. There is no doubt that Medbox seems to be extremely overpriced. Luckily, there are other alternatives to investing in the marijuana industry's THC-focused market that are more reasonably priced.
The portion of the market mentioned above that looks to use marijuana for recreational use is not completely untapped. Obviously, some who claim to need medicinal benefits do so just to gain access for leisure. But even if you exclude those who have found loopholes to gaining access, there is still a large population that will use marijuana as more and more states legalize recreational use. With Colorado and Washington leading the U.S. with their legalization of recreational use, you can be sure that other states will follow. Hawaii state House Speaker Joe Souki introduced House Bill 150, the Personal Use of Marijuana Act, which would allow adults that are 21 years or older to have a limited amount of marijuana for personal use.
With an established medical marijuana market and a growing recreational market, many investors are looking for ways to benefit from this growing opportunity. But the reality is that marijuana use is still against Federal law. This creates a tremendous amount of risk for investors. Banks don't want to do business with marijuana-focused businesses because they don't want to have exposure to federal charges such as money laundering. Marijuana businesses that break federal laws also can't take advantage of federal tax advantages. Many of the issues were highlighted in the 60 Minutes segment video Medical Marijuana Millionaires: Investing in Marijuana's "Green Rush"- Cheryl Shuman. So if you want to invest in the marijuana market, staying on the right side of the law is smart risk management.
Understanding the above, I was intrigued to read in Medical Marijuana's recent press release, Medical Marijuana Inc. and Portfolio Company Red Dice Holdings Launches Re-Brand of Innovative Hemp Oil Wellness Product Line, the statement that "Medical Marijuana Inc. does not grow, sell or distribute any substances that violate United States Law or the controlled substance act." I wondered how this statement could be true when I knew that Medical Marijuana's portfolio company, Red Dice Holdings, LLC, product line Dixie Elixirs contains THC. The capture below was taken from the Dixie Elixirs & Edibles media kit, which can be found at the Dixie Elixirs - About page.

To resolve what seemed to be a conflict of information, I contacted the company's Investor Relations department requesting clarification. I noted that "I understand the THC infused products are sold in Colorado where they are legal on the state level, but these statements still seem contrary to U.S. Federal law." I received the following response: "Simply put, Red Dice and MJNA own a brand of products it licenses to state licensed manufactures of products. Those companies [corrected] create state legal products. We do not grow, sell or distribute any products not federally legal."
Licensing is one of the most powerful tools a company can use to generate revenue. In the typical arrangement, the licensor, or inventor, grants the licensee, or manufacturer, use of intellectual property in return for royalties. This can take many burdens off of the licensor, such as production, inventory and overhead costs, but more importantly in this case, the risk of federal government prosecution and the ever-present persecution by the politically motivated.
Other companies such as Cannabis Science (OTCPK:CBIS), which focuses more on pharmaceutical products to treat illnesses, benefit from licensing arrangements, but the licensing strategy is especially beneficial for companies like Medical Marijuana, which can and will focus on both the medicinal and recreational sides of the business. I think both companies are good investments.
Medical Marijuana has recently retained an accounting firm to audit its financials with the goal of up-listing to become a fully reporting company, as it stated in its recent press release, Medical Marijuana Inc. Retains Accounting Firm Anthony W. Imbimbo & Associates to Perform Financial Audit. The company then pre-announced its Q4 revenues numbers prior to its first audit, boasting an 1100% increase over the prior year. This is a good indicator of management confidence. So what kind of future revenue should we expect from Medical Marijuana?
If Medbox is any indication, the recent run-up could continue into the future for some very nice gains. Medical Marijuana has a rather large share count of about 736.45M, as reported by Yahoo Finance. The company reported a profitable fourth quarter Net Income of 3.39M on gross revenues of 5.10M. That would put the stock at about 14 cents, with a P/E of about 30 as shown in the chart below:

The chart also illustrates what the price would be with 1000% growth in 2013 and 2014 with the same margins as 2012 and a PE of 30. Years 2015 and beyond start to trail off the growth and PE to account for the business becoming more mature. Growth would mostly be realized by expanding operations in states that currently have some form of legalized access, and then accessing new markets as other states legalize some form of marijuana use. Some suggest that the marijuana market is between $35 and 45 billion, and could reach as high as $100 billion.
Keep in mind that Medical Marijuana is a portfolio company, and revenue streams can come from multiple sources. It currently has the following companies in its portfolio:
Red Dice Holdings, LLC - Taken from MJNA's website "Established as a holding company, Red Dice Holdings LLC owns the formulas, equipment, and extraction processes for Hemp oil based products. The company's [corrected] revenue model is to continue to develop these products and license them to distributors throughout the world."
HempMeds RX - Develops specialty health and wellness products derived from Hemp extracts and compounds
Wellness Managed Services - Taken from MJNA's website, "Wellness Managed Services engages in the management, capitalization and development of Health and Wellness facilities, Medical Clinics and Cooperatives throughout North America."
CanChew Biotechnologies - A new breakout product line that provides a Cannabidiol [CBD] based chewing gum. This product is designed to provide some of the benefits associated with marijuana without the psychotropic effects of THC. More information can be found at CanChew's website.
Medical Marijuana seems to have the cannabis-based business surrounded, but it will face lots of competition as the market expands. It definitely will have a significant first-mover advantage that could prove to be very lucrative for early investors that have a little pioneer spirit. I say pioneer spirit because navigating the regulatory environment that is hampered by political interests will be very difficult, and not every company vying in this market will survive the journey.
Additionally, micro-cap stocks like Medical Marijuana and Cannabis Science are inherently more risky. Most mutual funds have charters that prevent them from investing in these types of companies. They are also more volatile simply because of their size and cost per share. Also, as with any business, management must perform well. So make sure you follow the financial reporting closely.
In its 3rd Qtr results posted in November, Medical Marijuana showed in its press release, Medical Marijuana Inc. Reports Third Quarter 2012 Revenue and Income Quarter Over Quarter Increase Of Over 1500 Percent From Same Period Last Year, significant entry level achievements to becoming a respected and bedrock company. As mentioned above, the company wants to have the numbers for the pre-released Q4 certified by its new accounting firm, Anthony W. Imbimbo & Associates. This willingness and confidence to subject the company to financial audits is certainly a positive sign that things are going well. And the Q4 results did show where the rubber met the road. Medical Marijuana's plan is to initially audit the Q4 results and then audit the full year's financials, ultimately examining 24 months of financial reports to support the requirements for up-listing the stock.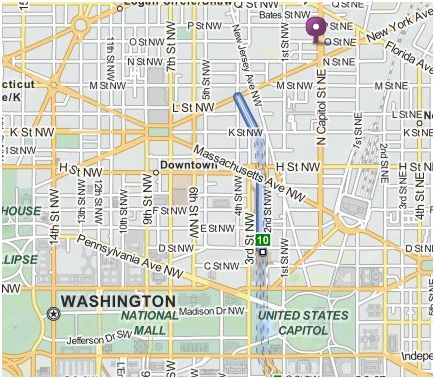 The marijuana business is rapidly gaining legitimacy across the United States as having medical benefits. The road is a little slower for the acceptance of recreational use, but new laws in the states of Colorado and Washington have raised the issue to a level that cannot be ignored in perpetuity. In our nation's capital, Washington, DC, the progression of medical marijuana laws will firmly put the issues on the front steps of U.S. legislators, almost literally. The first cultivation center is slated for the NW section of the city in the Ivy City neighborhood, and the first dispensary will be located about 13 blocks from the U.S. Capital Building. The map above shows the dispensary location in the upper right area marked with the purple tack pointer, and the U.S. Capital only a few blocks below.
Normally, these types of growth investments focus on disruptive technologies. This investment is very different in that it is an investment in a product that has a national market that is largely illegal, but is migrating to a legitimate market. Whether for medicinal or recreation purposes, the use of marijuana will continue to become more widely accepted.
Furthermore, with the U.S. debt problem, one would think that tapping into a federal tax base that is "low hanging fruit" by implementing taxes on the sale of marijuana would be a no-brainer for U.S. government leaders. That would be a win-win for the companies in this growing industry, consumers, the government, and potentially, investors.
Disclosure: I am long OTCPK:MJNA, OTCPK:CBIS. I wrote this article myself, and it expresses my own opinions. I am not receiving compensation for it (other than from Seeking Alpha). I have no business relationship with any company whose stock is mentioned in this article.