At least once to twice a month my mailbox gets the usual J.C. Penney (NYSE:JCP) advertisement and I couldn't tell you the last time I actually bought something from J.C. Penney. Even though I am not a J.C. Penney fanatic, I still enjoy combing through the advertisements to see the new promotions, sales, and discounts. Currently, with Valentine's day right around the corner J.C. Penney's new advertisement is focused on jewelry that not only shows every day and sale price, but also the appraised value. By showing the appraised value along with prices that J.C. Penney is listing below the appraised value, this provides price perception that could change the retail shopping experience for the worse or better. This isn't the first time J.C. Penney has tried to change the ways consumers think about shopping and I would be willing to bet won't be the last.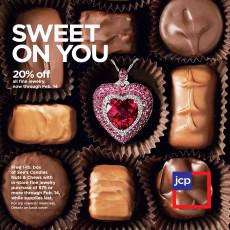 (Source: http://www.jcpenney.com/dotcom/jsp/browse/marketing/promotion.jsp?pageId=pg40014800013#/53dmm5/0)
In late January 2012, the Ron Johnson story took off and for those who follow J.C. Penney, remembers that the J.C. Penney ship wasn't that easy to turn around. In 2012 changes were made across the board at J.C. Penney from laying off corporate staff, ending sales commissions for retail employees, introducing a new pricing strategy and cutting back promotions (just to name a few). Looking back at 2012 the J.C. Penney story looked like a bad horror movie that continued to get worse. With the horror movie left behind us as we have started a new year, investors may wonder if the sequel for 2012 is going to be any better and will J.C. Penney show investors the money.
J.C. Penney was founded in 1902 and operates retail department stores in the United States and Puerto Rico. Back before Ron Johnson J.C. Penney primarily focused on broad based promotions that generally can be perceived as similar to their competitors. Due to the economic recession and a rise in internet retail spending, non-diversified big box retailers have slowly fallen out of favor. As consumer spending, a changing demographic base and internet shopping change the outlook on retail; so must a company's focus. J.C. Penney's new focus can be perceived as providing accurate pricing to show potential customers the value rather than tell them the value. The task of changing J.C. Penney's focus has not been easy and with J.C. Penney still in turn around mode it can often be difficult to make a fresh start. In retail, pricing is an important component for a successful retail operation.
One important component to J.C. Penney's turnaround is their pricing strategy. In my opinion prices strategies define a company and are responsible for showing consumers/investors the money. Pricing strategies not only define a company, but this also can give future direction into whether profit, revenue and margins are effective or not. Pricing strategies are nothing new for the retail sector and big box giants such as Wal-Mart (NYSE:WMT) and Target (NYSE:TGT) over the years have been able to steal market share and customer loyalty by effectively giving consumers what they want; and that is value. J.C. Penney can be described as a company that sits in the middle of discounters and the high end retailers. Over the last couple of years both the major big box retailers and high end retailers have seen increased competition to improve quality, price and perception of their products. With J.C. Penney still stuck in the middle one way to improve quality and price of their products is through perception. Over the last year J.C. Penney's perception on price can often be seen as confusing for both associates and customers. As less future promotions that focus around an event, holiday or trend are winded down, J.C. Penny is trying to create the perception that promotional prices need to be everyday prices. For J.C. Penny's long term shoppers this can be a turn-off, since they are accustomed to waiting for sales and promotional driven events.
This turn-off in J.C. Penny's dedicated customers has allowed competitors to pick up market share as J.C. Penny's last three quarters were dismal. In the beginning of this article I mentioned how J.C. Penney is trying to change perception of their jewelry products by including the appraised value. From taking a quick glance this appears to be a deal worth taking a look at, since jewelry prices can vary by retailers. While it appears that prospective customers may be getting a good deal by listing jewelry below appraised value, in reality this is just a shift on how one should perceive the perception of the product (jewelry). Even though the appraised value is nothing more than the retail replacement cost for insurance purposes, this can be perceived as getting prospective customers to take a second look at J.C. Penney and at least check out the new J.C. Penney.
Besides jewelry J.C. Penney will also be looking to add valued based pricing perception in other areas of the stores. J.C. Penney has begun launching more media advertisement using lower price comparisons on their clothes where one would find elsewhere. When a company re-brands their image this can often take time and money will have to be continually used to tackle competition. In J.C. Penney's last two quarters their cash and cash equivalents were both lower than the same time last year. With the turnaround story still unfolding for J.C. Penney, I would expect the company to keep spending cash and investing in their perception inside and outside of just prices
Whether J.C. Penney's re-branding on how consumers perceive their value to other competitor's works out or not this is something that the company needs to invest in to gain back a competitive advantage. There are pros and cons to a company changing their perception on price. Some do it with coupons and in-store promotions and others (like J.C. Penney) want to provide a singular price with a comparison in value. When I think about retail pricing strategies this move by J.C. makes sense in theory, but could take more time to play out. Over the last couple of years consumers have become savvier with their retail shopping thanks to aggressive promotions by big box retailers and the internet. J.C. Penney could go back to the old ways of retail promotion, but in order to win customers back J.C. Penney's price perception techniques seek to diversify themselves away from their competitors. This diversification is an attempt (of the many) to go back to being a leader and not just playing a price war game with their competitors. Even though in theory I like how J.C. Penney is trying to change their perception on price, but for now this is just theory and it's too soon to see if J.C. Penney will show consumers and investors the money.
When taking a look at a one year chart of J.C. Penney investors will notice that the stock is still hugely down over where they were at last year.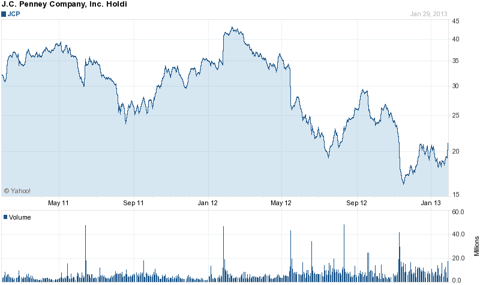 When looking back at J.C. Penney's their last earnings report the company saw a big spike down in their shares after the turn around wasn't going as fast as expected. Shares of J.C. Penney fell almost 13% on a decrease in revenue, profits, gross margins and overall sales declines for the company. Since J.C. Penney's last earnings report shares have found support at the $18 level and are sitting two dollars higher at around $20.50
For J.C. Penney's upcoming quarter the company is expect to post a loss, but is less of a loss than their previous quarters. However, with a turnaround plan in place and new ideas on price, perception and value constantly changing the way customers and associates view J.C Penney; there is possibility that J.C. Penney may have found the bottom. While analysts are predicting a loss the amounts between the low and high estimates are wide in size.
Earnings Est
Current Qtr.
Jan 13
Next Qtr.
Apr 13
Current Year
Jan 13
Next Year
Jan 14
Avg. Estimate
-0.05
-0.29
-1.31
-0.29
No. of Analysts
10.00
7.00
12.00
13.00
Low Estimate
-0.69
-0.67
-2.52
-1.87
High Estimate
0.62
-0.06
-0.45
0.82
Year Ago EPS
0.74
-0.25
1.28
-1.31
(Source: Yahoo Finance JCP Analyst Estimates)
While I am not predicting a positive earnings surprise for J.C. Penney this upcoming quarter, but with the massive beating the shares took and restructuring the company has to go through in 2012 there is the possibility of a short squeeze. J.C. Penney's short interest is around 33% of the float and due to high short interest the stock can something have a lot of volatility. On January 28, 2013 J.C. Penney announced they were going to bring back sales and the stock jumped the next day slightly over 9% on simply the perception that their sales plan may work.
In the short term I am still bearish on J.C. Penney, but I have to give credit to J.C. Penney for trying to invent their own ideas on where the company should be in the future. Rather than following market leaders the J.C. Penney is psychologically trying to change the way consumers view price, perception and value. In theory, the ideas presented and implemented by Ron Johnson sound great, but I believe this is something that needs to be monitored over a couple more quarters, so real data can be used to compare how J.C. Penny's pricing program stacks up to their competitors.
Currently, with J.C. Penney still in the midst of a turnaround I still consider them to be speculative and I would rather wait until earnings to get a clearer picture for holiday sales and future expectations. Despite all the negative sentiment surrounding the company J.C. Penney has found some solid support at the $17-18 level. If J.C. Penney can manage to show small improvements in the company through their new re-branding strategy, this speculation may show investors the money. However, speculation is usually short lived and when a company like J.C. Penney has been constantly striking out, even the smallest bit of positive sounds great. I believe that J.C. Penney (in time) can provide an interesting take on price perception for their stores, I just don't believe that time is now.
Thanks For Reading.
Disclosure: I have no positions in any stocks mentioned, and no plans to initiate any positions within the next 72 hours. I wrote this article myself, and it expresses my own opinions. I am not receiving compensation for it (other than from Seeking Alpha). I have no business relationship with any company whose stock is mentioned in this article.