VIX - Market Sentiment:
Thursday S&P futures mostly flat heading into the open after weak employment numbers weighed on the markets. Stocks traded sideways throughout most of the day continuing to consolidate here near the 1500 level. Constellation Brands (NYSE:STZ) was halted several times after the stock traded down more than 20% after news the DOJ is attempting to block the Modelo deal. Other stocks moving today were Facebook (NASDAQ:FB) and QUALCOM (NASDAQ:QCOM), both performing well after releasing numbers last night. Some analysts on CNBC today believed the rally could be losing steam and could spell trouble for equities for the rest of the year. Tomorrow is the all important non-farm payroll and unemployment rate numbers. The NYMO turned negative for the first time in 2013 with a reading of (5.79) a 24.14 point decrease after yesterday's trading session. Remember this does not mean the market is heading lower, it means it is almost 100% neutral in terms of overbought or oversold.
The spot CBOE Volatility Index (VIX) and futures opened at the highs of the session above 14.40 before settling down above the 14.00 level. Volatility ETF (NYSEARCA:VXX), 2x ETF (NASDAQ:TVIX), and alternative 2x ETF (NYSEARCA:UVXY) suffered mostly from the negative roll associated with these ETFs as futures were mostly unchanged overnight. I reported in Wednesday's sonar (here) a decent sized risk reversal on the VIX June 17 line. This activity did somewhat continue today but was masked with a huge April 20-25 call spread, which went off 150K times for .70. This single trade, which went off at 12:26 cost the trader more than 10.5M in net premium, which accounted for almost all the total premium purchased today. This is more than likely hedging a big book rather than an outright bearish bet but keep this in mind when initiating new longs.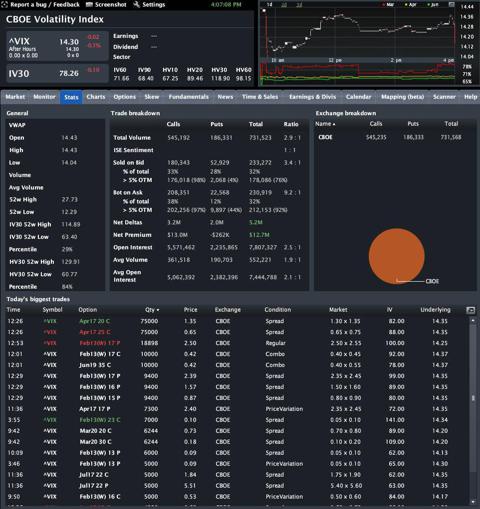 Statistics and Screenshot Provided By LiveVol
VIX futures are below.
Yesterday
February VIX futures 14.90
March VIX futures 15.60
April VIX futures 16.45
Today
February VIX futures 14.98
March VIX futures 15.80
April VIX futures 16.70 (From big call spread)
Options Paper:
The options paper continues to be light as the market continues to roll through earnings season. S&P ETF (NYSEARCA:SPY) saw just under average option volume today as did most typical notable stocks such as Apple (NASDAQ:AAPL). Stocks seeing higher than normal option volume were FB, STZ, Gold ETF (NYSEARCA:GLD) and Netflix (NASDAQ:NFLX). Another big option day was in Fusion-io (NYSE:FIO) as more than 75K options traded today with calls exceeding 31K and puts exceeding 44K. Yesterday it was very clear the retail players were playing FIO for a bounce and the large institutional players were playing to the downside. Those institutions began selling these puts today as more than 46% of the puts were sold on the bid. Complimenting this action were some out of the money and outright call buying in this name trading 52% on the offer. These numbers were confirmed by the positive net premium on the call side and negative net premium on the put side. Although be careful in this name as not everything is so great as there was a large buyer of the February 16 strike puts today 6K block deep so for those willing to get long set your stops and go. Options activity was more than 12x average daily volume in FIO with puts outnumbering calls 1.4 to 1.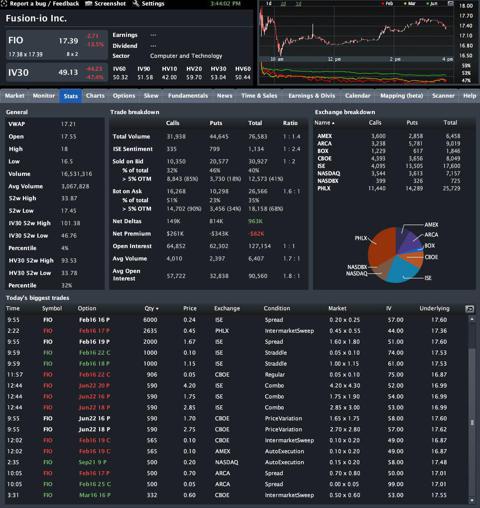 Statistics and Screenshot Provided By LiveVol
Following the energy theme, which has been doing well, Marathon (NYSE:MPC) today saw heavy call buying. MPC has enjoyed a nice run higher of late moving from 66 and change to north of 74 and now the bulls aren't giving up. Today a long-term bull stepped in paying the asking price of 5.50 for the January 2014 77.5 strike calls. The trader did this 15K times and racked up a cool 7.5M+ net debit option trade at the same time. Money has been rotating out of tech sectors and going into energy and it appears this bull believes MPC will be north of 83 in January of next year. Although I would typically follow this trade I am going to hold off for a pullback as this name and sector seems just a little too hot for my tastes. Call volume was more than 4x average daily volume and outnumbered puts 15 to 1.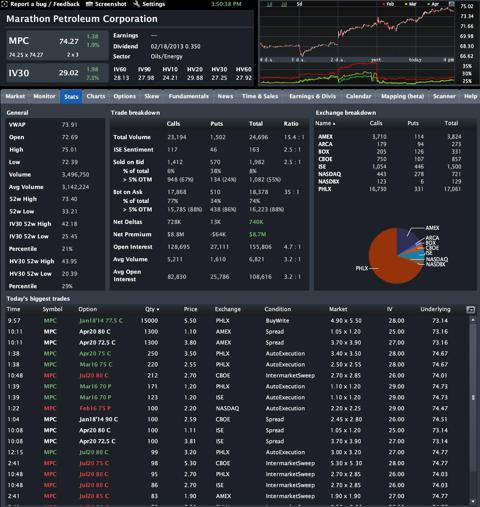 Statistics and Screenshot Provided By LiveVol
Popular ETFs and equity names with bullish / bearish paper:
Bullish Option Flows - ISE & % OTM calls bought on offer
Advance Auto Parts (NYSE:AAP) 97% - Bulls liking the auto sector
United Therapeutics (NASDAQ:UTHR) 96% - 6.5K OTM calls bought
IMAX Corp (NYSE:IMAX) 90% - June 27 strike calls bought for .80 8K times
Ensco International (NYSE:ESV) 75%
Brocade (NASDAQ:BRCD) 70%
Medtronic (NYSE:MDT) 61% of the 26K OTM calls bought on offer
Kinross Gold (NYSE:KGC) 56% - Starting to look interesting again
Bearish Option Flows - ISE & % OTM puts bought on offer
Regency (NYSE:RGP) 92% of 2.7K OTM puts bought
Tempur Pedic (NYSE:TPX) 84% - March 34 puts bought in block 4.6K times
ArvinMeritor (NYSE:MTOR) 84%
Total SA (NYSE:TOT) 84% - Puts continue to be bought in this name
Western Union (NYSE:WU) 81% of the 13.5K OTM puts bought on offer
ARM Holdings (NASDAQ:ARMH) 74% - 2K OTM puts bought
As always happy trading and stay hedged.
Remember equity insurance always looks expensive until you need it!
Disclosure: I am long AGNC, BA, CBB, CONE, F, INTC, KERX, KOS, MTGE, NRG, PG, TUMI, VHC, VOD, and I am short DDD, EDU, SPY
Trades Today: Sold VOD calls, Bought F calls, Sold QCOM calls.
I wrote this article myself, and it expresses my own opinions. I am not receiving compensation for it (other than from Seeking Alpha). I have no business relationship with any company whose stock is mentioned in this article.
Disclaimer: The opinions in this document are for informational and educational purposes only and should not be construed as a recommendation to buy or sell the stocks mentioned or to solicit transactions or clients. Past performance of the companies discussed may not continue and the companies may not achieve the earnings growth as predicted. The information in this document is believed to be accurate, but under no circumstances should a person act upon the information contained within. I do not recommend that anyone act upon any investment information without first consulting an investment professional as to the suitability of such investments for his or her specific situation.