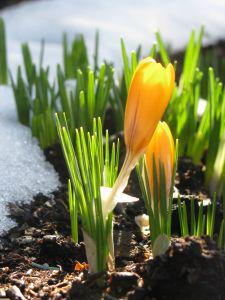 On Friday, March 9, we will "celebrate" the 4-year anniversary of the Great Recession's 2009 stock market bottom. Back then, the Dow Jones Industrial Average (DJIA) was below 7,000, a level first reached in 1997. Now its back to its all-time high of about 14,000, up 100% (and that excludes dividends).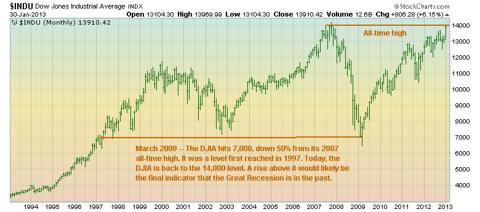 (Stock chart courtesy of StockCharts.com)
What makes optimism so important this year is that it's been missing from the stock market for about six years - two down and, remarkably, four up. In fact, it's been MIA for so long that the media and pundits are having trouble interpreting optimism's reappearance. The view by many is that optimism = bubble-top = risk.
That view is wrong. Optimism is a characteristic of normal times, when people have confidence in the future - i.e., a positive outlook. (For that bubble-top mentality, we need to ramp emotions up to ebullience or "over-optimism.")
The definition of "bull market" shows how optimism should be viewed:
Bull markets are characterized by optimism, investor confidence and expectations that strong results will continue. (Investopia)
But with the market way up, doesn't that mean we've been in a bull market?
No. Not all stock market rises are bull markets, and that's especially true of the past four years. Company earnings growth drove much of the post-2009 rise. One sign of a non-bull rise is stock valuations, which remain reasonable, even attractive.
The other sign of a market without optimism is the prolonged stock underweighting by both individual and institutional investors. In fact, both have been selling into the four-year rise. The frequently discussed ICI mutual fund flows have shown large outflows from U.S. stock funds ($-600 billion since 2007), and huge inflows into taxable bond funds $+1,200 billion).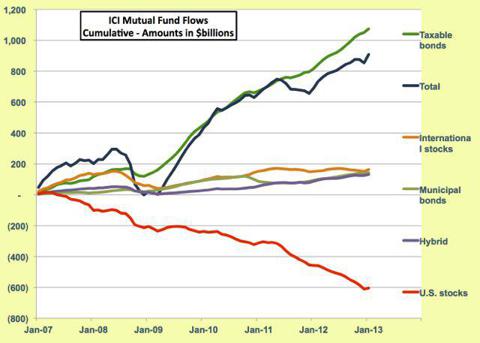 (Data source: Investment Company Institute)
Here is the picture for institutional investors from the just-published Pensions & Investments' lead article, Fixed-income hedge fund assets emerge on top - Institutions led trend in diversification move after crisis.
Assets in fixed-income hedge funds exceeded those invested in equity strategies as of Nov. 30 [2012] for the first time thanks to a four-year growth spurt fueled by institutional investors.
Clearly, both investor groups have not acted as if stocks were in a bull market.
Doesn't the length of time mean that individuals and institutions have found the investment allocations they prefer?
No, for two reasons:
First, no investor group's allocation lasts forever. Changes in performance trends, in particular, foster beliefs that underlying conditions likewise have changed. From that view comes the desire for new allocations.
Second, two powerful forces are behind this long period of favoring bonds over stocks:
Steadily declining interest rates created desirable bond returns - perhaps less than stocks, but certainly less volatile. Additional comfort came from knowing that the Fed was on the bond investor's side, keeping yields low and bond prices high.
Stock returns, while good overall, had large bouts of volatility with uncertainty - particularly the 2010 and 2011 mega-fear scares. These had the effect of prolonging the memories and worries associated with the Great Recession - and the risks of owning stocks.
Importantly, these two forces appear to be waning.
Interest rates now are being viewed as "too low" (i.e., bond prices are "too high"), meaning the Fed's policy has become all the more important. Moreover, the Fed's aims have become narrower, from repairing and supporting the financial system, business, housing and employment to only the fourth area: employment. For these reasons, we are reading more about the risk in owning bonds.
The stock market fairly breezed through 2012, compared to the previous two years. The attempt at a mega-fear sell-off petered out as the good news overwhelmed the uncertainties. Now, with the stock market producing comparatively steady, good returns, investor interest in stocks is returning.
Are there other signs of increasing optimism?
Yes, and they support the notion that the first step is being taken: From being cautious to being cautiously optimistic. Think of this move as an investor sticking a toe into the water to judge whether it's safe before jumping in. Here is how the media is reporting this move:
Bloomberg reports in Investors Are Most Optimistic on Stocks in 3 1/2 Years that
International investors are the most bullish on stocks in at least 3 1/2 years, with close to two- thirds planning to raise their holdings of equities during the next six months, according to a Bloomberg survey.

… 53 percent of respondents to the Bloomberg Global Poll also say equities will offer the highest return in the next year. That's a 17 percentage point jump from the last poll in November and the most since the quarterly survey of investors, analysts and traders who subscribe to Bloomberg began in July 2009.
Recently, USA Today tackled the issue with Are Main Street investors warming up to stocks?
Scared of stocks since 2008 financial crisis, many Main Street investors are now getting more active in stocks as market hits all-time high, while others wonder if it's too risky to stay on sidelines.

With the broad U.S. stock market flirting with an all-time high four years after the worst stock plunge since the Great Depression, a slew of signs are emerging that suggest Main Street investors may be in the early stages of ending their self-imposed exile from the stock market.
The Bloomberg survey finding that [only] 53% thought stocks would produce the best returns shows that "normal" optimism is a ways off. Doubt also is in the wording from the USA Today's article above: "Money flows into stock funds resume but whether it lasts is under debate." More forcefully is The Wall Street Journal's warning: Is All This Stock Market Optimism a Red Flag? After listing other measures of burgeoning investor interest in stocks, the article provides reasons for viewing the positive data as being signs of a market top.
The bottom line
Investors are exhibiting a growing interest in stocks. This shift from caution to cautiously optimistic is the first step in the return to a normal attitude that includes optimism - not only about stocks, but also about the future in general. This optimism is an expression of confidence over worry, and, in investing, of return over risk. Optimism does not mean over-confidence or the dismissal of risk. Rather, it's a shift in the balance - in the way the future and its uncertainties are viewed. Optimism is a normal and healthy attitude, and it should be welcomed.
For investors, this shift fairly clearly has one, obvious message: Buy stocks, sell bonds.
As investor optimism returns, we'll be seeing more of these stories:
Yields Push Up as Haven Bets Wane (The Wall Street Journal, Jan. 29)
Demand for assets ranging from Treasury bonds to government bonds in Germany and the Japanese yen has dropped this month as money has flown into riskier assets such as U.S. stocks.
Individual Investors Help Drive Stock Surge (The Wall Street Journal, Jan. 30)
Small investors are jumping back into the stock market after abandoning it during the financial crisis.
Important: Pay no attention to warnings that such behavior is a sign of the top. The media and many pundits have too little understanding or memory of what "normal" investing feels like, so ignore their pronouncements. If you want a historical perspective, think of how the 1999/2000 Internet stock bubble looked and felt. Clearly, we are miles from that dangerous environment - in stocks, that is.
Disclosure: I have no positions in any stocks mentioned, and no plans to initiate any positions within the next 72 hours. I wrote this article myself, and it expresses my own opinions. I am not receiving compensation for it (other than from Seeking Alpha). I have no business relationship with any company whose stock is mentioned in this article.
Additional disclosure: Positions held: Long U.S. stocks