In the days leading up to RIM's (RIMM) BlackBerry 10 launch, shares were bid up, and eventually peaked at $17.90 on January 22. Within just a few days afterward, shares sold off heavily by January 25, with volume rising on each sell-off. By January 30, 2013, when BlackBerry 10 was announced, RIM closed down 12% at $13.78. The sell-off in BlackBerry (formerly "Research in Motion") was not too surprising. Speculators bid shares up ahead of the news, and sold afterwards. With the new device receiving positive reviews in the U.S. and strong carrier support making the initial launch a likely success, "BlackBerry" deserves another look.
BlackBerry was last suggested as a company worth around $10, but a number of fundamental improvements took place that suggests shares are worth more. The reasons are discussed below.
1) Carrier Support
There was not much surprise that BlackBerry would receive strong carrier support from its partners. Support from carriers was a hallmark for RIM products in the past. In the United States, the device will be available in March. Verizon (NYSE:VZ) said it will be selling the Z10 model. AT&T (NYSE:T) also confirmed, while Sprint (NYSE:S) confirmed the Q10 model. T-Mobile confirmed the Z10 will be available. In Canada, the device will be released with major carriers including Rogers (NYSE:RCI), Telus (NYSE:TU) and Virgin Mobile.
If interest for the device grows from the start, the carrier support will help RIM translate its marketing campaign to customer sign-ups.
2) Marketing
BlackBerry was estimated to be planning to spend around $1.4 billion in marketing. The company's aggressive approach in pushing out the new product could bear fruit. RIM will be advertising BlackBerry 10 during the Super Bowl for the very first time at an estimated cost of $4 million.
The company hired Alicia Keys as its Creative Director, a move that could also be interpreted as risky. Investors may only look at related moves to guess if this hiring will be beneficial for the company. Polaroid hired Lady Gaga, while Intel (NASDAQ:INTC) hired Will.i.am as its creative director.
If BlackBerry keeps its message clear, concise, and consistent, and Alicia Keys is the celebrity who can deliver that message, RIM should expect its marketing strategy to be a success. The efforts must also not distract the company from improving the product and fixing any bugs that may arise from BlackBerry 10 version 1.0.
3) Pricing
The BlackBerry Z10 is very reasonably priced at $200 on contract. The device is 4.2-inches, displays at 1280x768, and weighs 138 grams. The phone is powered by a Qualcomm (NASDAQ:QCOM) Snapdragon S4, 2GB RAM, and a front/back image sensor. RIM was sure to support user-expandability: a microSD slot enables users to increase the storage by 32GB.
In Canada, discount carrier Koodo will be selling the Z10 for CDN $550 outright.
RIM's pricing is still higher than that of an unlocked Nexus 4, which retails at Google's (NASDAQ:GOOG) online store for US$349. Still, strong consumer demand for the Nexus 4 units increased shipping times and made it difficult to obtain.
4) Strong Developer Support
BlackBerry secured application support for Twitter, LinkedIn (NYSE:LNKD), Facebook (NASDAQ:FB), and Foursquare. On launch, 70,000 apps will be available. Microsoft's (NASDAQ:MSFT) Skype will also be available. The company learned from its weak launch of the Playbook that developers could define the success of the BlackBerry 10 platform.
5) Corporate Users
The focus on security could help BlackBerry find a niche in the corporate space. The company lost many customers to Apple (NASDAQ:AAPL) and Google's Android as the "bring your own device" (or BYOD) movement proliferated.
In addition to security, dividing work and play data is possible with BlackBerry Balance. If it catches on, this would eliminate the need for users to have a personal and a corporate device.
Risks
Service revenue could still be at risk of declining, if carriers re-negotiate a lower fee. This revenue represented $974 million, or 36% of revenue, last quarter. Stronger unit sales could more than make up for the service revenue decline.
Alternative Investment: Nokia
Nokia and BlackBerry are up the same amount in the last 6 months: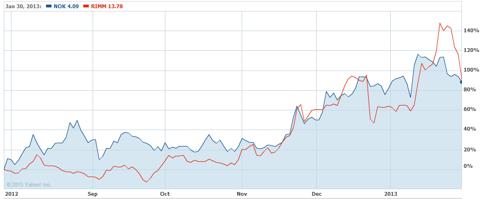 Chart Source: Yahoo Finance
Nokia (NYSE:NOK) is the closest alternative to investing in BlackBerry. Nokia recently won a patent case against BlackBerry that netted Nokia a payment of $65 million.
Like BlackBerry, Nokia is vying to gain the third spot by market share. Nokia's Windows Phone 8 Lumia sold more successfully than investors expected, driving shares higher. Nokia has a more diverse business, and its Nokia Siemens unit is now profitable. This justifies a higher market capitalization for Nokia, compared to BlackBerry, at $15.73 billion and $7.22 billion respectively.
Conclusions
The rapid sell-off in BlackBerry shares could continue in the short-term, and shares could drop to around $12. Even at current prices, the company is a turn-around play for investors willing to hold shares for more than one quarter. BlackBerry 10 offers strong potential that the company regains market share. If the company doubles its market share over the next 2-3 years, shares could trade much higher.
Disclosure: I have no positions in any stocks mentioned, but may initiate a long position in RIMM over the next 72 hours. I wrote this article myself, and it expresses my own opinions. I am not receiving compensation for it (other than from Seeking Alpha). I have no business relationship with any company whose stock is mentioned in this article.