The Brazilian economy has been characterized by remarkable growth throughout most of this century. The diagram below shows Brazil's GDP development in recent years which is only one out of many indicators illustrating the remarkable economic success story of this country. Today Brazil is the sixth largest economy by nominal GDP with a relatively secure legal framework and welcoming market conditions for foreign investors.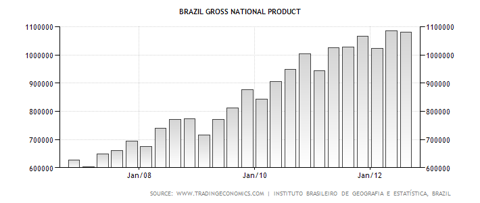 Brazil is a leading producer of minerals and markets about 80 mineral commodities with mining products representing more than 50% of Brazil's exports. The Brazilian mining legislation is changing rapidly allowing for a growing number of foreign companies to explore, develop and operate mines in the country. So far resource nationalism has been remarkably absent in Brazil.
For those wishing to go for gold in Brazil and not willing to wait until 2016 we decided to have a closer look at precious metal investment opportunities in this country. We focused on precious metal miners that provide short- to mid-term growth stories and we decided to exclude exploration companies from our search. In other words, we wanted pure exposure to precious metal production on the one hand, and Brazil on the other.
There are certain risks inherent in mining investments that all our picks have in common. These risks include environmental risks, geological and geotechnical risks, market demand fluctuations, opposition by locals and unions, permitting risks, currency exchange risks etc. Investors unfamiliar with these general risks of mining investment are encouraged to learn about them before committing funds. Additionally there are specific risks for some of our picks and we will make mention of these risks when discussing the three individual companies.
1) Yamana Gold (NYSE:AUY) is a leading precious metal producer that has gone through some rapid growth in past years. With a $13B market capitalization Yamana has just come off another record-breaking year producing an 1.2M oz Au-eq at an approximate cash cost of $245 per oz. This positions them securely in the bottom quartile of the industry cost curve. Their quarterly production in 2012 grew from 278,832 oz in Q1 to estimated 322,800 oz in Q4. They are projecting further production growth to over 1.6M oz per year by 2014. Their debt to equity ratio of just under 10% is also among the lowest in their peer group. Yamana pays a dividend that has been increased every year since its inception in 2009.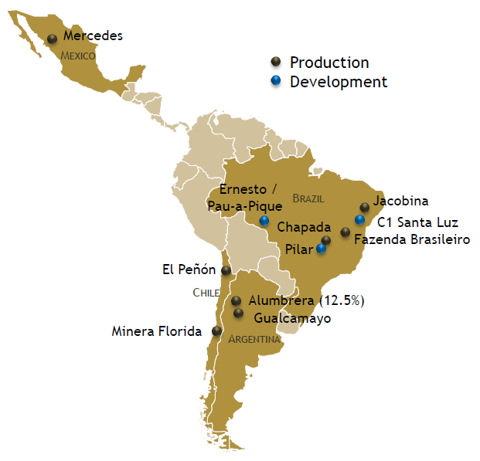 Yamana has 7 mines in commercial operation and is ramping up another one. As can be seen on the map above, their mines are spread over South America and Mexico, but there is a definitive focus on Brazil with three producing mines and three more in development located there. All three Brazilian development projects are scheduled for commercial production in 2013. Once these development projects are in production Brazil's contribution to the overall gold production should rise from 25% to 40%.

Here is some information on Yamana's Brazilian mines and development projects:
· The Chapada Mine is the fourth largest gold mine in Brazil with a preliminary 2012 output of 128,173 oz Au and 150M pounds of copper. The 2011 mine plan shows a 15 year mine life.
· The Jacobina Mine is the sixth largest gold mine in Brazil with a preliminary 2012 production of 116,826 oz Au and a strategic mine life of 15 years.
· Fazenda Brasileiro Mine reported a preliminary 2012 production of 67,179 oz Au. This mine has been in production for more than 20 years and has consistently replaced reserves as they were depleted by mining. Current strategic mine life stands at 4 years.
· The Ernesto / Pau a Pique Mine has commenced commissioning in Q3 2012 and is scheduled to produce 90,000 to 100,000 oz Au-eq per year with a strategic mine life of 7 years. Commercial production is forecast for mid-2013.
· Construction of the Pilar Mine is on schedule for start-up in mid-2013 and start of commercial production is estimated for late in the year. The current 9+ years strategic mine life is based on annual production of 140,000 oz Au-eq.
· The C1 Santa Luz Mine is scheduled to announce commercial production of 100,000 oz of Au over a mine life of 10+ years in mid-2013.
For those pondering investment in Yamana Gold, it should be pointed out that Yamana also has significant exposure to Argentina where resource nationalism seems to be on the rise.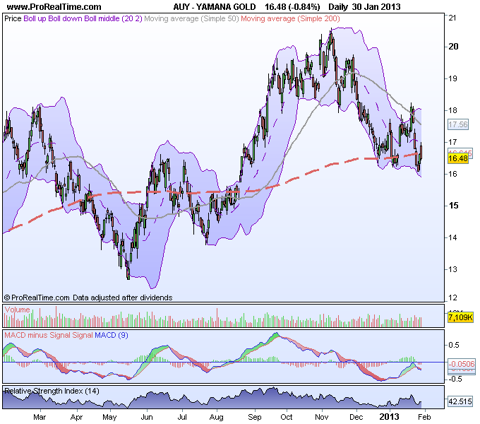 Overall we feel that Yamana presents a promising growth story with ample and growing exposure to Brazil. Last year's acquisition of Extorre was hailed as a corporate masterpiece and bodes well for future strategic moves. Recent weakness in the share price may well present a buying opportunity in the near future.
2) With a market capitalization of $339M Luna Gold (OTCPK:LGCUF) is an entirely different kettle of fish. As stated on their web site "Luna Gold Corp. is in the business of acquiring, exploring, operating and developing gold resource properties in Brazil." Commercial production for their only operating asset, the Aurizona Mine, was declared early in 2011 and so far this mine has performed exceptionally well exceeding 2012 production targets by producing 74,000 oz Au in 2012. Plans to increase this production to 125,000 oz Au by 2014 have been set in motion and a PEA to double this production again is under way to be released in Q4 this year. According to the 2013 guidance released just a couple of days ago production should already rise to 95,000 - 105,000 oz Au this year at cash costs of $705 - $715 per ounce (down from $749 in Q4 2012). The anticipated increase in production should yield further production cost savings in due time. An updated NI 43-101 Resource Estimate for the Aurizona Mine is scheduled for release in Q1 2013.
Luna Gold holds a significant land package of 220,000 hectares around the Aurizona Mine and reports several very promising green field targets. In fact, Luna Gold states that they have only just "scratched the surface" of their property. A NI 43-101 Reserve Estimate for the Piaba deposit is imminent and will presumably give some indication of further growth form this prominent Greenstone belt location.
We believe that Luna Gold offers significant short- to mid-term upside with solid management to deliver on the promising outlook. Since Luna Gold is a one mine operation there is always the added risk of black swan events at that single mine. If unfamiliar with the risks involved in junior mining company investment we suggest this article.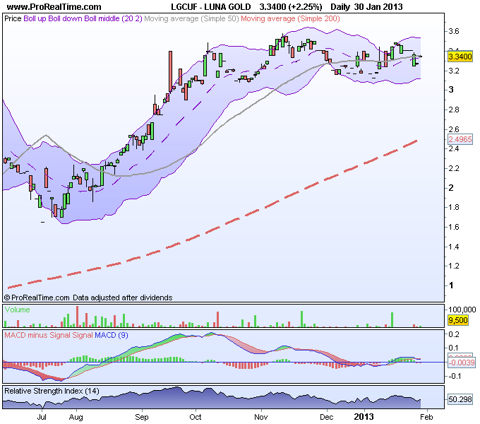 Luna Gold has been trading between $1.65 and $3.60 since the share consolidation in March 2012. While we believe that the current share price at the upper end of that range still provides a fair value, we would like to suggest to be patient and buy the dips in coming weeks and months.
3) Colossus Minerals (OTC:COLUF) is another step up in the risk/reward scheme of investments with their fully permitted and fully funded flagship Serra Pelade Mine currently under development for production to start in the second half of 2013. Colossus Minerals took the unusual decision to build the mine without the prior generation of a NI 43-101 Reserve Statement. This statement is due to be published in the coming weeks and will probably provide this year's first catalyst.
The site of the Serra Pelada mine was host to an immense gold rush in the 1980s with up to 80,000 garimperos digging an open pit with a 400m by 300m footprint and 100m deep. This documentary on that period of time is well worth watching if you can spare the time. Nowadays COOMIGASP, a registered Brazilian cooperative company, holds Exploration License 1485 for the 100 hectares around the Serra Pelada pit. In 2007 Collossus Minerals (75%) and COOMIGASP (25%) formed a partnership to develop the remaining bedrock mineralisation at Serra Pelada whereby Colossus Minerals will manage and operate the project, earning a majority interest by funding exploration and paying COOMIGASP a premium for the gold reserve established by the joint venture.
The mineralization that has eventuated in various drilling campaigns is quite extraordinary with bonanza grade gold, platinum and palladium found in many cores. Metallurgy has been reported to be straight-forward which should be confirmed by a bulk sample that is currently being taken. Developing the underground mine at Sera Pelada is not without risk, however, due to the presence of ground water and the difficult geological circumstances. So far, these risks seem to have been managed exceptionally well. The decline has only recently reached the mineralized zone, setting the stage for first ore extraction. Furthermore, there seems to be significant near-mine exploration upside underpinned by recent drill results published by Colossus Minerals.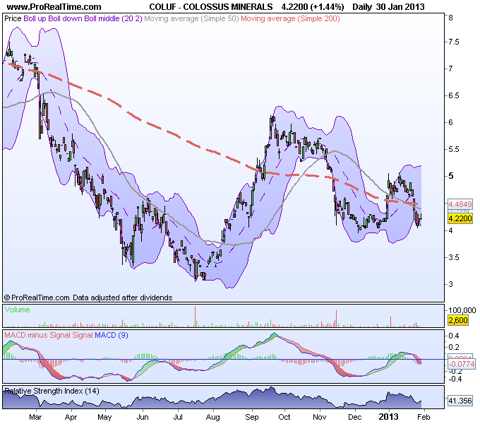 Colossus Minerals will require some research for investors to become familiar and possibly comfortable with this unusual project. The rewards will be high if Colossus manages to continue delivering on their plan. As always, high rewards come with increased risks and we therefore stress that investment in this company will not be for the faint-hearted. With catalysts coming up in short order throughout 2013 presumably culminating in first production towards the end of the year and the share price near its 52 week low, now could be a good point in time to devote some attention to this stock.
Disclosure: I have no positions in any stocks mentioned, and no plans to initiate any positions within the next 72 hours. I wrote this article myself, and it expresses my own opinions. I am not receiving compensation for it (other than from Seeking Alpha). I have no business relationship with any company whose stock is mentioned in this article.