Alright, I was an idiot. I was wrong. I admit it. I was looking at the wrong numbers. I was saying that it was a good idea to buy Central European Distribution Corp. (NASDAQ:CEDC). I started talking CEDC in early October: here, here, and recently here. Great, so I established that we have a potentially great company, but the stock price was not confirming my gut. I should have been watching the Zloty, which is the Polish currency. See how the exchange rate peaked in July and the stock price did as well?
Click to enlarge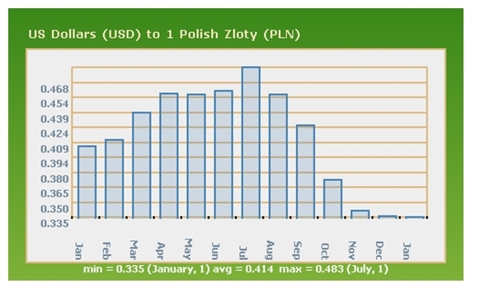 Click to enlarge
Click to enlarge
Alright, now that you understand that the company and its currency are absolutely correlated (duh), it's time to talk the Zloty. The following is an inverse of the first chart, but it makes the rest of the idea easier to write out:
Why am I so bullish on the Zloty now? Well, for starters, I'm fairly positive that the run to safety and to the return of your money instead of the return on your money is at an end or very close to an end --- some would call this the collapse of the U.S. Treasury Bubble. I'm also betting on this through a bearish treasury ETF TBT.
But, to be honest, don't listen to me about future Zloty exchange rates. Below are a few useful sources that yield this positive inclination that I'm betting on.
Bloomberg expects the Zloty to surge
. This would bring the Polish Zloty exchange rate down to $2.39. If this happens, and the Zloty surges 21%, you'll see 100%+ surges in CEDC. $50 isn't out of the question.
The company itself expects $2.5 to $2.6. Here I'd expect a 100%+ surge as well.
Polish bankers are frustrated with the hammering of their currency and "dishonest reports."
How am I justifying this 100% surge? Well, the 2009 EPS forecast is $4 compared to the 2008 EPS forecast of about $3. That's a 33% increase. But, if you take the expected exchange rate from $2.5 to $3.17, a 27% unexpected increase, you're left with a 5% comparable increase in EPS. Factor in the risk and the market is pricing the company about right, at a PE of about 8, which implies 0% growth. Take out this unexpected exchange rate increase, which is what the central bankers would advise and you have a company that's been growing for 10 years and is set for a 33% increase in EPS over 2009 and more market dominance in the future. A P/E ratio of 20 is not out of the question.
Disclosure: Author owns CEDC and owns January 2010 Calls @ $30 on CEDC.