Part 1 of Birinyi Associates' Global Outlook for 2009 details forecasts and estimates for US markets and stocks, specifically the S&P 500, its members, and their sectors and groups. Comparing bottoms up estimates to the top-down forecasts issued by market strategists, we find that most market commentators are generally uncertain about the year ahead. On the top down side, strategists expect the S&P 500 to gain 20% during the year but EPS for the index are expected to decline 20%. The current bottoms up forecast points towards a similar 20% gain for stocks, but a more modest decline in EPS of 1.7%.
Below we highlight what is probably more important than earnings the number itself: the trend.
S&P 500 EPS for 2008 and 2009
click to enlarge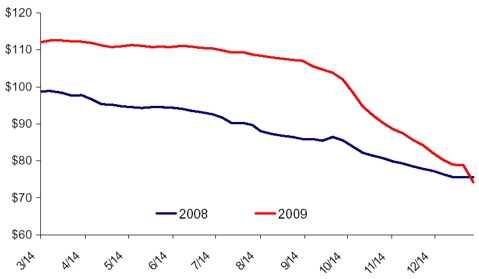 Click to enlarge
In the last two weeks, negative revisions have pushed 2009 expectations below those of 2008, and the negative momentum which picked up in October 08 seems to have continued. 2009 expectations - on a bottom up basis - have been revised down 25% over the last three months. As long as negative momentum continues for EPS forecasts, the market will not be able to sustain gains.