I am beginning a starter stake in NCI (NASDAQ:NCIT); this plays on our "stick close to the government" theme, since this is the only revenue stream that is guaranteed as we continue this rip-roaring recession.

NCI, Inc. provides information technology services and solutions. It engages in designing, implementing, maintaining, and upgrading secure information technology systems and networks.

The stock has been very strong and has pulled back to the 20 day moving average (mid $29s), so I am going to just begin a 0.7% stake in the upper $29 range. I'd like to add more at the 50 day moving average ($27) so I have a limit order waiting just above that spot. So far it is down 10% in the past week or so; if the market really turns bad, this is the type of name I'll continue to average down into down to the 200 day moving average ($24s), since the weakness will be due to market, not stock specific.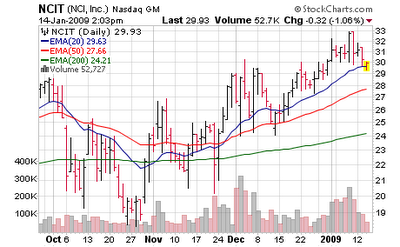 NCI is effectively an IT stock that focuses on federal government spending - on the defense side. With $800 Billion (at least) Obamadollars coming (and I bet more comes later in the year), this is a perfect play on the expansion and modernization of the federal government. Full website here. It is headquartered in Reston, VA and frankly folks, the one area of the country that is going to be experiencing growth is D.C. and northern VA as lobbyists and new federal government employees swarm to take advantage of all the newly created dollars made from thin air and/or new borrowings. Always a growth industry somewhere.

The company grew revenue 10% organically and 19% overall in the last earnings period
For the third quarter of 2008, NCI reported record revenues of $101.1 million compared to $85.2 million for the third quarter of 2007. This represents a growth rate of 19% and an organic growth rate of 10%.
Operating income for the third quarter of 2008 was $7.8 million, compared to $6.3 million for the third quarter of 2007. Operating margin of 7.7% for the third quarter of 2008 compares with an operating margin of 7.4% for the same period in 2007.
Net income for the third quarter was $4.4 million, compared to $3.3 million for the same period in 2007. Diluted earnings per share for the third quarter were $0.32 per share, compared to $0.25 per share for the comparable period in 2007
So the company is not cheap, at 24x 2008 earnings and about 20x 2009 estimates, but unlike the vast majority of companies in the world stock markets, there is a level of revenue/earnings guarantee for this type of company.

We are stressing visibility in 2009 in our companies and NCI has oodles of it; the company will do about $400M in revenue in 2008 and has a backlog of 2.5 years. (not all is "funded" but cmon, it's the U.S. government - they fund everything)
NCI reported total backlog for the third quarter of 2008 of $1,096 million, of which $233 million was funded backlog. This compares to total backlog of $722 million at the end of the third quarter of 2007, including $157 million in funded backlog.
Our

customer mix for the third quarter of 2008 reflects approximately 80% from the Department of Defense and Intelligence customers, approximately 17% from federal civilian agencies

, and approximately 3% from non-federal sources, primarily commercial training services. (perfect)
This is not a sexy name, but it's exactly the niche we want to hide in, until the globe enters a real recovery, not an Obama thesis or China thesis recovery. It is a $400M market cap, so hedge funds won't ruin it as they panic sell, since this is not a name that they dominate: it only trades 100K shares a day. Unlike commodities, financial, REITs, retailers, dry bulk shipping, there should be no drama here or 10-15% daily swings as daytraders and HAL9000 converge. While those might be fun to trade if your short term timing is perfect, I want to find things to "invest" in. Minimal debt ($36M); shares outstanding are only 13M.

The only detailed story I could find on it on Seeking Alpha was from April 2008 - a very high insider ownership.
NCI's gains are the result of hard work and smart bidding, knowing where it is likely to win.

Large competitors are focused on the biggest government contracts and may neglect the smaller ones that are a prime target for NCI.

"Several $100 million bids could be up at any moment," says Khanna. "NCI keeps stacking up the smaller wins."
Here is a list of their customers - no cutbacks here!