Wow! Two days of consecutive declines is a record for declines in January. There was enough uncertainty in data to give bears an excuse to take some profits before the big Employment Report Friday as February begins.
Economic data was plentiful to end the month. Challenger Job cuts were higher (40K vs.. 32K prior); Jobless Claims spiked (368K vs. 350K expected and prior 330K); Personal Income soared (2.6% vs. .7% expected and prior .6% on bonuses and one time dividends to beat higher taxes); Personal Spending missed and was lower (.2% vs. .3% expected and prior .4%); Employment Cost Index was as expected (.5% vs. .5% expected and prior . 4%); the important Chicago PMI exploded higher (56.1 vs. 50.1 expected and prior 51.6); and, lastly Bloomberg Consumer Comfort Index fell (-37.5 vs. prior -36.4).
So good and bad news, all things considered. The labor news was negative with the Employment Report on tap for Friday, where 160K jobs are expected. At the same time, the "bad news is good" theme continues meaning the Fed will continue to print money to theoretically boost employment. But that's not going to happen, and is not the intent -- spiking stock prices is Fed job one.
Earnings news featured Facebook (NASDAQ:FB), which fell sharply initially and then recovered, as mobile ad sales grew although headline earnings disappointed. Viacom (NYSE:VIA) reported an earnings beat, and the shares rose by roughly 2%. Qualcomm (NASDAQ:QCOM) reported good earnings, and the stock rose over 4%, affecting tech (NYSEARCA:XLK) overall and networking (NYSEARCA:IGN). UPS shares slid over 2% as earnings and guidance disappointed, affecting transports (NYSEARCA:IYT). To date, reported earnings have risen nearly 3.7%, with nearly 70% of reports beating analysts' expectations. As we mentioned yesterday, this is the game CFOs and analysts play -- guide estimates lower, then beat, lifting shares. How investors swallow this monkey business is beyond belief.
Overseas, the big news is Spanish Prime Minister Rajoy is being implicated in corruption charges, which drove Spanish stocks (NYSEARCA:EWP) lower. Are you shocked there's corruption in the eurozone? It's okay, no need to answer, and we're off to the next scandal. By the way, has anyone seen MF's Corzine lately? Where are the perp walks for some of our prominent financial CEOs like, oh, I don't know, Fannie Mae's Raines or Countrywide's Mozilo and etc? How quickly we forget in this 24/7 news cycle. The tsunami of Fed liquidity erases memories quickly. In more important news, it appears Dan "the man" Marino fathered a child with a CBS production assistant. Does this news take Te'o off the front page then?
The dollar (NYSEARCA:UUP) was weak once again, but this didn't move gold (NYSEARCA:GLD) higher, as it fell. Other commodities (NYSEARCA:DBC) were boosted by oil (NYSEARCA:USO) and gas (NYSEARCA:UGA), for example. Bonds (NYSEARCA:TLT) rebounded off support. Leading stocks lower to close out the month were defense oriented sectors, Boeing (NYSE:BA) and United Technologies (NYSE:UTX) and ETF (NYSEARCA:PPA). Consumer Discretionary sectors (NYSEARCA:XLY) were also lower.
Volume overall lightened further despite all the important news. Breadth per the WSJ was mixed.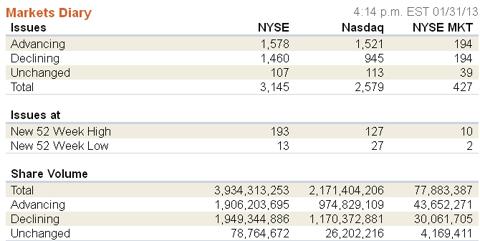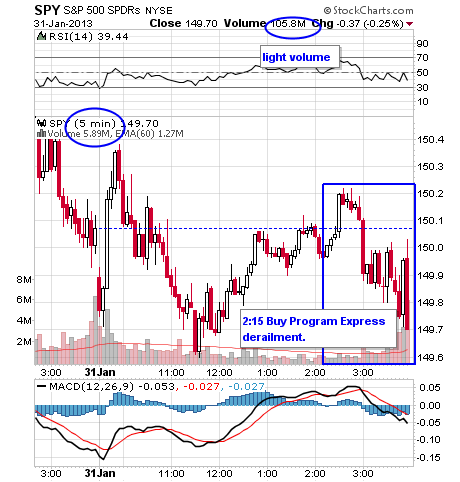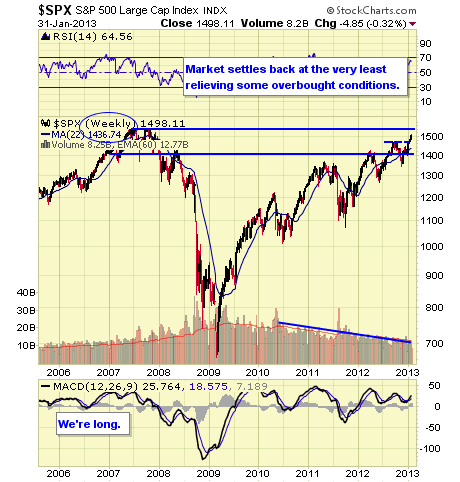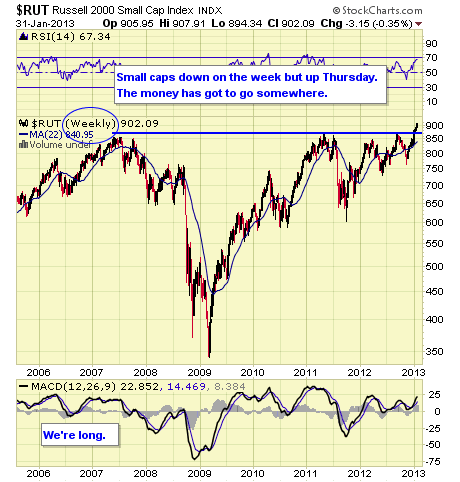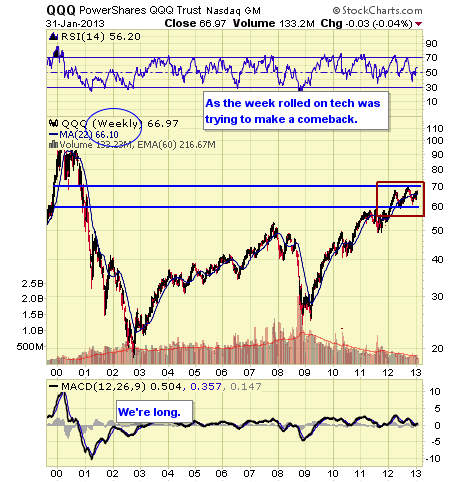 Continue to U.S. Sector, Stocks & Bond ETFs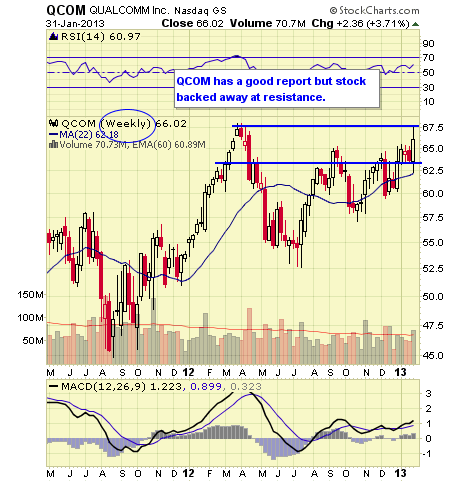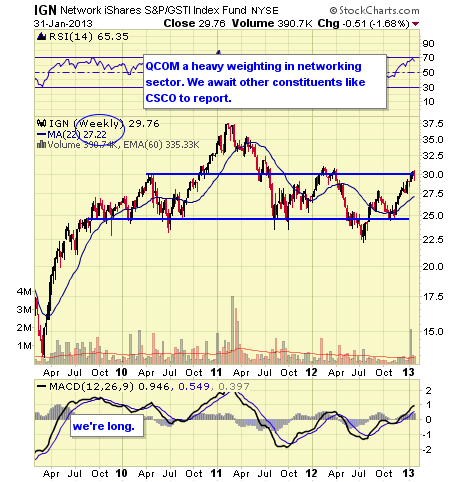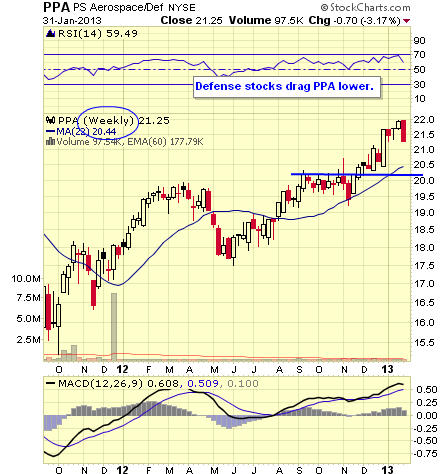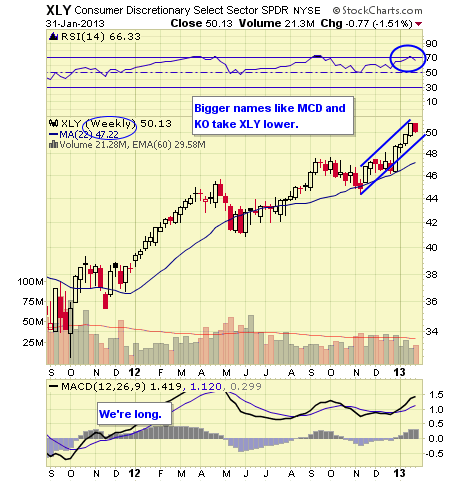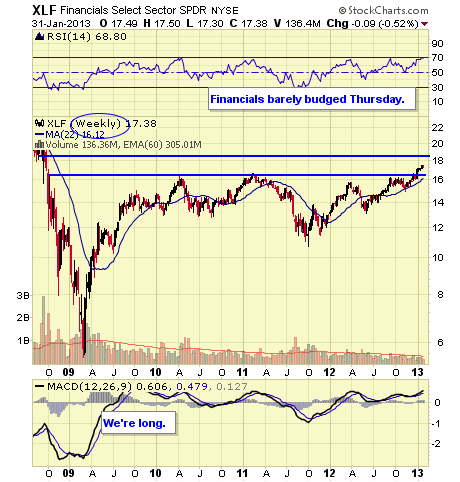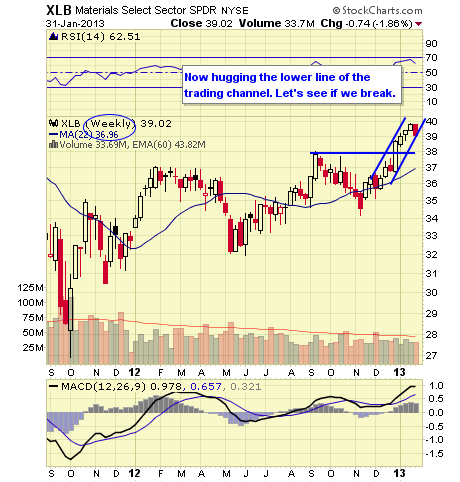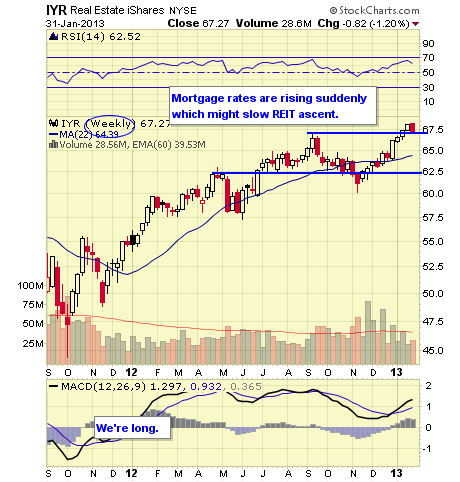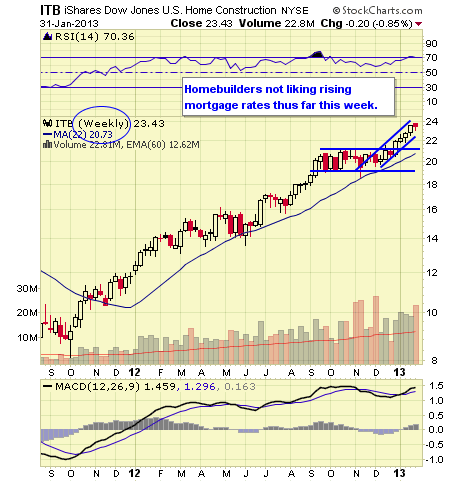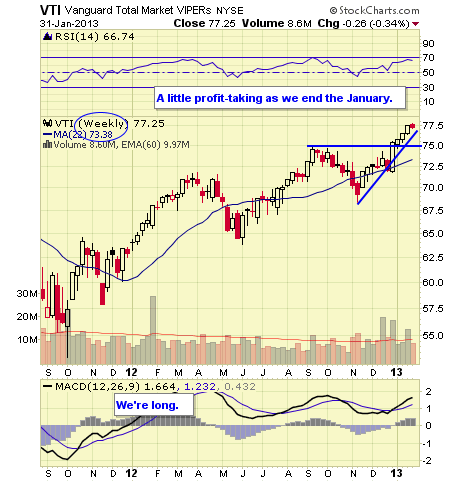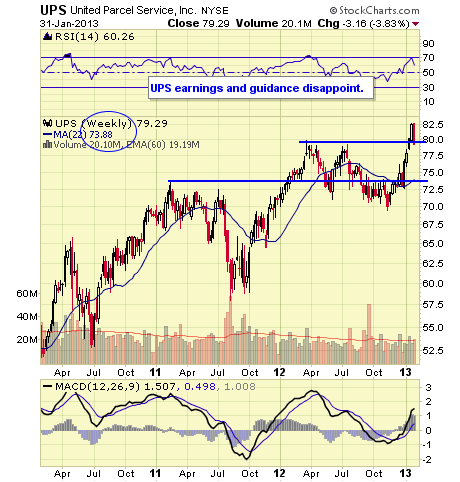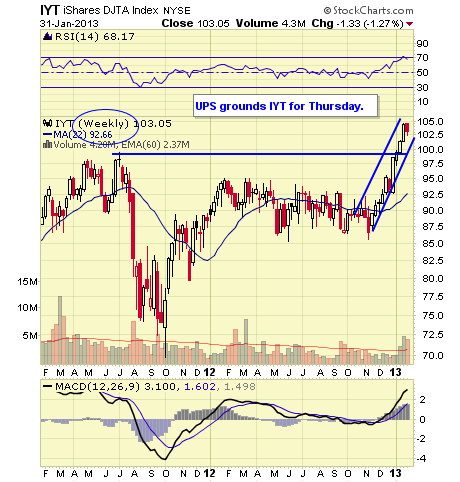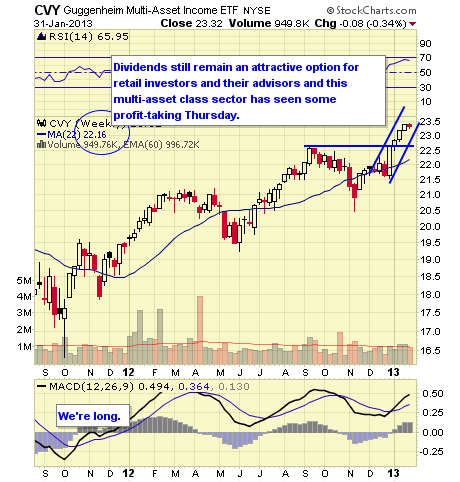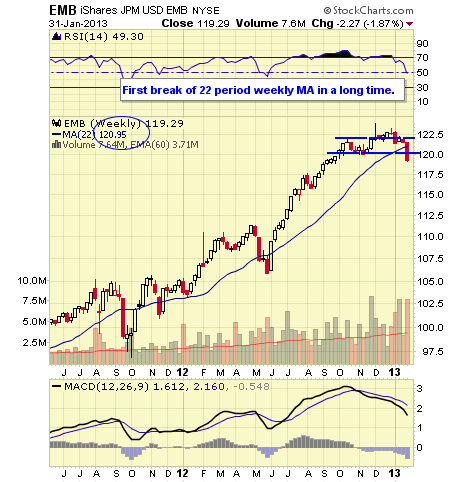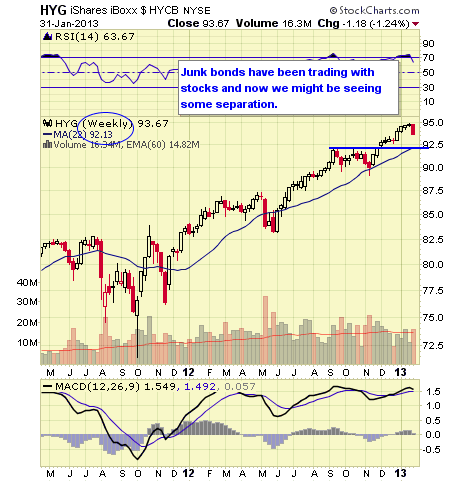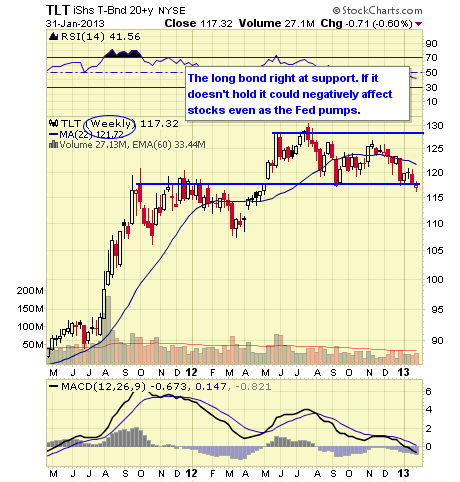 Continue to Currency & Commodity Market ETFs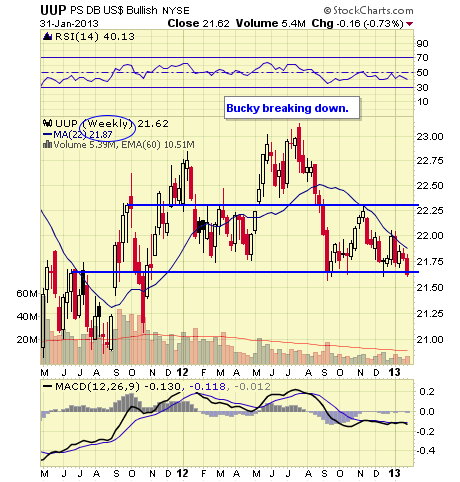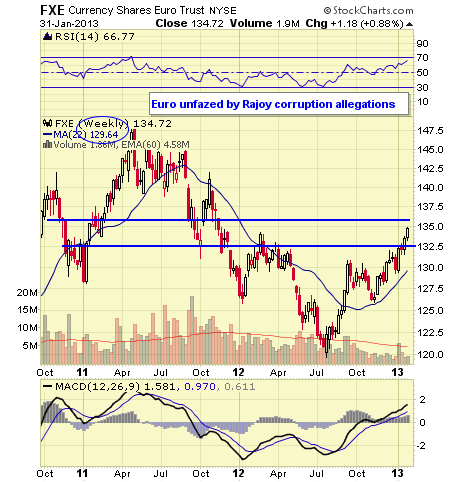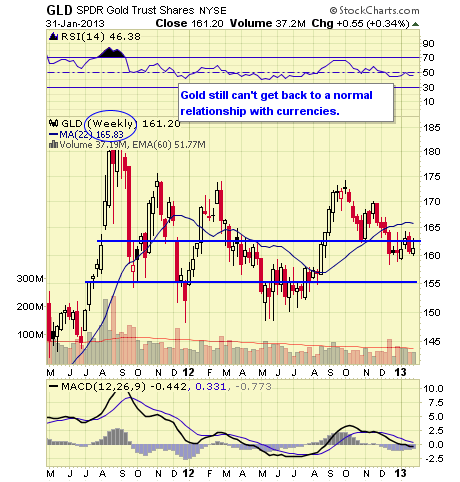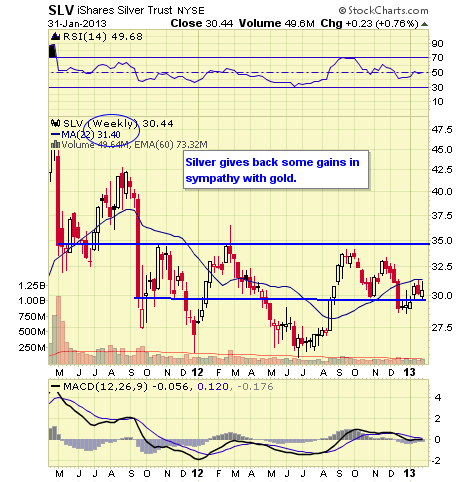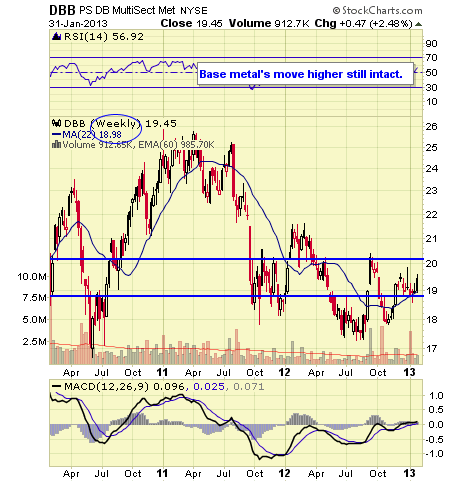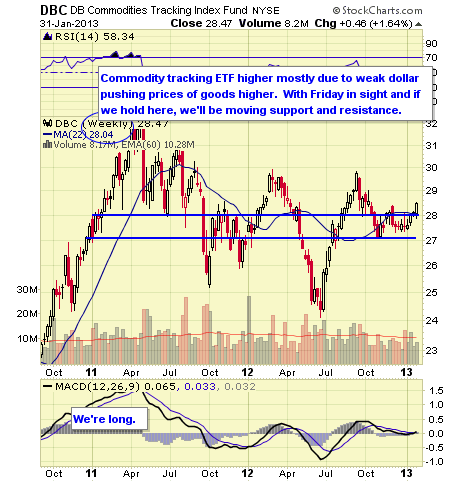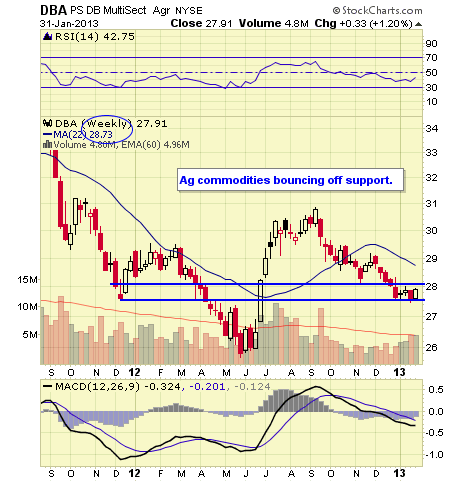 Continue to Overseas Sectors & ETFs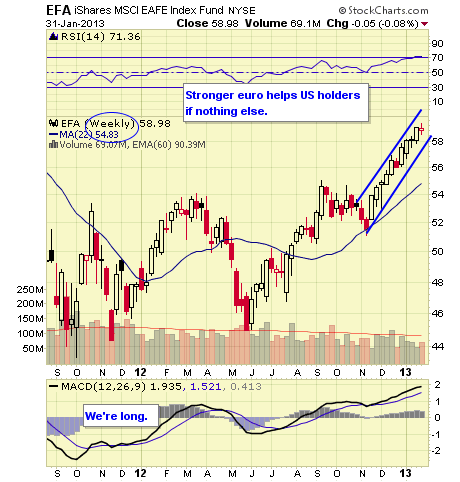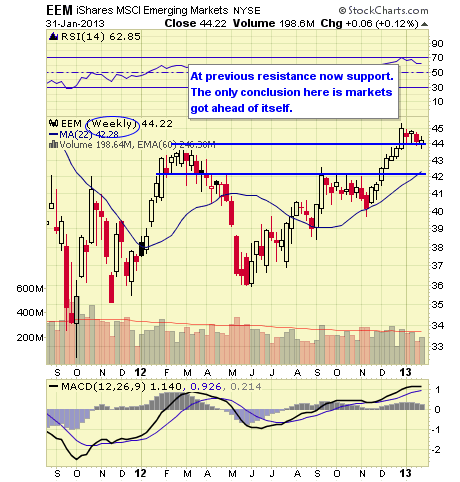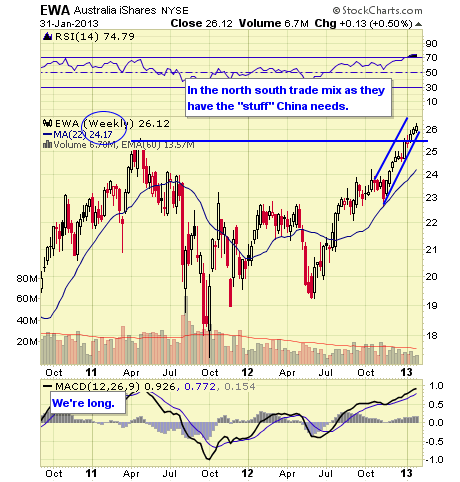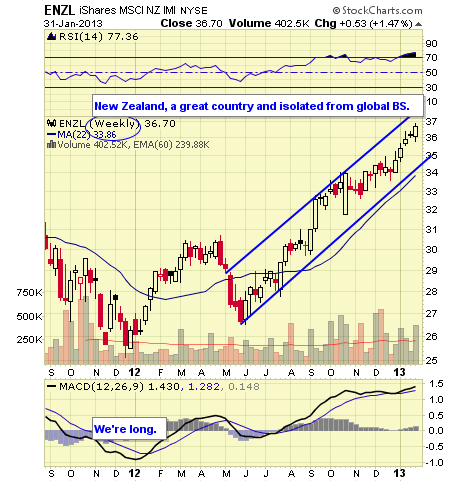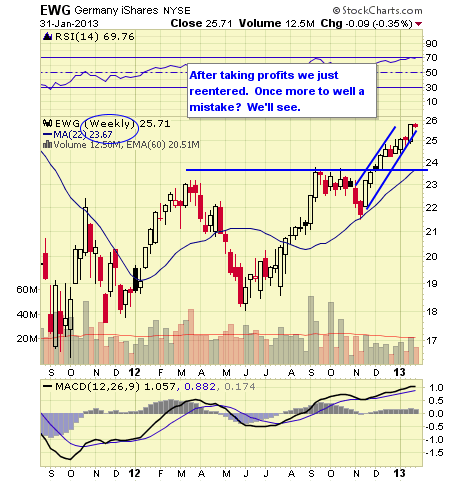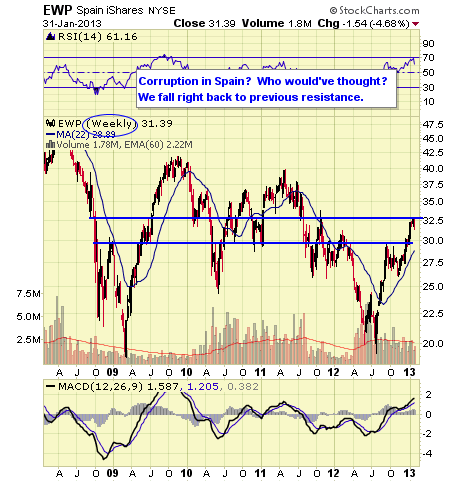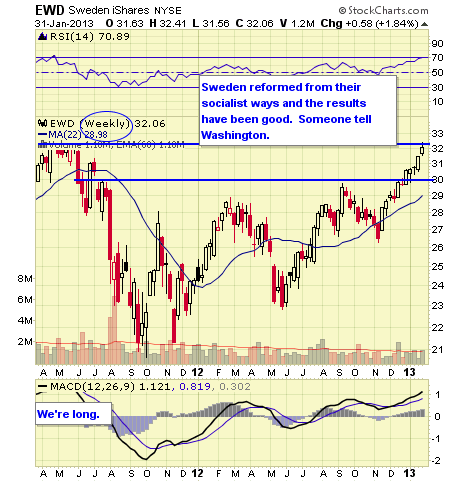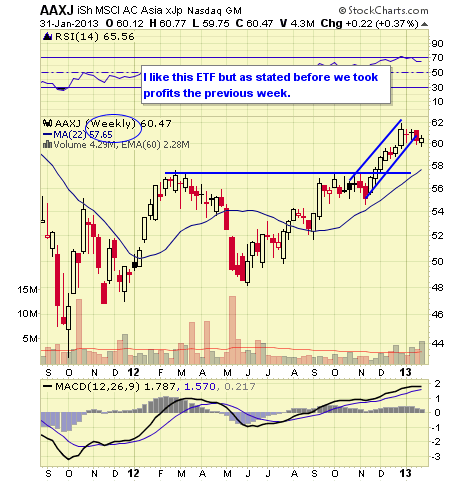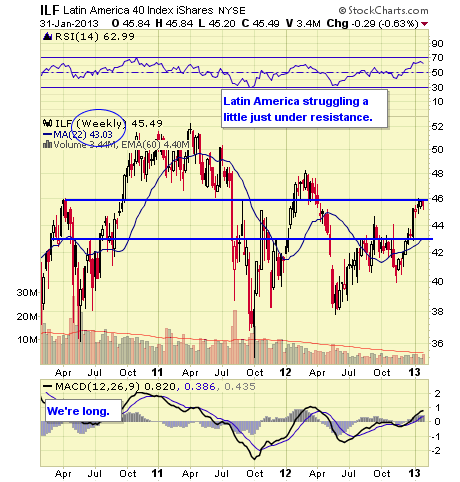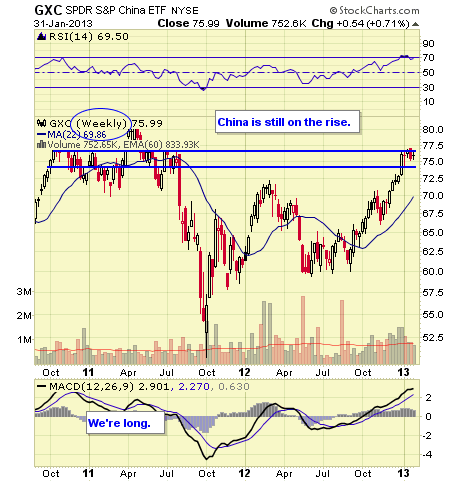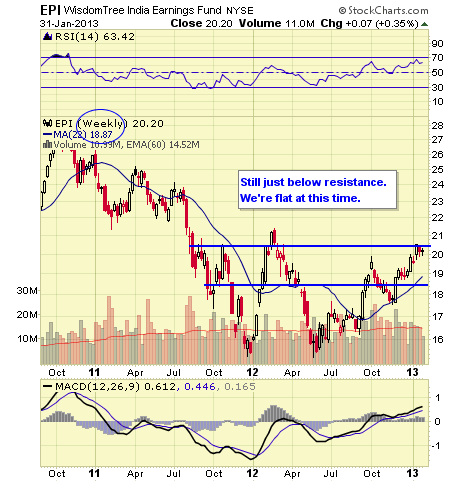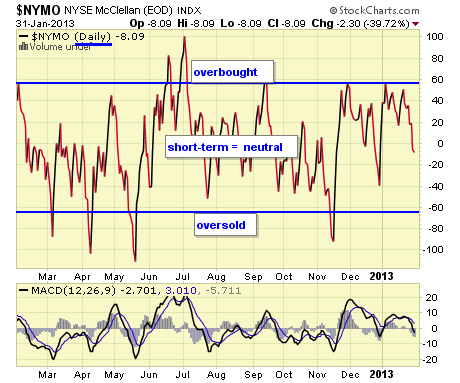 The NYMO is a market breadth indicator that is based on the difference between the number of advancing and declining issues on the NYSE. When readings are +60/-60, markets are extended short term.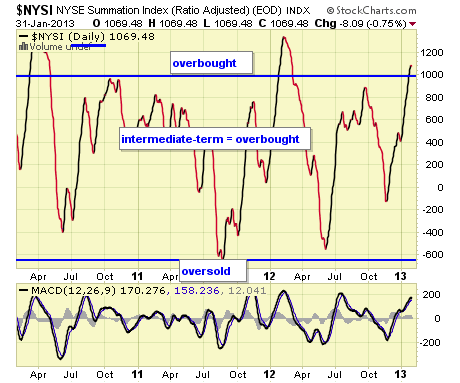 The McClellan Summation Index is a long-term version of the McClellan Oscillator. It is a market breadth indicator, and interpretation is similar to that of the McClellan Oscillator, except that it is more suited to major trends. I believe readings of +1000/-1000 reveal markets as much extended.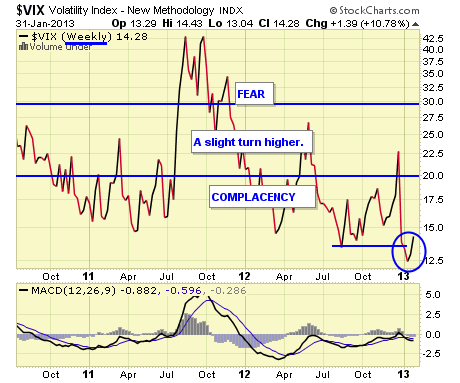 The VIX is a widely used measure of market risk, and is often referred to as the "investor fear gauge." Our own interpretation is highlighted in the chart above. The VIX measures the level of put option activity over a 30-day period. Greater buying of put options (protection) causes the index to rise.
Concluding Remarks
And so ends an incredibly strong month of January. Extend the gains out to 12 months, and the results would be hard to imagine. Therefore, there will be some correction sooner or later.
Friday is the all-important Employment Report.
Disclaimer: The ETF Digest maintains an active ETF trading portfolio and a wide selection of ETFs away from portfolios in an independent listing. Current "trading" positions in active portfolios, if any, are embedded within charts: Lazy & Hedged Lazy Portfolios maintain the follow positions: VT, MGV, BND, BSV, VGT, VWO, VNO, IAU, DJCI, DJP, VMBS, VIG, ILF, EWA, IEV, EWC, EWJ, EWG, & EWU.
The charts and comments are only the author's view of market activity and aren't recommendations to buy or sell any security. Market sectors and related ETFs are selected based on his opinion as to their importance in providing the viewer a comprehensive summary of market conditions for the featured period. Chart annotations aren't predictive of any future market action rather, they only demonstrate the author's opinion as to a range of possibilities going forward.
Disclosure: I have no positions in any stocks mentioned, and no plans to initiate any positions within the next 72 hours. I wrote this article myself, and it expresses my own opinions. I am not receiving compensation for it. I have no business relationship with any company whose stock is mentioned in this article.