The housing market recovery slowed in December, causing some to worry the nascent recovery is coming to an end.
While it may be tempting to call a housing top given the significant returns during the past year, a quick look through recent earnings and a review of seasonality suggests another buying opportunity may be approaching.
There's little question housing markets have improved.
The supply of housing has remained stable as demand has increased, helping to prop up prices and boost operating margins at homebuilders such as D.R. Horton (NYSE:DHI), PulteGroup (NYSE:PHM) and Ryland (NYSE:RYL).
At D.R. Horton, the company CEO Donald Tomnitz's enthusiasm is best summed up in his own words, directly from his Q4 earnings call on January 29th: "D.R. Horton is in the best position it has ever been in its 35-year history."
Those are some bold words from a leader who has endured a fair share of cyclical housing booms and busts.
CEOs are expected to have a bit of cheerleader in them, but the numbers seem to back up Mr. Tomnitz's take on the company.
In the last quarter, revenue climbed 41% to $1.2 billion. More importantly, earnings jumped 122%, thanks to a 5.3% increase in pre-tax income margin to 8.5%. And pricing cooperated nicely, increasing 10% from a year ago to $236k per home.
The operating leverage can be clearly seen in the improvement of selling, general and administrative (SG&A) costs to sales. The measure improved to 11.4% from 13.4% a year ago in the quarter. And the company expects the trend to continue.
"We expect our SG&A as a percentage of homebuilding revenues to be lower throughout fiscal 2013 as compared to fiscal 2012," said Stacey Dwyer, EVP and Treasurer, during the earnings call.
Over at PulteGroup, the results were similar.
Revenue at Pulte increased 27% to $1.5 billion, and average selling prices increased 6% to $287k. Pulte's SG&A fell 0.40% from the prior quarter to 9.6% of sales. And the company was able to reduce its net debt-to-capital ratio to 32% from 50% the year before, while still ending the year with $1.5 billion in cash, or $4 per share.
Ryland didn't disappoint, either.
Ryland's sales rose 68% to $440 million, as closing prices rose 6% to $270k. Gross profit margin improved to 20%, up from 18.1% last year. And SG&A fell to 13.4% of sales, down from 16.4%.
Across these three, the average backlog rose 79% in dollars.

This suggests the coming quarterly results will be similarly strong.
Given the homebuilding industry focused the bulk of its efforts in right-sizing, it's likely we'll see earnings growth continue to outpace revenue growth.
If this proves correct, now may be a good time to keep these homebuilders on your radar.
Since its inception, the S&P Homebuilders ETF (NYSEARCA:XHB) has dropped an average -1.58% in February, before climbing strongly in March and April. Any consolidation back to trend in these builders could reward investors nicely through the spring home selling season.
Source: Seasonal Investor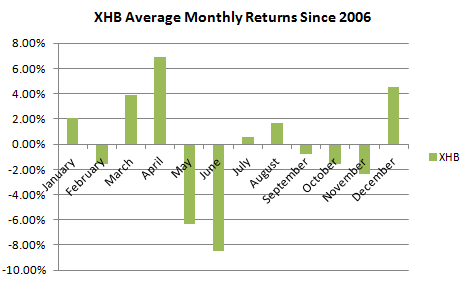 Disclosure: I am long DHI, PHM, RYL. I wrote this article myself, and it expresses my own opinions. I am not receiving compensation for it (other than from Seeking Alpha). I have no business relationship with any company whose stock is mentioned in this article.