The recent turmoil in oil prices has shifted the momentum of oil and gas ETFs in recent weeks.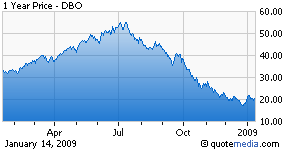 PowerShares DB Oil (NYSEARCA:DBO) fell 52 spots on our ETF Sector Momentum Table from October 21, 2008, to January 6, 2009, and while the fund's market return has dropped nearly 40% over the past three months, year to date the fund's return remains positive. In a dramatic one-week jump, iShares Dow Oil and Gas Exploration (NYSEARCA:IEO) sank 47 spots from the No. 44 position on our ETF Sector Momentum Table on October 14 to the No. 91 ranking on October 21. As confusion over oil prices plagues investors and grabs the media spotlight, ETF investors in oil are left to pick up the pieces and reflect on the outlandish highs and desperate lows wrought upon their investments in recent months.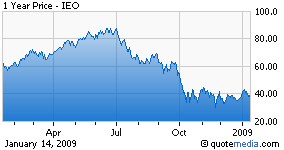 While the selection of oil ETFs grew dramatically to match demand over the past few years, DBO and IEO represent two basic strategies for oil investors: futures and oil companies. DBO tracks the Deutsche Bank Liquid Commodity Index and comprises futures contracts on Light Sweet Crude Oil and reflects the performance of the crude oil market. IEO, the iShares offering, tracks the Dow Jones U.S. Select Oil Exploration & Production Index, composed of 62 oil and gas companies. Both ETFs have relatively high trading volume—DBO averages 246,000 shares per day, while IEO hovers at 570,000—and provide investors with exposure to oil prices.
DBO's more dramatic momentum swing can be attributed to the relative volatility of oil futures compared to oil companies. While futures offer an approach that more accurately reflects the day-to-day price movements in the oil markets, investment in oil exploration and production offers the performance of oil over the long haul while sparing investors some of the day-to-day drama of the futures markets.
Only seven months after Goldman Sachs issued its now infamous prediction that oil would hit $200 per barrel, analysts are now predicting that prices could fall as low as $30. Last week oil prices jumped nearly 50% before experiencing the biggest one-day drop in seven years. Compounding price volatility was the increase in U.S. commercial inventory last week—up 6.7 million barrels from the week before. As stock of physical oil hit record highs, rivaling May 2008 peak levels, analysts are beginning to question whether space will be sufficient to house inventory when February futures contracts expire.
Oil futures featured prominently in the news this week as a 60 Minutes story on the rise of oil prices, speculation and deregulation came under fire from financial professionals after airing. In an interview with Steve Kroft, Dan Gilligan, president of the Petroleum Marketers Association, explained that 60% to 70% of oil contracts in the futures markets are held by speculative entities like hedge funds. These investors, similar to those in funds like DBO, never actually take delivery of physical oil but hope to profit from price movement. Monday, some commentators attacked the 60 Minutes story for bashing speculators and oil ETF investors who participate in the oil market without the intent of using the oil in which they are investing.
Investors seeking to participate in the oil market through funds like IEO have also been reading reports in the press. On January 7, the Energy Information Administration released a report on the impact that the rising price of oil has had on companies that produce oil. While the report noted that investment spending by oil companies has increased dramatically in recent years, the current reversal in oil prices will reduce cash flow, reduce funding for financial activities, and potentially result in a reduction in dividends and repurchase plans.
The drop in oil prices has been reflected in other aspects of the economy. In a report released Tuesday, the Commerce Department noted that the decrease in the value of imported oil along with a drop in consumer spending lowered the U.S. trade deficit by 28.7% in one month. During this period, imports dropped 36.5% to $23.6 billion—a decrease in value felt by oil ETF shareholders in recent weeks.
While a reversal in the price of oil could be a slow process for DBO investors, and potentially an even slower process for IEO investors, many investors have begun to turn back to the oil market in the hopes of capturing what some see as impossibly low prices. The heightened interest in commodities over the past couple of years has spawned more than two dozen commodity ETFs, with eight launching just last fall. As money flows out of the commodity market, some of these ETFs may not prove to be viable in 2009. To avoid inconvenient liquidations in your commodity funds, look for a consistency in volume and a track record over time. IEO, launched in May 2006, and DBO (see the performance chart below), launched in January 2007, are good places to start for investors seeking exposure with a track record.