I am a Green Mountain Coffee (NASDAQ:GMCR) bull. In this article I will lay out an argument to look for more significant upside in GMCR from here on by making a simple comparable peers analysis along with an analysis of its growth and earnings capacity.
As traders, we often miss the forest for the trees. It is important to take a step back and do a simple back to the basics valuation of the asset. In my opinion, the stock market in voting machine-esque style is punishing GMCR - even at this price of $43.25 (as of closing on January 29th). However, the weighing machine will eventually prevail and GMCR will regain its glory days of being Wall Street's darling.
The price chart over the last year tells a story - I have indicated the P/Es on the days of results announcement over the last four quarters.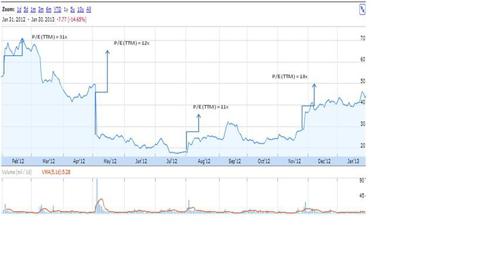 As we can see, GMCR was trading at a 30 P/E in early February of 2012. At this time, GMCR had given a guidance of $2.44 EPS for the full year, which it has achieved. The company has not guided for lower growth rates in the future and we can see that in the last quarter GMCR is trading at a lower price for higher earnings.
Some other key points to consider:
a. Price to Sales valuation: Starbucks (NASDAQ:SBUX), which everyone is touting to be the reason for GMCR's eventual downfall, is trading at 3.1x sales. GMCR is trading at 1.9x revenues. This, despite GMCR having an average 5 year sales growth rate of 63.2% and an average 5 year EPS growth rate of 81%, much higher than that of Starbucks. GMCR will continue to sustain high growth rates in sales over the next year, as per guidance. Even assuming this growth rate becomes zero in 10 years, GMCR is significantly undervalued today.
b. Price to Earnings Valuation: It is a fair assumption that GMCR's EPS and revenue growth rate will not decline significantly any time soon. Assuming it achieves its guidance for 2013, its EPS in 2013 will be between $2.64 and $2.74 and full year revenue will be in between $4.44B-$4.63B. In 2014, assuming a conservative 17% growth of revenue, revenue will be in between $5.2B-$5.4B in 2014. I cannot think of many companies in the S&P500 growing at the rates GMCR is and being valued at only 1.9x revenues. GMCR is trading at a P/E of 18.7x and if it were to regain its P/E of 30x from early February for a 2013 EPS of $2.64-$2.74 we are looking at a price range of $79-$83.
c. Market Share not decreasing significantly: Verismo has not taken off by any stretch of the imagination, and at best will corner a niche Starbucks loving share of the market. Unless Starbucks thinks of a way to duplicate their signature syrups through Verismo even that would be a reach. GMCR has already tied up with Lavazza, hence eliminating another possible competitor with the resources to eat into its market share in North America. Besides, the current competition in Nespresso and Verismo are high pressure only espresso type drinks, while Keurig machines can brew low pressure drinks as well. Remember, there is no other brewer in the market today which can handle as many varieties of K-cups as Keurig does. So even while other competitors might introduce new K-cups, your best bet at a brewer is still the Keurig.
d. International Expansion: Taking a look at GMCR's major competitors, both existing and future possible competitors (SBUX, Nespresso) we see that they all deal in multiple international markets. I believe this single point is what is holding GMCR back from reaching the sky. The single serve market is up for grabs in Asia, especially in India and China. These countries have already proven their love of coffee, evidenced by the enormous growth spurt in companies in like Barista, Cafe Coffee Day and SBUX in these countries. The company has already proven their imitative for further international expansion.
The bears will speak about accounting issues and margin compressions along with declining market share. I have seen no evidence of this in the recent past and I see no reason for it to change anytime soon. Only two of GMCR's patents expired in September 2012, and GMCR has some patents on its brewers that last up until 2020.
All this, combined with the possibility for a massive short squeeze, and we can look for more significant upside from here on.
Disclosure: I am long GMCR. I wrote this article myself, and it expresses my own opinions. I am not receiving compensation for it (other than from Seeking Alpha). I have no business relationship with any company whose stock is mentioned in this article.
Additional disclosure: Investors are always reminded that before making any investment, you should do your own proper due diligence on any name directly or indirectly mentioned in this article. Investors should also consider seeking advice from a broker or financial adviser before making any investment decisions. Any material in this article should be considered general information, and not relied on as a formal investment recommendation.